Thousands of lights sparkle through the crisp winter air during the Montesano Festival of Lights, a not-to-be-missed holiday activity in Montesano. The 2019 Festival of Lights will take place December 13-15. From a pancake breakfast to the lighted parade, Friday, Saturday and Sunday are packed with good old-fashioned family fun. Whether you live in Grays harbor or are making the trip from out of county, you will be glad you did!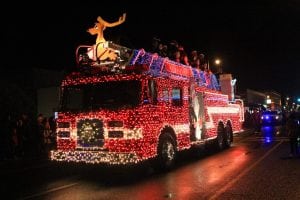 Each year the Festival of Lights has a theme. Last year, they celebrated the event itself, going with the theme of simply "lights." This year, they are bringing out your childhood memories of pantookas, fuzzles, tringlers and Cindy Lou-Who! The theme is "Whoville" and it's sure to make even the Grinchiest Grinch smile with holiday cheer.
There are a few small changes this year. There will be no courthouse tour or live music at the courthouse. "Now we have to pay an hourly rate to have security at the courthouse during all the hours we use it," says a Festival of Lights coordinator. "It's not something that we have budgeted for so we can't do it this year."
Something new for this year is a street dance on Friday night sponsored by the Montesano Chamber of Commerce, Whitney's Auto Detail and Pub Monte. The street dance will take place at the back of the Whitney's Auto Detail, under their overhang, on Marcy Street. It's going to be a non-stop party the entire family will love! Bruce Hughes Band will be performing.
On Saturday, December 14, the highly anticipated craft fair will take place from 9:00 a.m. to 2:00 p.m. at the Montesano High School. The craft fair is set to be bigger than ever before, filling two locations at the school: the common room in the main building and the junior high gym. According to organizers they are at capacity, with over 70 vendors for you to shop through! There will be retail vendors including Scentsy and Dot Dot Smile, as well as local small businesses including All Wrapped Up (look for their awesome pre-made mixes!) and Gracious Rose Boutique.
"We have homemade blankets, jewelry, croquet items, wood signs, candles, soaps and so much more," says a coordinator for the Montesano Festival of Lights. "The wide variety makes this one of the greatest craft fairs of the holiday season! I have never left without at least buying one thing and I honestly usually buy much more. I have ornaments, kid slime, a personalized last name sign, bathroom wall signs, and all kinds of other things. We can't wait to see everyone again this year and hopefully you find as many awesome things as I always do!"
Also happening on Saturday will be the annual pancake breakfast, Jingle Bell Jog, live entertainment, children's activities, live nativity and more.
The parade happens at 6:00 p.m. on Saturday starting from Montesano High School. The parade will continue with the Whoville theme, delighting children and the young at heart as it heads through town. If you are interested in signing up for the parade, go to the Chamber website and download the parade application. The parade route starts at Montesano High School and goes past Fleet Park. Any place along the route is a great place to watch according to the organizers.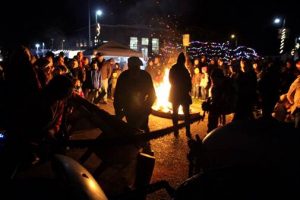 After the parade, head to the Yule Log Lighting on Pioneer street and check out the Jingle Lights at Fleet Park.
On Sunday, the event wraps up with more activities, including a Yule Log Hunt and Christmas Sing-a-Long at Schafer State Park.
The full schedule of events is still being coordinated. Find up-to-date information on the Montesano Chamber of Commerce website or the Montesano Festival of Lights Facebook page.
Sponsored