Since she first arrived at Elma High School, Quin Mikel has been the model of consistency for the Eagles' volleyball program, helping the team to three consecutive undefeated league championships.

"Quin is one of the hardest-working players I know. She leads with positivity and she has so much enthusiasm for the game. She brings the energy and pushes herself and everyone around her to be better," said Elma coach Kendra Henry. "We wouldn't be the same team without her."
Opposing coaches agreed as Mikel was named the 1A Evergreen League most valuable player for the 2019 season.
Mikel, a 6-foot outside hitter, finished the regular season with 160 kills, including a 27-kill match during a win over 2A Black Hills, and collected more than 600 kills and 600 digs during her high school career.
In addition to Mikel's MVP honors, the Eagles also placed three players on the first team with seniors Jalyn Sackrider and Kali Rambo and junior setter Ella Moore.
"This group was something special that doesn't come around very often," said Henry, who was named the league's coach of the year. "It was my privilege to coach these girls. They truly became a family. We had our ups and downs, but no matter what they always stuck together and played as a team."
Sackrider, who along with Rambo is a repeat first-team all-league selection, finished the regular season with a team-best 180 kills and 116 digs. The 6-3 middle hitter also registered a season-high 25 kills during Elma's district match against Castle Rock and finished her high school career with more than 600 kills.
"Jalyn is a beast. It has been so much fun watching her grow into the player she has become," Henry said. "She is a leader and has high expectations for herself and doesn't stop till she reaches them. Her ability to see the court, hit hard and be a big block will be something that we will miss. She has set a high standard for all our middles."
Rounding out the Elma senior trio is Rambo. The 5-8 outside hitter is a four-year starter for the Eagles and registered more than 400 kills, 500 digs and 100 aces during her career.
"Kali has a powerful swing and her ability to be and play scrappy on defense really impresses me," Henry said. "Between (Rambo and Mikel), half of the court was taken care of. They took on their responsibilities and played all out every match. They played amazing defense covering half the court and their hitting was spectacular."
In addition to Mikel, Rambo and Sackrider, the Eagles also will graduate Baylee Crisp, who played right side for Elma. The four seniors went a combined 38-13 over the last three seasons, including a spotless 24-0 record in league play.
"These seniors are something special," Henry said. "It was such a great group to start with and they are the first group that I have had all four years. The seniors have set a high standard for our program. I am very thankful for them. They will be missed. Over the years, there have been a lot of spectacular plays. Beating Monte for the first time in 19 years their sophomore year and being undefeated league champs for the first (time in) 45 years, those are some pretty special moments."
Moore finished with more than 400 assists while directing the high-powered Elma offense, including 382 during the regular season. She dished out a season-high 44 assists during the Eagles' 3-1 win over Montesano on October 29, which wrapped up the league championship.
Elma's Sarah Bridge, who played middle, was a second-team all-league recipient, while fellow junior Kayla Aho, who played libero, was an honorable mention pick.
"It's quite incredible what these girls have done in such a short time with limited volleyball experience. The program has grown in many ways and has started to make a name for itself," Henry said. "To us it's more than just volleyball. We love the kids that play for our program."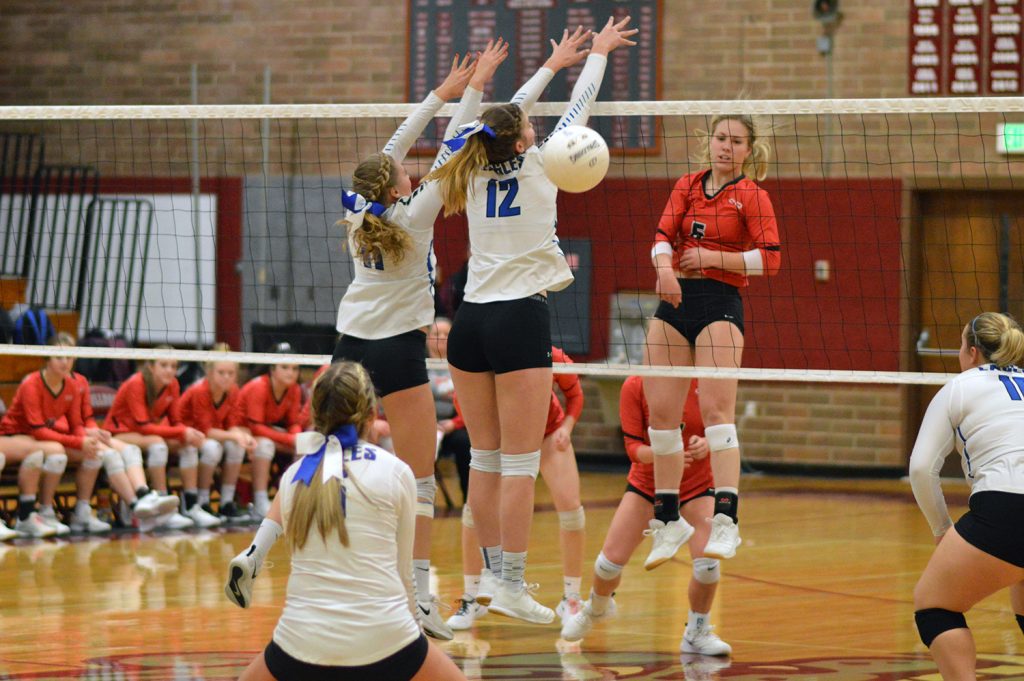 Players from Montesano, Hoquiam Get First Team Honors
Montesano had two volleyball players and Hoquiam one named to the first team of the all-1A Evergreen League.
The Bulldogs, who finished second in the league, had senior Emma Kahler and freshman McKynnlie Dalan receive first team honors. Kahler was a first-team selection last year, while the 6-0 Dalan was the only first-team member who was not a senior or junior.
Montesano also had second teamers in seniors Janessa Otterstetter (setter) and Mylaina Parker (libero) and an honorable mention recipient in senior outside hitter Emma Jensen.
Hoquiam junior Hailey Lawrence was named to the first team as a libero. The Grizzlies also had an honorable mention pick in senior setter Maggie Mazariegos.