Addiction can destroy families and hurt our community. It is especially difficult when young mothers struggle addiction. There are times in every life where we take the plunge to make a fresh start, and at Harborcrest Behavioral Health part of Grays Harbor Community Hospital (GHCH) in Aberdeen, they can help you start strong and stay strong. Their mission "to heal, comfort, and serve our community with compassion" means you don't have to face the struggle alone. You can get help. They hire caring, knowledgeable staff and form community-wide partnerships that include outreach, treatment, and kindness.
New to their team is Dr. Larri Ann Mishko. Originally from Northern Idaho, Mishko relocated to Sequim in the late 1980s and practiced at the Jamestown Sk'lallam Family Health Center there for the past 13 years. She recently joined the GHCH team working with addiction treatment. "As a family physician, I wasn't planning on doing addiction medicine, but needed to get the training to cover our clinic in Sequim," explains Mishko. "I have found that this is some of the most rewarding work I have done. It is amazing to see patients healing in mind, body and spirit. There's nothing like helping people get their lives back."
After working in the field of "outpatient addiction medicine for the past few years, I wanted to further my experience to inpatient and detox," Mishko continues. "I knew this position was what I was looking for when I saw the advertisement on a website for locum tenens physicians. Once I met Dr. Worth and the care team at HCBH, it felt like a great fit. The program that Dr. Worth has developed is impressive, with an excellent reputation regionally and statewide."
A locum tenens doctor is someone with a range of education and training who can fill in for another physician should the clinic be short staffed or the primary doctor unavailable.
Over her years in the field, Mishko has worked with a variety of individuals. "One of our biggest challenges is the stigma associated with substance use disorder. Research has shown this is a chronic disease of the brain caused by many factors, including genetics and epigenetics. Many have faced devastating experiences in childhood and adolescence. People don't choose addiction and if they could stop, they would. Before we judge, think about what may have led to this person's use disorder. Some of the personal histories are heart breaking and shocking."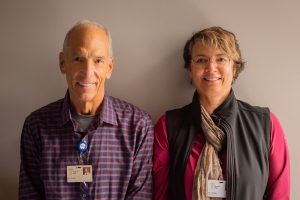 "Dr. Bruce Worth, our medical director, has been devoted to our substance abuse treatment program since he started it in 1983," explains Tracie Moen, nurse manager. "He has been an advocate for those with substance use disorder, caring for countless numbers of clients in both the inpatient and outpatient setting. Dr. Larri Ann Mishko joined us in June of 2019, and has been the perfect fit for our team. She brings new ideas, energy, and a passion to help those affected by this disease."
Worth, Mishko, and Moen serve under the umbrella of Harborcrest Behavioral Health, GHCH's hospital-based detoxification and treatment center. One aspect of care is with clients who are pregnant or new mothers. "The transformation of our clients from day one to completion of the program is amazing," says Moen proudly. "Our team works to develop a personalized transition plan for discharge including long term residential treatment, intensive outpatient, sober living facilities and other appropriate aftercare. As a result of the remarkable care our treatment team provides, we have many visits from clients and their newborn babies as well as dozens of letters of gratitude for the care that they have received. Seeing our clients blossom and grow creates a rewarding work environment. We are changing one life at a time, even if it takes more than one try. There is always hope and we have seen the proof."
The clinic treats approximately 150 pregnant women annually and is always open to more. They schedule clients seven days a week. "We also provide transportation to and from our program for CUPS (Chemical Use in Pregnancy Services) patients," says Moen. "Our CUPS program targets specific issues such as parenting, nutrition, stress/anxiety, codependency, building healthy relationships, life skills, abuse issues, tobacco cessation and effects of chemicals on the unborn child. Our clients have access to OB care while admitted to HarborCrest as well."
If you or someone you love would benefit by this type of caring, supportive environment, just call 360-533-8500, 24 hours a day, seven days a week. Someone at the front desk will do their best to schedule an appointment quickly and treatment can begin. Find a full list of Harborcrest services online or by calling 360-537-6258.
Einstein once said that we should all "Learn from yesterday, live for today, hope for tomorrow." Thanks to the dedication of Grays Harbor Community Hospital and Harborcrest staff like Mishko, you can find advocates and allies for the long, rewarding journey ahead.
Sponsored