There is nothing like a dog day at the beach! Spending the whole weekend with your best four-legged friend along the Washington Coast is even better. During the day play frisbee, look for shells, picnic in the sand and then cozy up in a nice room with a fireplace. Grays Harbor residents and visitors alike will find plenty of options when it comes to dog friendly places to stay in Grays Harbor. Whether you want to be pampered and spoiled or feel cozy and rustic, there is sure to be a place that will suit both you and your dog's taste! Just remember to pick up after your pet, ask about any restrictions prior to travel and keep your dog leashed in designated areas so that dogs always stay welcome. Here are a few choices to consider when looking for a dog friendly place to stay on the Washington Coast.
Iron Springs Resort 
3707 Highway 109, Copalis Beach
360-276-4230
reservations@Ironspringsresort.com
If you want views of the water and a cozy cabin, then Iron Springs Resort is a good choice. This dog friendly place to stay in Copalis Beach allows dogs in all their cabins. They do not discriminate on size or breed, all are welcome. They do have a pet fee of $20/night plus tax per dog. A maximum of three dogs allowed per cabin. Dogs get the pampered treatment at Iron Springs Resort, including dog food/water bowls, towels for wet paws and a Soggy Doggy mat for them to lay on next to the wood burning stove or fireplace. There are hoses outside each cabin to rinse your dog off before coming in, if needed. Dogs are even welcome in their general store where they sell treats and balls to play with on the beach.
Seabrook Cottage Rentals
4275 State Route 109, Pacific Beach
877-779-9990
info@seabrookwa.com
Seabrook Cottage Rentals are a great choice for those looking for more space and/or a longer stay. With beach access and walking distance to Seabrook's adorable shops and restaurants, you will not want to leave. These dog friendly vacation rentals in Seabrook have a dog park for quests to use and of course The Salty Dog is just down the street should you need something. A $60 pet fee for the duration of the stay is required, $75 for two dogs. While two dogs is normally their maximum allowed per home, they said they will make exceptions sometimes if you have three smaller dogs and are in a larger house, etc. Not all of their cottage rentals are dog friendly. You can use the filter on their website's search page to find ones that are. Feel free to call before booking to make sure you make the right choice in a rental.
Sandpiper Beach Resort
4156 State Route 109, Pacific Beach
306-276-4580
sandpiperbeachresort@gmail.com
Just two miles south of Pacific Beach, the Sandpiper Beach Resort is dog friendly and dog approved they say. With private balconies and patios, full kitchens and fireplaces, they are a great place if you are looking to relax and get away from things for a couple of nights. Pets are allowed on request and charges may apply so contact them prior to booking your stay.
Ocean Crest Resort
4651 State Route 109, Moclips
360-276-4465
If you are looking for class, a stay at the Ocean Crest Resort may be just what you are looking for. For humans, they have a wonderful restaurant and spa. This dog friendly place to stay in Moclips allows pets in certain rooms and the first pet stays free. A maximum of three dogs are allowed in each room. For additional dogs the rate is $15/night plus tax. Dogs cannot be left in rooms unattended or in vehicles overnight.
Photo credit:  Lita Dawn
Canterbury Inn
643 Ocean Shores Boulevard NW, Ocean Shores
360-289-3317
info@canterburyinn.com
Canterbury Inn offers you a unique place to stay, with each unit being individually owned and decorated – it's like staying in your own beachfront condo! This dog friendly place to stay in Ocean Shores is right off the beach, just a short walk to the dunes. Dogs are welcome in certain designated rooms with a $150 refundable pet deposit upon check-in. Fees are $15/day plus tax with a limit of two dogs per room. Dogs should be under 75 pounds – dogs over may be charged an additional fee. Be sure to grab a treat from the front desk for your furry travel companion.
Ocean Spray Beach Resort
1757 State Route 105, Grayland
360-986-6500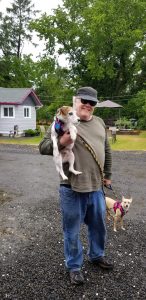 Those who like the rustic beachy vibe should check out the Ocean Spray Beach Resort. This dog friendly place to stay in Grayland has adorable weathered beach cottages that are perfect for a weekend or week-long getaway to the beach. They are within walking distance of the beach, shops and restaurants. They also have a playground for the kids. Contact them prior to reserve for information on their pet policies.
Chateau Westport Resort
710 Hancock, Westport
360-268-9101
info@chateauwestport.com
Chateau Westport Resort is a dog-friendly place to stay in Westport. With saunas, kitchenettes, an indoor pool and hot tub, frisbee golf, and beautiful views, you are sure to be happy here for the weekend or longer. Their dog-friendly rooms are on the first floor and have a $25/night per dog fee. They allow up to four dogs in a room and accommodating any breed/size of dog.
Gull Wing Inn
4852 Pacific Ave, Moclips
360-276-0014
If you are looking for somewhere dog friendly in Grays Harbor that is also budget-friendly, try the Gull Wing Inn. They have three suites that are all dog friendly. They have no restrictions on size, breed or number of dogs. There is a $10/night per dog fee. You can relax in a hot tub after a day's walk on the beach or cozy up and watch the sunset.