Telemedicine is not a new technology. In fact, many healthcare groups have long used it to interact remotely with patients. However, with the COVID-19 pandemic, telemedicine in Southwest Washington is becoming a critical service to aid the community in supporting their overall health and wellbeing while helping to stop the spread of the coronavirus.


Some healthcare groups have been using telemedicine for awhile, and for some who have been considering offering this service, COVID-19 ramped up the timeline of implementation.
Talking with a number of healthcare groups including MultiCare, Sound Options, Therapeutic Beginnings, and Olympia Orthopedic Associates, a few things were made clear: Telemedicine provides ease and access during times of travel and social restrictions and it aids in allowing individuals to minimize exposure and spread by bringing professional care and authority to a person's home, directly, via telephonic and video conferencing services.
MultiCare, as an example, has long used telemedicine services, but during this season of pandemic, telemedicine "allows us to provide peace of mind for people who most likely don't have the virus and to also quickly 'triage' others to appropriate COVID testing sites," according to Stephanie Cowan, DNP, clinical care director at MultiCare.
"In the first two weeks of March, we saw more patients than we did in all of 2019 on our virtual care platform (telemedicine)," he continues. "This is remarkable and inspiring when we consider that we managed to keep a significant number of patients out of a hospital emergency department, which helps conserve PPE, staff and facility resources and allowed us to hospitalize those who really needed more acute care. It also saved people money and helped them avoid a more expensive ED visit."
In addition to telemedicine aiding in the more immediate concerns of COVID-19, health care groups are also seeing it provide the critical segue between the need for continued care and the travel and social restrictions in place that cause many to either not be able to drive to a clinic or who don't want to, for fear of exposure.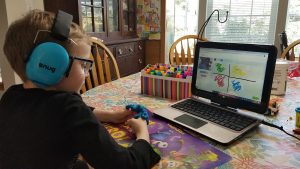 Christopher Heistand, speech language pathologist, at Therapeutic Beginnings LLC, explained that in-person care and telemedicine are different and equally valuable models for seeing patients. While the relationship and bonding components of working with adolescents in-person cannot be replaced, telemedicine has allowed for greater ease and access for individuals who either live far away, have a busy schedule, or who are wanting to maintain best practices of social distancing while receiving the care they need.
Telemedicine also helps keep people from gathering at the doctor's office or the hospital, which helps everyone follow Governor Inslee's "Stay Home Stay Health" order.
Jenifer Nazarowski, supervisor of counseling and geriatric care manager at Sound Options, says telemedicine has allowed them to continue care with places like nursing homes where they aren't even allowed to go physically.
In fact, there are a lot of individuals in lockdown scenarios who aren't even aware how accessible telemedicine is and how much it may benefit them. Nikolai Hammer, with Olympia Orthopedic Associates, says telemedicine helped an 80-year-old patient of theirs, who had knee replacement surgery a few weeks back. She had to call in from quarantine due to pain and swelling in her knee.
"We got her linked up with one of our doctors who was able to walk her through the process of getting our virtual care platform setup on her smart phone," explains Hammer. "Our physician gave her some excellent orthopedic advice, and by the end of the weekend, her knee was starting to feel better."
Telemedicine is also helping to relieve stress on the healthcare systems that are getting overwhelmed with COVID-19 patients. "We are not only trying to bring access to our community through telemedicine, but we also want to help relieve stress on our local healthcare systems, specifically emergency rooms," says Hammer. "It's a top priority of ours to come together as a community and make sure that we are able to serve our community while also relieving our doctors on the front line."
Telemedicine serves many purposes, whether we are dealing with a pandemic or not. Individuals should talk with their healthcare practitioners to see if telemedicine makes sense for their individual needs, whether it's for accessibility, on-demand care, or during a pandemic to prevent spread and exposure.