You can't keep a good community down. Grays Harbor County business owners get creative to find ways to continue to support their community and employees amidst the COVID-19 pandemic. One such business is The Juniper Tree Boutique and The Brass Hub Coffeebar in Cosmopolis, both owned by Chelsea Royer.
A recent Goldman Sachs survey of 1,500 small business owners revealed 50 percent of them expressed they would not be able to stay afloat for more than three months with the current state of restrictions. Undoubtedly, this pandemic is crushing commerce in ways few were ready to handle. But while sales are plummeting in many industry verticals, many business owners are moving their commerce to an online landscape, in order to weather this storm, keep their business afloat, and support the livelihood of their families and their employees.
While there were challenges for Royer in making the necessary adaptations to keep both her businesses afloat, her expertise in social media marketing allowed her to transition with ease. The Juniper Tree Boutique brings high-end, affordable clothing to women, and attached to the boutique is The Brass Hub Coffeebar.
As soon as Governor Inslee's restrictions were put into place, Royer transitioned all of her boutique sales to a Facebook video auction format.
The coffee bar, on the other hand, was a little bit more difficult of a transition. The first thing Royer implemented was a walkup window, and then immediately setup a website for online ordering. Royer also made changes to her food menu: her popular sweet rolls are now available all week long.
"Typically, we would only make the sweet rolls on Friday and Saturday, but we are now making them available all week long," says Royer. "We also now allow people to have the sweet rolls delivered to their homes on Saturday morning, and they also have the option of ordering them for someone else as a random act of kindness, in which case the delivery fee is waived," says Royer.
The pandemic forced Royer to make the necessary changes to both of her business models, in order to stay afloat and keep her businesses going, but she got more than she was expecting: Royer says the pressure-cooker COVID-19 put her businesses models in brought about greater clarity of what her community needs and desires. For Royer, the pandemic took her customer-concentricity to new levels. "This has really helped us strip away all unnecessary expenses and focus on what works—and what our customers want most," says Royer.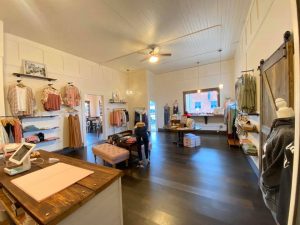 Royer is a hopeful example to the greater business community, and her level of expertise in social media marketing has been crucial for her success during this pandemic. She advises other business owners to take a real, thoughtful look at how they are engaging with their social media network, and to what end. "My advice for other business owners is the importance of having not just an online presence, but also an online community," she says. "If you start to think of social media as the entry way to your business, just as if someone physically walked into your storefront, it completely changes how you interact with people—and how they perceive you brand."
To watch the webinar Chelsea Royer put together for small business owners, click here. For helpful COVID-19 resources for business owners in Grays Harbor County, please visit Greater Grays Harbor.