Few people could have predicted the path 2020 would take. We'd barely recovered from the holiday rush when a strange new illness made itself known. Perhaps the hardest aspect is the uncertainty. What do we call it: COVID-19 or Coronavirus? What ages are most susceptible? How can we flatten the curve?
The arrival of spring finds us home-bound and confused; isolated and cut off from school, work, exercise and our warm-weather social lives. But at Grays Harbor Community Hospital, officials are working hard to answer questions, keep everyone healthy, and do whatever it takes to maintain a strong, caring community.
Though the governor has instituted a Stay Home, Stay Healthy time of self-quarantine, the hospital is still seeing and treating patients. "We are still providing services in our clinics, and want to emphasize that all our patients continue to seek care for chronic conditions, acute needs, well child checks and immunizations during this pandemic," says Elizabeth Tschimperle, executive director of Harbor Medical Group. "We have changed many processes to create a safe clinic environment for our patients to have a face to face visit with their provider. We have also expanded services at our clinics to include telehealth, for patients that need to be seen, but are unable to come in for an appointment."
But, as you might expect, doctors and staff prefer initial contact—except in emergency situations—be made by phone. If patients have COVID-19 questions, start with your everyday primary care physician. "Or if they don't have one or just want to talk with a nurse, we have a number set up, 360-537-5109," says Chris Majors, director of marketing and public relations. "It is our nurse triage line."
Many visits may be possible via telehealth real-time video chats. "The goal is that while the focus is on COVID-19, we can still assist our community to help care for them regardless of their situation and still reduce their exposure to unwanted elements," explains Brad Wallace, IT director. "This is because we care about our patients and their health. I have had the opportunity to work with each office utilizing telehealth and I am amazed at how the providers are so focused on anything they can do for their patients. It truly represents what a community health system should do."
Telehealth chats work best via either the Chrome or Firefox web browser or any smartphone. Once your appointment time is confirmed, patients will receive an email with instructions on how to connect. The only requirement is that it have audio and video capability. If, like many of us, you're working or taking classes from home and have used programs like Zoom, you're good to go.
And you don't have to worry about privacy concerns, Wallace and his team have worked hard to protect you. "Being in IT I know compliance is very difficult to get and maintain and one reason we utilize this method," he explains. "Nothing is ever recorded or saved and the connection is completely secure. The solution goes beyond even what HIPAA requires."
If you need an in-person visit, simply call 866-537-2778 to schedule an appointment with the primary care clinic, prompt care clinic, or respiratory clinic. "We are pre-screening all patients of our clinics for respiratory symptoms during confirmation calls," explains Tschimperle. "We have two separate, designated sick clinics, one for pediatric patients and one for adults to reduce chances of transmission at our clinics. We also have screening stations at the entrance of the East Campus to screen patients and visitors. All patients that are presenting for a face to face visit with our clinics and are exhibiting respiratory symptoms are provided a mask to wear during their appointment."
Whatever the diagnosis, medical issues can be stressful. Many of us bring a spouse, parent or child for assistance and moral support. But COVID-19's easy transmission necessitates change and Tschimperle explains how they're restricting the number of attendees. "Patients who have altered mental status or developmental delays may have one person with them at their clinic visit," she says. "Minors under the age of 18 may have one parent or guardian with them. We ask that, if at all possible, no other siblings are present at these visits. All other patients over the age 18 are to attend their visit independently and all other unnecessary attendees will be asked to wait in the car." In addition, anyone who expects they've been exposed or is symptomatic will be asked to wear a mask on-site.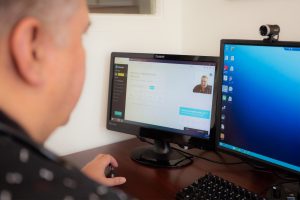 We're all taking things one day at a time. "With Governor Inslee's order to cancel elective surgeries and people social distancing we have seen a marked reduction in the number of patients," admits Majors. "Social distancing has been successful in slowing COVID-19 but it has also reduced the number of cold and flu visits."
So, continue to stay home, stay healthy, and we'll soon be on the road to recovery.
Find detailed information, updates, and contact information at the Grays Harbor Community Hospital website or their Facebook page. For the state information, visit the Washington State Coronavirus Response website.
Sponsored