Few things are as stressful as a visit to the emergency room. The CDC reports that there were 139 million visits in just one year alone. The mix of pain, worry, and the often hectic atmosphere are a worrisome combination in times of illness or injury. Thanks to Dr. David Mendelson, the ER at Grays Harbor Community Hospital is in experienced, confident hands.
A native Oregonian, Dr. Mendelson grew up in Portland and studied there through his medical school graduation from Oregon Health Sciences University. "Ultimately I became a Board Certified emergency physician following my training in Philadelphia and have spent most of my career managing and improving hospital based medical practices many of which were emergency departments, for a company based in Dallas, Texas," he explains. "During my career, I have always practiced emergency medicine along with my administrative responsibilities, and continue to do so today."
In the spring of 2020, he answered the call to come home to the Pacific Northwest. "My father and sister still live in Portland and many of my friends are somewhere between Portland and Seattle. I discovered a job opportunity for an Emergency Department Medical Director in Aberdeen. During the interview process, I met the great folks at Grays Harbor Community Hospital and many people from surrounding areas in Washington. I became enamored by this region of Washington, and felt a strong pull to return home to my northwest roots."
His arrival, unfortunately, coincided with that of the COVID-19 pandemic. "As the new medical director of Grays Harbor Community Hospital Emergency Department I am working very closely with the Emergency Department nursing director Heidi Malloque and Hospital CEO and just beginning to meet other medical leaders in the area. Needless to say, it has been interesting moving back to the northwest after more than 20 years, and starting my new job in the midst of this pandemic. But this is what ER people do, it's in our DNA. Good timing huh?"
But despite those added challenges, he's settling in well. "I have found working at Grays Harbor both rewarding and challenging before and since the pandemic," admits Mendelson. "The rewarding part comes from the fact that the healthcare community that serves the hospital is passionate about their hospital and its patients from the community. There is nothing more rewarding than working alongside healthcare professionals who genuinely care. The other thing that this shows me is that with this group of professionals that work in the Emergency Department every day, and the strong support from our administration, I am certain we will effect improvements, rapidly, that will make our community proud to be served by GHCH."
And though Grays Harbor isn't the biggest or most centralized hospital he's managed, Mendelson has not found it lacking. "I am amazed at how talented the physician and nursing staffs are at Grays Harbor and would trust the doctors I've met with my health or that of my family. I've seen medicine practiced on a high level, not just a high level 'for a community hospital' but a high level for medicine anywhere in this country. Each of the doctors working in the Emergency Department is solid, has tons of experience, and most are board certified in Emergency Medicine. I have no concerns about that dedication and support at Grays Harbor and know we will get better and better at seeing ER patients and meeting their needs."
His daily duties include an array of activities. He works hands-on in the Emergency Department as well as supervising, hiring, coaching, scheduling, and managing providers. He constantly seeks input and feedback from his team because "a happy Emergency Department staff is much more likely to have happy appreciative patients and this is best for the community, hospital and longevity of those serving the hospital. In addition, my operational counterparts in nursing Heidi Malloque, RN and the hospitalists working with Harbor Medical Group have been great to work with and understand what it takes to ensure excellent patient care."
Outside of work, Dr. Mendelson spends time with his active family. He and his wife have three teenagers, two of whom just graduated from high school in May and are moving off to college in the Fall. They enjoy road trips to visit family and friends or fishing excursions on the Campbell River. Mendelson is also an avid foodie. "I have been cooking all my life and have tried to learn cooking techniques and styles based on where I have lived or traveled during my career," he says. "Needless to say that the northwest has an abundance of amazing resources for a foodie thus my wife, kids and I have been thrilled to source from local farms and fish houses."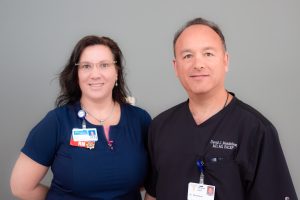 Mendelson will be able to take advantage of a lot Grays Harbor has to offer. "I have always been a sports enthusiast and love to ski, fish, workout, and camp," he shares. However, one part may not go so smoothly. "One note, I am an original Portland Trailblazer fan, and a true Dallas Cowboys fan. We will see if I can learn to appreciate the Seahawks."
The Grays Harbor Community Hospital's mission is simple: To heal, comfort, and serve our community with compassion. Thankfully, Dr. Mendelson and the entire Emergency Department team strive to do this every day, often in the face of complicated, arduous circumstances.
Find emergency warning signs, driving directions, and health tools at GHCares.org or call 360-532-8330 with questions or concerns.
Sponsored