Janessa Otterstetter was a multiple-sport athlete at Montesano High School, talented enough to play either volleyball or fastpitch at the collegiate level.

Just do not ask the former Bulldog standout to decide which activity she likes best.
"I don't really favor either sport," the 2020 graduate said. "It is really based on which one is in season and how well I am doing and how well the team is doing."
Fortunately for Otterstetter, Wenatchee Valley College didn't require her to pick between the two sports. She'll being playing both for the Knights.
"I always wanted to play both (in college) but never really thought I was able to," Otterstetter said. "Once I talked to (Montesano High School fastpitch and volleyball) coach (Pat) Pace about it and found out I could, I was stoked. I did sometimes think about if I got an offer from a bigger university for one then I might just do that one sport but when it came down to it, I really was not ready to give up either sport."
Now, she doesn't have to.
The 5-foot-6 Otterstetter was an all-league selection in both sports, earning second-team all-1A Evergreen League during her senior year as a setter in volleyball at Montesano. She should provide the Knights with immediate help and challenge for a starting position on a squad that went 2-28 overall last year and 1-15 in the Northwest Athletic Conference East Region.
"I visited a couple colleges, and this just felt like the best fit," Otterstetter said about Wenatchee Valley. "I have always loved the area over there and I have some family there as well, which made me feel more comfortable considering I am very nervous about leaving. The girls and the coaches were all so welcoming from both sports teams and I even got introduced to some people just attending school and they were very kind as well. The coaches both seemed very interested in me and made me feel I would be a great contribution to their team."
She will join a Wenatchee Valley fastpitch team which did not play a single game in 2020, seeing their season cancelled due to the COVID-19 pandemic. The Knights were coming off a strong 2019 season where they finished 22-16 overall and advanced to the NWAC softball championships.
When Otterstetter does take the field at Wenatchee Valley it will end a lengthy hiatus for the outfielder. She helped the Bulldogs to the 2019 Class 1A state title and was set on helping the program claims its third state championship over the last four years before her senior season was cancelled as well.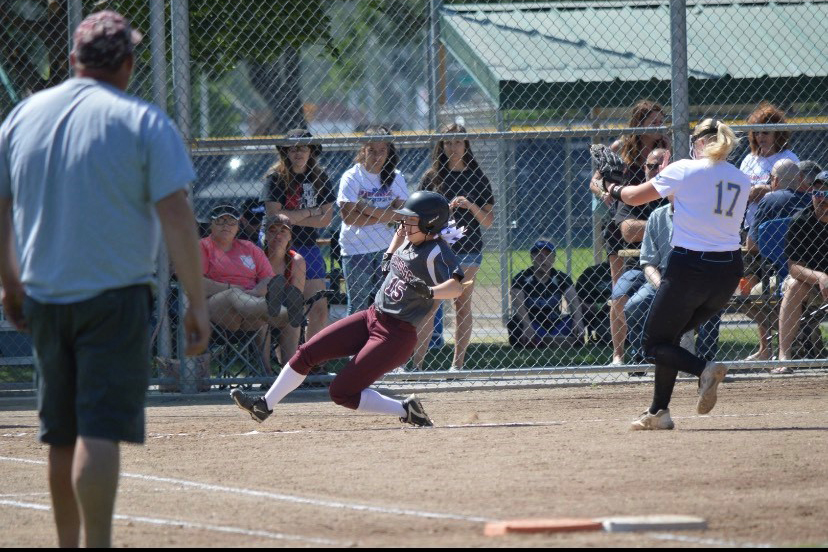 "I can't even really describe the feeling, I just felt so in shock," Otterstetter said about not being able to play her senior season of fastpitch at Montesano. "I was in denial for a while but when it really clicked, and I had to face that this was it. I was really heartbroken. I just tried to do things to keep my mind off it and keep active. It's really difficult to know how hard you always worked for the seniors in the past and watching and waiting for it to be your day, your turn, and realizing you aren't getting that and not getting a chance to see what your team and yourself can do your senior year."
Otterstetter was coming off a junior campaign at Montesano where she was an honorable mention all-league pick. She batted .387 with 24 RBI and 23 runs scored and really heated up when the Bulldogs needed her the most in the postseason, going 7 of 14 (.500) during the state tournament.
She hit safely in all four state tournament games, highlighted by a three-hit performance in a 17-1 drubbing of Coupeville. She also drove in a run during the Bulldogs' 5-4 in over Castle Rock in the title contest, which Otterstetter recorded the final out in to give Montesano its 10th state title.
"It's just really unfortunate," Otterstetter said. "I would say it was more difficult coming in as defending state champions because this year a lot of people were doubting us and now, we didn't get the chance to see how well we can do our senior year. Montesano softball has always been an amazing program and has always gone far even when people doubted them before. We have an amazing coaching staff who pushes us to our full potential, and this is what makes us the team to beat."
Otterstetter will now turn her full attention to making both the softball and volleyball programs at Wenatchee Valley the teams to beat.
"I would say what excites me the most about attending and playing sports at Wenatchee Valley is getting to make new lifelong friendships," Otterstetter said, "and playing with new teammates and coaches, and just getting to play at the next level."