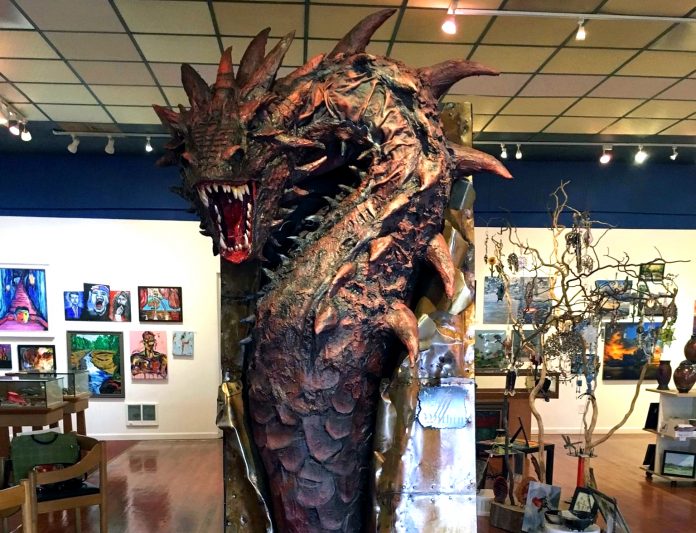 When Carrie Moore, an out of town friend of Debbi Branford Jensen, Harbor Art Guild member and chair of the Adoor Project of the PNW, drove down Aberdeen's Heron Street, she was distressed at the darkened buildings with boarded up doors and windows. Her comments spurred Jensen into action, who decided something needed to be down to beautify the city. And why not beautify while giving back at the same time? Thus, the Adoor Project of the PNW was born. Local artists would create artwork out of repurposed doors, which would then be sold to raise money for Aberdeen High School scholarships.

"This is going to be a legacy because we're not the legacy, our children are," Jensen said in a 2019 video about the Adoor Project.
In 2019, high school seniors signed up with the Adoor Project to create doors to brighten the windows of closed businesses, empty buildings, or businesses needing a window display. Earthwise Architectural Salvage donated the recycled doors to be repurposed.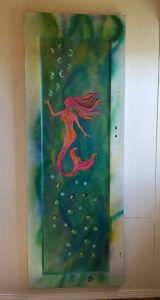 All the doors had a light element to them, which lit up using a battery-operated LED so even if there was no electricity turned on, it could still light up the dark, shares Jensen. The 23 doors created by students and were showcased at the Aberdeen Rain Glow. Those doors are going to be auctioned off in a silent auction, with proceeds going to student scholarships. Jensen says a mermaid themed door went to Westport Winery for the new International Mermaid Museum and the Shoppes of Riverside displayed most of them in storefronts.
"One hundred percent of the purchase of the doors goes to career technical education for Aberdeen High School graduating seniors," explains Jensen.
Stafford Creek Corrections Creates Art to Give Back
Local students are not the only ones using art to give back through the Adoor Project. Jensen attended in art show at Stafford Creek Corrections that featured the work of more than 80 incarcerated individuals. "I had never been to a correctional facility before and it captured my heart talking to each individual about their medium," Jensen said. "I was just blown away with the story they made and items they repurposed with such detail. They are so talented."
The work she saw and the positive impact it had one everyone involved, prompted Jensen to talk to them about creating two doors for the Adoor Project. The facility was very open to the idea, knowing it would not only help the students, but also the incarcerated individuals. Victoria Gamroth, an administrative assistant at Stafford Creek, says having art in correctional facilities can have a profound impact on rehabilitation. "It prevents idleness, stimulates creativity and intellect and may raise self-esteem. It also promotes pro-social behavior when incarcerated individuals talk about their work." She says the charitable element teaches incarcerated individuals about altruism, while allowing outsiders to see correctional facilities in a different light.
"Many of these men came up to me after the art show and said all the positive comments they received from community members has been life changing," Gamroth said, noting the vast majority of people who go to correctional facilities will eventually complete their sentences and face a stigma when returning to society. "Projects like these bridge the gaps between correctional facilities and the community. It gives people a chance to think outside the box when it comes to incarceration."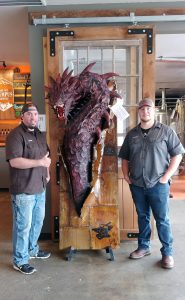 The two magnificent doors created by the artists at Stafford Creek are currently on display at local businesses. A fiery red dragon door, made of toilet paper rolls, scrap paper and other recycled materials, with LED yellow eyes, is displayed at Mount Olympus Brewery. The other door is a cool steampunk, art-deco style piece that has a human face that lights up with LED lights that is displayed at Earthwise Architectural Salvage.
The dragon door has a purchase price of $1,600, while the steampunk door is valued at $1,500. "Mount Olympus Brewing and Earthwise want to keep their doors," explains Jensen. And this is where you come in.  "Because of the price tag, anyone that would like to take a selfie and donate towards the cost would be appreciated." Just head into either location, snap a pic and donate. It's that easy.
Don't forget you can also purchase one of the Aberdeen students' doors. Purchase for your own business, a business or building downtown, or for yourself.  All the money will go to Aberdeen students, businesses will get some new art that will beautify our city and local artists will get recognition. It's a triple win, as you help open doors for students, incarcerated individuals and businesses in Grays Harbor.
If your business would like to participate in the Adoor Project of the PNW, send an email to Debbi Jensen at theadoorprojectofthepnw@gmail.com.