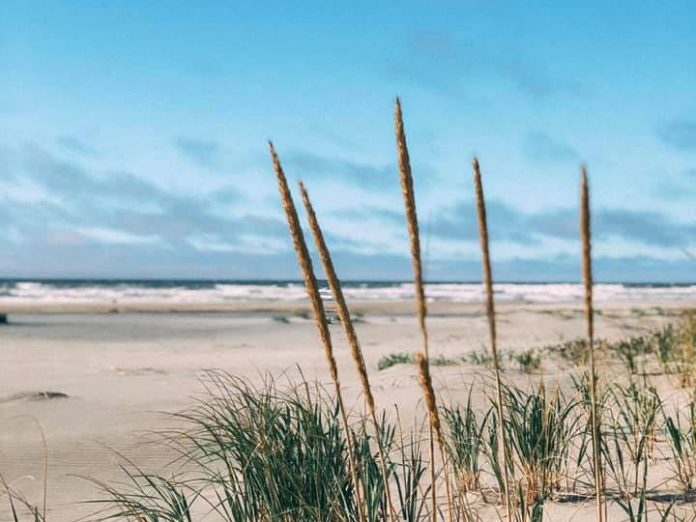 Instagram is one of the most popular apps of all time. With over one billion active users per month, content can easily be shared and spread across the world. For many, the best part about scrolling through their Instagram feed is admiring beautiful destinations. If you love to share photos, you are in luck as the Pacific Northwest has some pretty amazing photo-ops. Check out these Instagram worthy locations in Ocean Shores.
The Beach
A day at the beach is bound to provide exciting photo opportunities at every step. Comb the beach for seashells and unique treasures to be the focus of your photo, or perhaps fly a colorful kite high into the air and snap the perfect shot as it brightens the sky.
Other opportunities for photos could feature you and your friends saddled upon one of the horses that are available to rent in the summer, an expertly laid out picnic, a frisbee in mid-air or an action shot while skimboarding or surfing the waves. A visit in the off season also proves to be worthwhile as savvy Instagrammers can snap a shot of a shovel digging out a coveted razor clam or a photograph a winter storm churning up rolling waves. The opportunities are abundant at any stretch of shoreline in Ocean Shores.
Fun Centers
Put a smile on your whole family's face while spending the day at a fun center! Between Playtime Family Fun Center and Pacific Paradise, everyone can find some enjoyment while taking photos of their genuine happiness driving outdoor go-karts and bumper boats, playing a round of mini golf, riding indoor bumper cars, and winning big in the arcade.
The Weatherwax Trail
The Weatherwax Trail is a beautiful 1.2-mile trail that loops through the vibrant coastal forest of the Weatherwax Preserve and skirts along the edge of the tranquil Duck Lake. The path is flat and ideal for families, creating ideal opportunities to capture the joy of exploring nature to share on your Instagram.
Fresh Waterways
While many are aware of the more obvious ocean coastline when it comes to water activities, the 23 miles of inter-connected canals and lakes are undoubtedly Ocean Shores' hidden gem. Take in the breathtaking views with your phone or camera in hand during a unique sailing adventure with companies such as the Ocean Shores Boat House that rents out water equipment including Duffy boats, stand up paddleboards, kayaks and much more. The waters are calm and flat providing a low-key day to take as many photos are your heart desires.
Sharky's
As one of Ocean Shores' most iconic stores, Sharky's is a must-stop destination for anyone looking for a fun photo-op. The entrance to the shop is a massive shark mouth adorned with menacing teeth that you won't soon forget. Pose in or snap a shot of the exterior before heading inside and discovering fun shark merchandise including everything from toys, shirts, boogie boards, skim boards and more!
There are many more unique shops and gift stores in Ocean Shores that offer numerous opportunities for collecting excellent Instagram material.
Ice Cream Shops
What's more iconic from a day at the beach than a photo with an ice cream cone? Luckily for us, Ocean Shores provides numerous ice cream shops that are packed with dozens of flavors to suit your liking. For a brightly colored ice cream photo, order up a rainbow sherbet cone and hold it up in front of the shop. Other ideas could include letting your kids enjoy their ice cream and snapping a photo as it oozes down their face. Sticky, but cute!
Oyhut Bay
One of the newest beach communities on the Washington Coast is the picturesque, Oyhut Bay. Rent an expertly designed beach home for the evening and plan out your visit in the community and Ocean Shores. The resort community is incredibly walkable and bikeable, making for great photos in front of the Pacific Northwest inspired architecture. On the property there are also multiple shops and a restaurant awaiting your arrival.
Oyhut Wildlife Recreation Area
The community of Oyhut Bay was built next-door to the popular 683-acre Oyhut Wildlife Recreation Area. This sprawling area was set aside by the State of Washington to protect its tranquil woodlands, wetlands and tidal flats, making for an excellent area to snap an Instagram picture. Bird watchers and visitors are attracted to this area in the hope of catching a glimpse of blue herons, brown pelicans, pheasants, snowy plovers and nearly every species of waterfowl in North America.
Coastal Interpretive Center
Open since 1977 and a staple of Ocean Shores, the Coastal Interpretive Center is jampacked with entertaining and educational displays that are sure to wow your followers. Entrance is free to view and photograph extensive seashell displays, unique rocks and minerals, Quinault tribal artifacts, habitat, wildlife and tsunami exhibits, and a space dedicated to showcasing artifacts from the famed 229-foot ship, the SS Catala.
For more ideas on Instagram worthy locations to visit, head to the Tourism Ocean Shores website.