During most holidays, the majority of a company's staff usually take the day off, but for Great NorthWest Federal Credit Union, each Columbus Day staff members work to better themselves and their careers during an all-staff retreat. However, since 2020 has put a halt on all large gatherings, Great NorthWest decided to put together their annual retreat in virtual form. This year they also spent the day giving back to the many communities that the financial institution is situated in.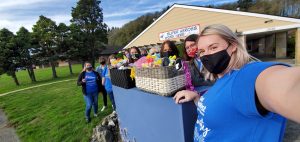 Since 1953 when Great NorthWest was chartered in as Schafer Mill Employees Credit Union, they have provided a safe and sound comprehensive range of financial services to their family of members. On Monday, October 12 Great NorthWest employees gathered together via virtual event instead of their usual in-person retreat held in Raymond. While the entire day is normally spent dissecting the triumphs and learning opportunities over the past year, participating in trainings, gathering together for lunch and other activities, spending eight hours strictly online wasn't what the Credit Union had envisioned for their employees. With this in mind, the decision was made to spend the first four hours of the day online in the retreat, and the other four participating in a various community service projects.
As Columbus Day approached, each department was tasked with deciding what type of community service projects they wanted to organize. With five branches, and 63 employees in total, a great deal of volunteerism was bound to happen as the employees set out wearing bright blue shirts in every corner of the twin counties.
When October 12 came around, the decided upon volunteer tasks benefitted both the natural beauty of the Washington Coast as well as individuals throughout the communities. The Administration Team spent their time working alongside the Port of Grays Harbor to coordinate cleanup at Friends Landing in Montesano. Meanwhile, the Long Beach Branch put together and delivered care packages full of goodies to surprise residents at the senior centers, Coastal Care and Golden Sands.
For the Ocean Park Branch's volunteer project, staff members walked miles upon miles of beachfront picking up garbage from the sandy shores. The Chehalis Branch visited downtown Borst Park and assisted park staff with their cleanup efforts. Additionally, the Aberdeen branch's teller line and loan department staff teamed up and created a plan to engage their members to help with their project. To do this, leading up to Columbus Day flyers were posted around the Aberdeen Branch requesting personal care items. Donations poured in as the Great NorthWest members seized the opportunity to help those in need. Once collected, staff donated the items to the Friendship House and Union Gospel Mission where they could be properly distributed. These are just a few of the good deeds that the staff spent their time participating in and look forward to continuing to give back their time in the future.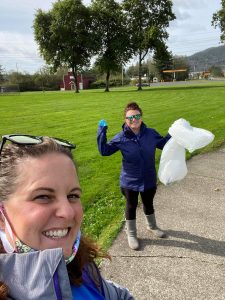 In total, Great NorthWest staff spent a combined 178 hours volunteering in the community. "I loved seeing and hearing about our teams working together and helping our community," explained Executive Vice President Kari Adams. "Our staff had a lot of fun and as we worked on building team comradery while simultaneously giving back to the twin harbors. We have an amazing team and along with giving excellent member service, we also take pride in giving back to our local communities."
"Great NorthWest has had a community presence in the twin harbors for nearly 70 years and we are always looking for ways to get involved and truly embody our slogan, 'People Helping People,'" states Doug Page, Great NorthWest president/CEO. "We believe our fantastic staff accomplishes this on a daily basis with all member interactions whether over the phone or in-person. Community service is impactful on so many levels and our staff was very excited to give back and get out into the community. We were blessed with excellent weather and really came together as a team. It felt good."
To learn more about this local credit union, visit the Great NorthWest Federal Credit Union website.
Sponsored