Winter in Grays Harbor isn't for everyone, but it should be. Best known for wind, rain, and clouds, one assumes that an off-season trip to the region is one where you should stay indoors. Yet, it is during the winter, when everyone else retreats indoors, that the spirit of the region can be found. As the weather returns to its true Pacific Northwest form, those ready for a rainy-day adventure will find incredible hikes in the wet and wonderful wilds of the county. The area is flush with public lands for all ages, so grab your rain jacket and make a plan to explore Grays Harbor's trails this winter.

A classic way to explore the trails in Grays Harbor is to hit up one or all of the region's state parks. You'll find seven state parks in the county, each of which offers unique hiking and outdoor recreation opportunities in the winter months. Whether you prefer a walk in the woods, exploring around a lake, wandering a river or taking in the sights and sounds of the breaking waves of the mighty Pacific, you'll find it in Grays Harbor.
Lake Sylvia and Schafer State Parks are both on the eastern edge of the county and offer incredible walks in the woods. Schafer State Park is the most overlooked and is a fantastic spot for families with school age kids. You'll find two miles of trails, as well as a handful of educational signs that help to teach about the geology, history and wildlife of the region. Lake Sylvia is quite possibly the crown jewel of Grays Harbor's parks. Here, you'll find lake access for paddling and fishing, chances to see birds and other wildlife and over five miles of spectacular trails.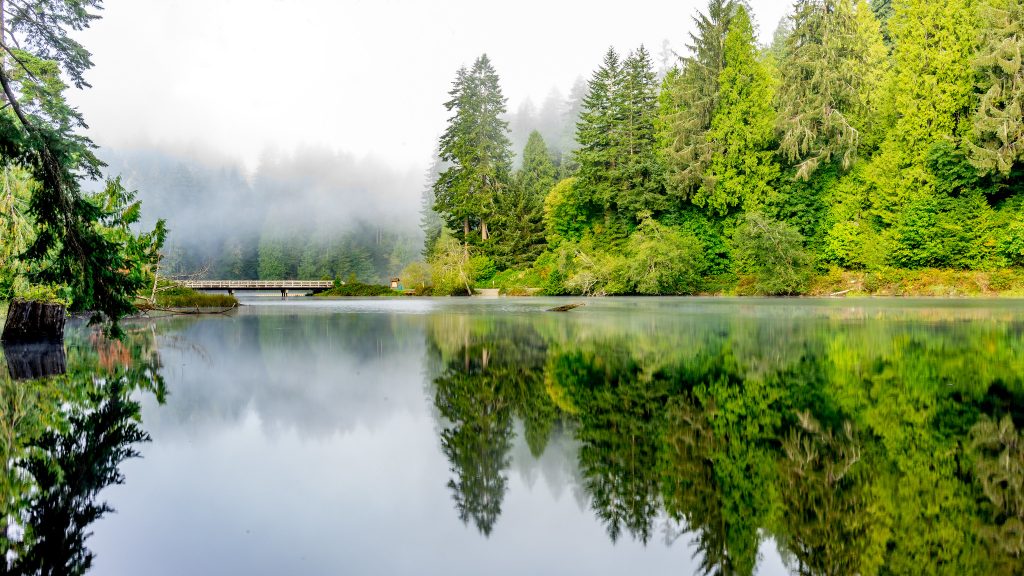 Out on the coast, there are five state parks to wander along the sandy shores of the Pacific. Near Westport, Grayland Beach State Park doesn't have much hiking in the actual park, but does let you wander through the dunes to reach the winter storms waves. Twin Harbors State Park is another great option when down by Westport. Here, you'll have miles of beach and dunes to explore, right along a seashore conservation area. The best hiking option for this area is found at Westport Light State Park, which not only offers beach and dune access, but also a 1.3 mile one way, mostly paved path all the way to the Westport Jetty.
On the North Beach, Pacific Beach State Park is another great stop. While you won't find hiking trails here, you will have access to nearly half a mile of shoreline. If you want more beach, Griffiths-Priday State Park in Copalis is another gem of the region, letting you wander along both a river and the ocean. The park also has over a mile and a half of beach to explore, and some of the best razor clamming digging in the state.
To access these Washington State Parks, you'll need either a Discover Pass or to enjoy them on one of the fee free days this winter. In 2020, the two remaining fee free days are on November 11 and 27. In 2021, January 1 and 18 will be your fee free winter days. A full list of the free days and ways to buy a Discover Pass can be found on the Washington State Park's website.
Those hoping for something closer to town have a few fantastic options. The Morrison Riverfront Walkway in Aberdeen is a little over a mile and a half with a mostly paved trail that runs along the Chehalis River. Also in Aberdeen, you'll find the Chehalis Riverfront Walkway. This paved trail travels along on an abandoned railroad grade and levee, giving some good views.
Hoquiam Hikers have a few options as well. The Elton Bennett Nature Park, offers trails that pass through tall trees and waterways. The classic hike in town, is the Sandpiper Trail at the Grays Harbor National Wildlife Refuge, where you'll find a boardwalk trail that shows off the birds and other animals that visit and live in Grays Harbor.
Once you've got your fill of the state and local park trails, don't fret! Grays Harbor is the gateway to Olympic National Park and Forest. One favorite spot for both locals and visitors is found around Wynoochee Lake. Whether you explore the dam, walk along the lake or check out the region's waterfalls, a trip to Wynoochee is a fun adventure. Also in Olympic National Forest and Park is the Lake Quinault region. The best way to see the region is to explore the Lake Quinault Loop, which has 10 stunning stops and a handful of fantastic, family friendly hikes. If you only have time for one hike, do not miss the Quinault Rainforest Nature Trail.
Before heading out, always make sure you review our tips for a safe and successful day in the natural wonders of Grays Harbor. Also, make sure you check the area's Covid-19 guidelines before you get out and about.