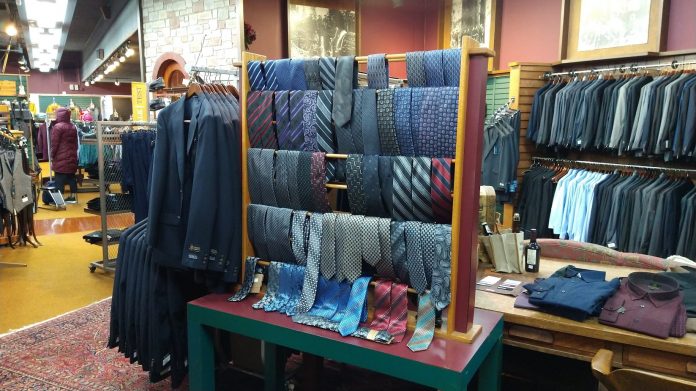 Season's Greetings, everyone! After the bizarre year we've pretty much all been experiencing, it's hard to believe that the holidays are, once again, just around the corner. COVID-19 or not. This year, small businesses are struggling more than usual, so when doing your holiday shopping, think local first. To get you started, here is a list of places you can shop local in Grays Harbor for men's gifts.

Englund Marine & Industrial Supply
101 W. Wilson Avenue, Westport
360-268-9311
Englund Marine & Industrial Supply in Westport offers the full gamut of supplies, for the fishing hobbyist as well as professional. Tools are also available, as well as boating accessories.
Ocean Shores Soapworks
710 Point Brown Avenue NW, Ocean Shores
360-289-1700
Ocean Shores Soapworks offers a wide variety of custom soaps, as well as men's and women's clothing and footwear. They even feature a selection of holiday-themed (and other) greeting cards.
Waugh's Men's & Women's Apparel
110 E Heron Street, Aberdeen
360-533-3880
Waugh's Men's & Women's Apparel offers high quality clothing for men and women. Clothing items, both casual and formal, are available, as are footwear. Additionally, many gift items are available. Personal items, such as colognes and shaving accessories, lip balms and soaps, are offered. There is a wine cellar featuring premium wines and quality beers. A walk-in humidor is available for the cigar aficionado on your list. Black Friday and Christmas deals will be forthcoming. For more information, visit the Waugh's Men's & Women's Apparel website.
Eargaszm Records
2224 Simpson Avenue, Hoquiam
360-500-6701
The vinyl revival has been going on for the better part of a decade now, with seemingly no end in sight. Eargaszm Records in Hoquiam offers used records, audio equipment, and CDs for the music enthusiast in your life. The owner will be happy to share his musical knowledge with you to help you find the perfect gift.
Affordable Guitar
2302 Simpson Avenue, Hoquiam
253-891-7219
For the musician in your life, Affordable Guitar offers vintage guitars and amplifiers, as well as a selection of new instruments and accessories. When shopping for a music enthusiast, this should definitely be a stop on your quest. You will find a truly unique selection of guitars, basses, amplifiers and accessories for the musician (or wannabe-musician) in your life. They also carry accessories, strings, cables, capos, and other stocking stuffers. If you are not confident in making a selection, Kevin, the owner, is knowledgeable and will be happy to assist.
Bayview Building Materials
620 E Young Street, Elma
360-482-3811
Bayview Building Materials of Elma offers a full range of hardware items for home maintenance, DIY projects, and home entertainment. Everything from a brushless, cordless, finish stapler to an electric pizza maker, as well as audio/video-related items. Check out current sales and categories on the Bayview Building Materials of Elma website.
Dennis Company Ace Hardware
20 North Boone, Aberdeen
360-538-6727
115 S 4th Street, Elma
360-482-2421
413 W Pioneer, Montesano
360-249-4821
Dennis Company Ace Hardware has been regionally owned for more than 110 years. Three of its five outlets reside in Grays Harbor County. They offer gifts for the craftsman, handyman, fishing and hunting enthusiasts, as well as outdoor chefs and those intent on decorating for the holidays. You can also shop a full range of attire (jeans, shirts, jackets, rain gear, etc.) as well as tools and whatever hardware one might need to complete a full palette of home improvement and other maintenance tasks for the DIYers on your list. For information on current specials and ongoing sales, go to the Dennis Company website.
Buck Electric Ace Hardware
641 Point Brown Avenue NW, Ocean Shores
360-940-0189
Buck Electric Ace Hardware in Ocean Shores shares the variety of the Dennis Company Ace Hardware stores, plus some additional product categories, including a limited selection of guitar strings, TVs, and audio and computer-related cables and peripherals. A great gift source for pretty much anybody on your list!
Buck's Bikes
30 Front Street, Pacific Beach
360-986-0325
Buck's Bikes in Seabrook offers bicycles, bike rentals, as well as biking accessories and other gear for the outdoor enthusiast in your life. The owner is an enthusiast himself, which makes the venue both more interesting and reliable. Though current inclement weather limits some activity currently, the outdoorsmen on your list will be happy for a gift that gets them ready for warmer days.