Shopping for the special women in your life can be difficult when they seemingly have it all. Luckily for those living near the coast of Washington, Grays Harbor is loaded with locally owned gift shops, clothing stores and more that are excited to welcome you in and assist in the process of finding a gift to remember. Here is where to shop local in Grays Harbor for women this holiday season.
Waugh's Men's and Women's Apparel

110 E Heron Street, Aberdeen
360-533-3880
In operation for over 100 years, Waugh's Men's and Women's Apparel is a locally owned clothing store carrying some of the biggest name brands in retail. Their inventory changes with the seasons to help visitors refresh their wardrobe to fit the weather. Pick up a North Face jacket, Birkenstock sandals for an upcoming vacation or a pair of comfortable Pendleton leggings that are sure to surprise. Waugh's also offers an extensive wine cellar for women who enjoy unwinding with a glass, as well as other gift items including jewelry, specialty beer and delicious Cougar Gold cheese.
Magnolias Seabrook
212 Market Street, Pacific Beach
360-743-1158
Located in the bustling coastal town of Seabrook, Magnolias Seabrook is a must-stop shop to complete your shopping list. Browse through their assortment of clothing items that include tops, bottoms, dresses, sleepwear, shoes, jackets and outwear, all carefully curated to showcase ladies in their best light. If you're looking for something that sparkles, they have a lovely selection of jewelry as well.
Ocean Shores Soapworks
710 Point Brown Avenue, Ocean Shores
360-289-1700
Smelling great is made easy with Ocean Shores Soapwork's line of small batch soap and body products. Choose from a wide variety of scents including citrus, fresh, sweet, or spicy, to name a few. These items work great as a stocking stuffer or can be combined with other gifts to create something special.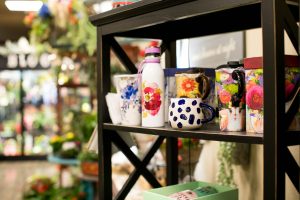 Harbor Blooms
118 E Heron Street, Aberdeen
360-532-0300
Although known for their exquisite floral arrangements complete with feathers, glitter and other adornments that would make a beautiful gift, Harbor Blooms also carries a wide range of gift items. Candles from locally owned businesses are frequently requested as well as home décor. Be sure to check out their seasonal hot ticket item, Christmas gnomes, which bring bearded cheer to any home.
Tides & Anchors Boutique
2521 Westhaven Drive, Westport
360-268-7730
Located on the scenic Westport Marina, Tides & Anchors Boutique is a one-stop shop for all of the women on your holiday shopping list. Create a gift basket full of goodies such as a made in Washington candle, winter beanie, clothing pieces, travel coffee mugs and plenty more fun items. While you're visiting the Marina, walk along and stop by the many other gift shops lining the docks to complete your gift buying process.
Oceana Spa
501 West Wishkah St, Aberdeen
360-532-8182
Oceana Spa is known as Grays Harbor's premier day spa and skin care boutique. The knowledgeable staff are on-hand to assist with all of your gift buying needs when it comes to selecting one of their extensive skin care products. If you're unsure what type of product to buy, purchase a gift certificate that can be used on future products or services from some of the area's best licensed technicians and skin care professionals providing relaxing massages and facials, waxing services, makeup application, sunless tanning and more.
Harbor Drug & Gifts
316 8th Street, Hoquiam
360-532-3061
A staple in downtown Hoquiam for years, Harbor Drug & Gifts dedicates the majority of their storefront to feature some of the best gift items in the area that helped award them the honors of Best Gift Store and Best Business in Hoquiam for 2020. Grab a puzzle, trendy purse, cozy blanket or one of their many Seahawks-themed gifts. For the kitchen lovers in the family, pick up a memorable coffee mug, set of wine glasses, delicious pepper jelly or a pre-made dip package ideal for entertaining.
Juniper Tree Boutique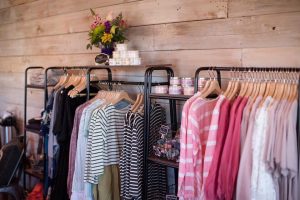 1101 1st Street, Cosmopolis
360-580-1621
For many women, updating their wardrobe with the latest trends is a favorite pastime. Owner of Juniper Tree Boutique, Chelsea Royer would agree as her shop is consistently stocked with the latest items from her many visits throughout the year to hand pick items in Los Angeles. With a self-proclaimed fashion sense of "somewhere between Hillary Clinton and Ariana Grande," their mission is to help their guests feel fabulous and confident on a daily basis. If choosing an item out of their inventory is a tall task, purchase a gift card for future use that can be applied in conjunction with expert help from their employees.
All Wrapped Up
110 E Pioneer Avenue, Montesano
360-249-6694
For the women who enjoy something sweet, begin your gift shopping at All Wrapped Up. This small, locally owned coffee shop and bakery takes pride in making great coffee and delicious pastries. Of course, these items don't do well wrapped in a box for weeks, so instead grab a gift card or a package of pre-made pumpkin scone and cookie mix, home décor or coffee beans from their partnership with locally owned coffee shop, Tinderbox Coffee Roasters.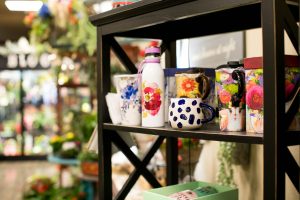 There are many more shops in Grays Harbor that would be great for shopping for ladies, children and whoever else in on your list. For more shopping ideas, visit the Discover Grays Harbor website.
Due to the COVID-19 pandemic, stores may be operating at reduced capacity and other limitations. Be sure to contact them before visiting to check on their current hours, curbside or online delivery offerings, private shopping reservations and other changes that differ from normal.