Buying the perfect gift for your friends and family is a must for most during the holiday season, but don't leave out something special for the pets or pet lovers in your life! Shop local at one of the many small businesses in Grays Harbor and spoil your pet this holiday season.
Marshall's Garden & Pet
319 S I Street, Aberdeen
360-532-5160
A staple in downtown Aberdeen for over 60 years, Marshall's Garden & Pet is a must-stop store for all of the pet lovers in Grays Harbor. Cats will be delighted to wake up Christmas morning with a new scratcher pad while the dogs will be happy chasing around their new ball or chew toy on the frosted grass. For those with more exotic pets, Marshall's carries reptile food and care items that will keep them content into the new year. If you're looking to surprise a family member with a pet of their own, consider picking out a fuzzy gerbil or mouse along with their needed supplies, or for those not looking for much maintenance, consider adding a colorful fish to the family that can teach kids the basics of animal responsibility.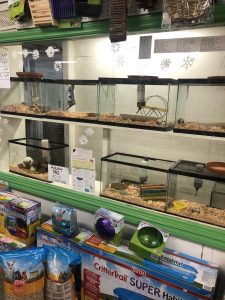 Montesano Farm & Feed
412 S Main Street, Montesano
360-249-4611
For some, the special animal in their life may not be a cat or dog, but instead a farm animal that also deserves a little spoiling this holiday season. Pay a visit to Montesano Farm & Feed for all of your livestock needs including feed for horse, cattle, goats, pigs, rabbits and other animals. This local store also carries items for a more practical present such as flea control, horse blankets and treats as well as cat and dog food.
The Salty Dog
215 S Meriweather Street, Pacific Beach
360-581-9300
One of the area's largest pet stores, The Salty Dog, is located in the community of Seabrook. As the name suggests, the majority of items in the store are for dogs, although there are a few cat related items as well. Choose from one of the many functional products that are hand chosen to enhance both a dog and their humans' life. Specialty holiday items include festive bow ties, collars, and wearable fleeces, gingerbread chew toys and even dog-inspired coffee grounds that will keep you awake and ready to play fetch all Christmas Day. The Salty Dog also carries fun toys, treats and items for the home that have been thoroughly tested by the owners own salty dogs: Max, Henry, Gus and Sissy.
Dirty Dogs Self Dog Wash
115 Shoal Street NE, Ocean Shores
360-660-5578
A perfect gift for your pet who has it all is a gift certificate for future use at Dirty Dogs Self Dog Wash. This gift will end up being both for you and your dog as it could easily mean a fun day at the beach is in store, followed by a relaxing bath at this local business in Ocean Shores. Dirty Dogs offers two main services including the full-service wash, where you keep your hands clean and let the employees wash your dog or the self-dog wash, allowing guests use of the wash station. The best part is that all products are supplied and there's no mess to clean up! Your future self will thank you. Dirty Dogs also sells bandanas, dog treats, chuck-it balls and quiet moments calming aids to relax anxious dogs.
Elma Farm and Feed Supply
424 N 2nd Street, Elma
360-482-3242
Another local store to pick up items to spoil your pet is Elma Farm and Feed Supply. This store offers much more than feed as they carry supplies for both livestock and family pets that are high quality at everyday low prices. Dogs will love to chew on one of their safe-hide treats and toys while you can pick up an air freshener made specifically for pet-loving cars.