It was a rainy, stormy day in Ocean Shores, but that didn't stop the community from coming out to support a great cause. Donning raincoats and umbrellas, residents gathered over burgers and beer to raise money for restaurant employees affected by recent COVID-19 restrictions. Ocean Pours Taproom, Finch & Bull Food Truck, Steam Donkey Brewing Company and Ocean Beach Roasters teamed together to host a charity burger pop up on Wednesday, December 16.

10% of Ocean Pours beer sales and 100% of Finch & Bull's burger proceeds were gathered to benefit North Beach restaurant employees affected by the COVID mandates. Being in the restaurant industry, these pillars of the community knew how volatile income is for restaurant employees on a regular year, let alone one that has seen prolonged shutdowns of their places of work.
"This event is part of a bigger conversation that we started back in April," says Stefanie Bennett, Finch & Bull and Steam Donkey co-owner. "We wanted to step in and help fill the gaps in assistance that we were seeing in our industry, that were becoming alarmingly apparent due to COVID and the closures. When it comes to service industry work, even in a normal year, there is a seasonality to the industry and that, combined with the shift work nature of the job, can create financial disparity for our friends in the industry."
With COVID restrictions closing down several businesses, restaurant and hospitality workers have either experienced massive drops in income or are waiting to start their jobs again. So, they decided to do something about it.
"This time, the money raised will be going to any North Shore restaurant or hospitality employee that contacted us before Monday December 21st," Stefanie continues. "We were looking for anyone in our industry that was affected by layoffs, closures, or the stay-at-home order.  We concentrated on the beaches this time around as this time of year is difficult for our industry at the beach in a non-pandemic year."
In a very short period of time, they served up 120 burgers and numerous brews to hungry community members. Exchanging burgers for donations and slinging beers, this event raised over $2,500 in around 70 minutes. "It was a beautiful display of human empathy and charitability," shares Stefanie. "Even despite the rain and crummy weather, our crew had a fantastic afternoon and the turnout was outstanding!" With the help of local residents who came out in support, they were able to help around 20 North Shore individuals to make their holidays a little brighter.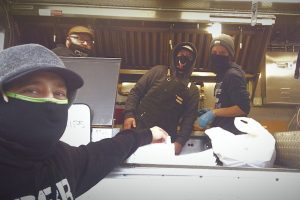 All supplies were donated either by the businesses involved or suppliers. And all labor was volunteer. Nick McConnachie manned the grill. The Ocean Beach Roasters' crew, Brad Jones, Brodey Jones, and Josh Decker, organized the hungry crowd, collected donations and dished out delicious burgers. Overall, the event took off without a hitch.
Inside the rain tent, folks sat around tables, dripping wet and digging into their lunch. "The weather was pretty miserable but coming together and helping our community made it all worth it," shares local resident Joshua Vail. "And I always love a good burger and beer."
Although the holidays are over, there are plans to continue to find ways to help restaurant workers through this time. The burger pop up was just a small step in the direction of something greater. "We are actually in the process of starting a 501(c)3 nonprofit that would function similar to Big Table, or CHOW, but specifically for restaurant and hospitality workers in Grays Harbor," explains Stefanie. "We are talking about assistance with providing meals, grants for child care, mental health counselling and various other avenues of assistance for hospitality workers. Basically functioning as a village to support people and the challenges that this industry creates."
While this was their first charitable popup, several businesses and organizations have reached out since with support. Hopefully with more members of the community coming together, there will be similar events in the future.
Events like these make one proud to be a Harborite. It's nice to know that when hardship knocks on our door, the community rallies together. In these times, supporting small businesses has never been more relevant.
If you want to donate time, money, or resources then reach out to Ocean Pours Taproom, Finch & Bull Food Truck, Steam Donkey Brewing Company or Ocean Beach Roasters. Or follow Ocean Pours Taproom, Finch & Bull Food Truck, Steam Donkey Brewing Company or Ocean Beach Roasters on Facebook to keep up with charitable pop ups and community news.