Grays Harbor is home to many recreational enthusiasts looking to hike, bike, surf, fish, kayak, paddleboard, run and explore the terrain. And it is reassuring to know that Grays Harbor Community Hospital is taking measures to care for everyone in the harbor. New to the Harbor Orthopedics team, Dr. Arpun Bajwa MD is an orthopedic surgeon and a sports medicine specialist. Working alongside Dr. Greg May, the Grays Harbor community is in good hands.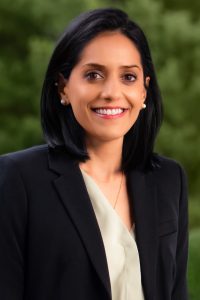 Originally from Canada's east coast, Bajwa studied biochemistry and biotechnology, with a minor in psychology for her undergrad at the University of Waterloo in Ontario. At that point, Bajwa knew that she had a passion for science but was looking for the right application. She decided to take an opportunity to partake in a lab work co-op where she traveled to various universities and experienced diverse fields of study. This rare opportunity brought her to prestigious practices all over North America, including the University of Notre Dame. It was from there that she decided to pursue the field of medicine. During her rotations in different specialties, she found her passion for sports medicine and orthopedic surgery.
Bajwa has always been an active person and liked the idea of a hands-on approach to medicine. Combining the two simply made sense. After finding her calling, she completed her medical school degree and residency at Dalhousie University in Nova Scotia. Following that, she completed two fellowships: a reconstructive arthroscopy and joint preservation fellowship at the University of British Columbia in Vancouver and a sports medicine and orthopedic surgery fellowship at the University of Illinois in Chicago.
With her credentials and fellowships completed, she started looking for somewhere more permanent to set down roots. The Pacific Northwest was alluring due to Bajwa's family in Seattle and British Columbia. She found a perfect fit here in Aberdeen when GHCH was seeking an orthopedic surgeon. "The stars aligned and I love it so far," shares Bajwa. "The people are very welcoming here. Just genuine, salt of the earth, great people."
High school athletes aren't the only ones who visit Bajwa. She sees everyone, from the construction worker who sprained an arm on the job, to the thrill seeking mountain biker with a wrist injury, or the elderly patient who is ready for a new knee. "My specialty is in athletes," she adds. "Treating ACL ruptures, meniscus injuries, or cartilage injuries. I also see a lot of shoulder injuries and other arthroscopic, or minimally invasive, surgeries. When you're an orthopedic surgeon, there's a percentage of your practice that covers common injuries like total knee replacements, distal radius fractures, ankle fractures, hip fractures and more. We do all of that here."
With several folks taking on New Year's resolutions, Bajwa gives a piece of sound advice: "The most important thing is mindset. If you can make it to Starbucks to get coffee, you can do 10 squats. Make it a priority. I'm serious, it's like taking a shower. If it's a part of your routine, it's a part of you, and you can change your life."
Bajwa practices what she teaches. Even though gyms weren't open when she arrived, Dr. Bajwa finds ways to stay fit on her own. She is an avid runner and has recently taken on the challenge of weightlifting. With the abundance of outdoor activities in the Harbor, you'll likely see her on the hiking trails around town or surfing the coast during the warmer months.
Even though she has only been in town for a couple months, she has big plans for the Grays Harbor community. "I want to get the community involved," she shares. "Specifically, athletes. I want them to know that there is a provider in the area that specializes in any injuries they sustain. And I want to get involved with the local athletic teams and hope to get that going once COVID subsides."
If you have a hip that doesn't quite feel right, a strange pain after a trail run, or want some advice on how to get in shape responsibly, Bajwa is more than happy to help. Visit Grays Harbor Community Hospital or call 360.532.3808.
If you happen to pass her running at the high school track, in the halls of the emergency department, or in the clinic say hello and welcome her to the area.
Sponsored