Every fourth Saturday of the month, Dr. Leila Borders goes for a walk with her patients. It's a virtual walk, given the current pandemic, but a walk, nonetheless. Borders, a sports medicine specialist at Olympia Orthopaedics Associates (OOA), is the founder of the Olympia chapter of "Walk With a Doc,"  a worldwide program whose mission is to inspire communities through movement and conversation.
"It's a useful way to allow people in the community to interact with their doctors in a non-patient/doctor setting," says Borders. "We get to know them in a different way, and it gets people active, especially in the winter when nobody wants to go outside. A huge part of my practice is encouraging people to keep moving."
Walks last for around 30 minutes and begin with a brief discussion on a specific topic from practitioners of various forms of medicine around the area. "We've talked about things like osteoporosis and osteoarthritis," says Dr. Tui Lauilefue, an internal medicine specialist with Olympia Family & Internal Medicine. "I talked about hypertension, and Dr. Borders' husband, Keaton, gave a talk on proton pump inhibitors, a treatment for acid reflux." Dr. Keaton Jones is a gastroenterologist at Olympia Multispecialty Clinic.
Each walk is announced in advance via social media and then live-streamed on Facebook. People can write in comments or questions while the livestream is in process, and the doctors will respond in real time. Once it concludes, the video is available to watch online.
The program was founded in 2005 by Dr. David Sabgir, a cardiologist in Columbus, Ohio, who was frustrated with his inability to affect behavioral change in his patients in a clinical setting. He invited patients to meet him for a walk one Saturday morning and to his surprise, more than 100 showed up. The program has spread around the globe and now has more than 500 chapters, including "Walk with a Future Doc" led by medical students. Borders first became involved with the program during her residency in Ohio.
She initiated the program in Olympia in May, right in the middle of the pandemic. Along with several colleagues and her cat (you read that right), Borders walked around Capitol Lake with a selfie stick. It was a shift from her first attempt of walking around her neighborhood by herself with headphones while talking into the microphone, only to discover that she'd underestimated the number of hills in her area. "I was walking around, panting and talking," she says. "I looked like a complete crazy person. So, we moved it to Capitol Lake, which is very flat."
While walking for 30 minutes once a month is less than would be recommended to see dramatic health improvements for patients, she hopes that they will be encouraged to do more on their own. Benefits of walking just 30 minutes a day include increased cardiovascular and pulmonary fitness; reduced risk of heart disease and stroke; improved management of conditions like hypertension, high cholesterol, joint and muscular pain or stiffness and diabetes; stronger bones and improved balance; increased muscle strength and endurance; and reduced body fat.
"It doesn't take much once you get going," says Lauilefue. "The hardest part is getting started, but even if you commit to just one walk, it becomes easier to turn it into a routine."
The walks have proved popular with local practitioners. During the first walk, two of Lauilefue's fellow physicians joined in, along with Borders' colleague Dr. Darrin Trask and his entire family. "About six kids were running around," says Borders.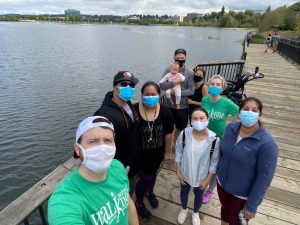 "We've had a vascular surgeon, an orthopedic surgeon, several primary care physicians, and a gastroenterologist on our walks," she says. "It's nice knowing that all the different specialties have something to offer in general everyday life. You don't have to need vascular surgery to get something valuable from a vascular surgeon."
Aside from the benefits for patients, the walks are also helpful to local practitioners. "It's good to meet more community doctors," says Lauilefue. "We end up seeing the same patients and it's a way for us to share stories. The walks foster a sense of community, not just among providers and patients but among providers themselves."
In December the "Walk With a Doc" team took a break, but walks resumed in January with more guest practitioners. February's speaker is a physical therapist team who will show patients options for indoor activities that can boost fitness levels during the winter months. Everyone is looking forward to resuming the in-person walks as soon as it is safe to do so.
Learn more by visiting the Olympia Orthopaedic Associates website or calling 360.851.9256.
Sponsored