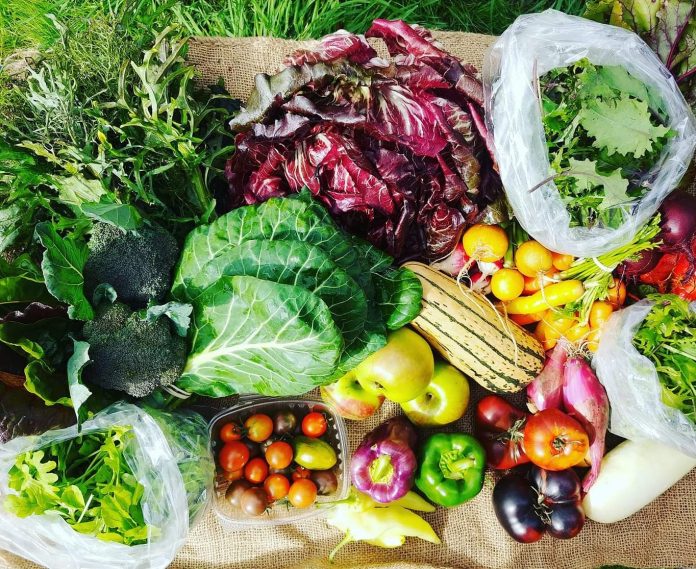 Bil Thorn, his wife Kate Harwell, and their children, Anna, 14, and Alijah, 16, organically grow a large variety of vegetables, fruit, herbs, micro greens and flowers on Sky Island Farm, Grays Harbor's largest and longest-running community supported farm (CSA).  Purchase a crop share and have your freshly-picked, supreme-quality produce delivered to your doorstep.
California transplants Thorn and Harrow started their CSA farm in 2014. Their Humptulips farm is called Sky Island after their Shasta, California, homestead that was situated on a high ridge where the clouds would lower into the valley, hiding the ground. Their plan of selling produce from their garden to generate income was shattered by a series of drought years, depleting their water supply. The family decided to move their Sky Island to the rainy Washington Coast. "Your water supply is your basic need for farming," says Bil. "We moved to the Washington Coast because there we would not have any water problems. We thought."
Ironically, the newcomers ran out of water the first July. Bil had gained irrigation experience working in landscaping and on vineyards for many years. When the couple purchased their rain forest lot, they were happy about a large clearing drained by an irrigation ditch. "Drainage is all important in this area," says Bil.  He was also happy about the existing well, which would surely supply all the water they would ever need. When July hit, the well ran dry! He had to dig down to 80 feet to ensure a constant water supply for the summer months.
Thorn, Harrow and their homeschooled kids literally built the farm with their own hands, using wheel barrows to move dirt. Trying to keep overhead costs to a minimum, they were only recently able to purchase a used tractor. Thorn has been cutting trees to clear land for farming. He burns the stumps and spreads the wood ashes, which make a natural fertilizer. Nothing goes to waste on this organic farm.  In their first year, the couple added a large unique greenhouse, timber-framed from logs cut on the property, to the existing structures. It has withstood many a fierce coastal storm. "It gives us a head start, extending the growing season," says Harrow. "Our goal is a year-round growing season."
There was little awareness of CSA farming in Grays Harbor when Sky Island started. Their 40 CSA members came from places as far as Seattle. They needed to explore other markets. The couple sold their produce at the Aberdeen Sunday Market, the Seabrook Saturday Market, The Market Place and to restaurants.  They have donated and sold produce to Grays Harbor Community Hospital's patient CSA program for diet-insecure individuals and to Coastal Harvest's Farm to Pantry program.  Another outlet was wholesaling to Seattle. COVID-19 put a hold on many of these ventures, but they hope they will resume this summer. A mail order business selling gorgeous garlands and Christmas wreaths entirely from ingredients harvested on the farm has become a successful new market for Sky Island Farm. Their mail orders sold as far as New York.
The year 2020 has brought some well-deserved recognition to Bil Thorn who is one of the very few Black farmers in Washington. He was awarded the 2020 Farmer of the Year Award by the Seattle Tilth Alliance. And though they started with 40 members, they now have 250, very diverse CSA, including a growing number of locals.
Giving Back
Thorn's goal is to bring his produce directly to the people. To raise awareness of CSA farming and to share their love of farming with the community, Thorn and Harrow carved time out from their busy schedule to donate time to community projects. They helped St. Mary School in Aberdeen with setting up and irrigating a school garden, participated in the Lake Quinault Science Day and the Hoquiam High School Career Day, inviting kids to visit and volunteer at Sky Island Farm. Some have accepted the offer. "The farm is bringing people together," says Kate, which makes her happy.
Bil and Kate have dreams: "We would like to build lodging for farming students and facilities to hold events on the farm. We would like to collaborate with local chefs to host a farm to table dinner." They already have all the parts in place for a commercial kitchen, required for the preparation of value-added products. You can contribute to make their dreams a reality by contributing to the Sky Island Farm Infrastructure Fund.
A 2021 CSA share with delivery from June to October is $450.00 ($25.00 per week).  Bil and Kate want everybody to be able to afford their organically-grown produce. Call about their sliding scale and payment plans. To learn more, call 360.593.4775 or 707. 888.9426, visit the Sky Island Farm website or follow them on Facebook or Instagram.