Cardiac rehabilitation sounds mysterious and complicated. Instead, think of it as a New Year's Resolution for a heart in need of a fresh start. The American Heart Association explains that it benefits those who have experienced a heart attack, have an ongoing heart condition, or recently underwent surgery. At Grays Harbor Community Hospital, their Cardiac Rehab team is there for the new you.
"Phase II Cardiac Rehab (GHCH's program) is an outpatient service designated for those who have experienced some kind of cardiac event, procedure or surgery," explains nurse Jacob Eaton, who oversees the project. "Some common examples include those who have had a heart attack, stent placement, coronary artery bypass grafting, heart valve replacement or repair, and those with chronic heart failure."
Patients are referred for treatment by their cardiologist or primary care physician. "Weekly rehabilitation consists of exercise and education designed to both help patients achieve increased physical, psychological, and functional status, as well as improve awareness and understanding of cardiac health," says Eaton. "The overarching goal is to promote an improved quality of life."
Programming typically takes place on a 36-session, 12-week basis. Monitored exercise documents heart rate and rhythm, blood pressure and oxygen saturation. This exercise can include time on a treadmill, riding a recumbent bike or light resistance training. "All are modified to best meet the patients' needs and abilities," Eaton explains. "Patients also engage in weekly education topics that range from basic cardiac anatomy and physiology to the basics of heart healthy nutrition."
He works with Dr. Ralph Morris, who performs an initial evaluation of all potential clients. Eaton then creates an exercise plan and modifies it as needed, keeps the environment safe and teaches weekly lessons. These topics are "generally a great way to facilitate discussion and answer questions that patients may have."
Patient Frank Johnson has participated in cardiac rehab with both Morris and Eaton. Approximately three years ago he was hit by a car while riding his bicycle. After being airlifted to hospitals in Seattle, he was finally able to come home for aftercare. "It was a fairly serious incident and a long healing process," he admits. "Even up to a year later I couldn't get my energy and strength back."
During initial treatment and imaging, doctors found significant blockages in his heart. Heart surgery placed a stent, which helped the underlying issue, but he still found himself exhausted after simply mowing the lawn. For a formerly active, outdoorsy man, this was difficult. "At 70, I had felt better than I had in my 50s," Johnson admits. "But after all this they suggested rehab."
"I looked in and thought 'Well this isn't going to help me much,'" Johnson laughs. "So anyway, I think it was the first day, I felt better." After the 12-week program, he admits that "I just got feeling better than I had in those three years [since his accident], I was feeling like a human being again. It just brought me back."
"The program gave me my life back basically," he continues. "It's educated me a lot. I couldn't walk a mile, but I can get up to four or five miles now and that amount only because I'm walking with my wife and two little dogs and they have to stop! Two thumbs up? It'd be 10 thumbs up if I had 10 thumbs."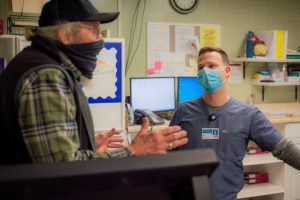 He has nothing but high praise for the team hospital wide. Everyone is friendly and informative, and Johnson has extended his care to rehabilitation for other issues as well. Through his accident, he thinks more than eight care teams watched over him, but GHCH is one of the "best you can get."
Obvious, yes, but it bears repeating: our hearts are important. Keep yours strong and healthy with a little guidance from the Cardiac Rehab team at Grays Harbor Community Hospital. As they like to say, "Cardiac rehabilitation doesn't change your past, but it can help you improve your heart's future."
If you think cardiac rehab at GHCH is the next logical step, ask your primary care doctor or cardiologist if you're eligible. If so, register for the program by calling 360.532.8330 today. Your supportive medical team will help you set goals, work to achieve them, and motivate you to stay active along the way. Remember, always keep taking prescribed medications and call 911 if new or worsening symptoms appear.
Sponsored