The Evergreen State College welcomes a diverse group of individuals seeking higher education. In June, Evergreen's graduating class will feature father and son Art and Lukas Kelly, which is a testament to the unique backgrounds of Evergreen students. Together they have persevered through thick and thin and have supported each other in reaching their goals.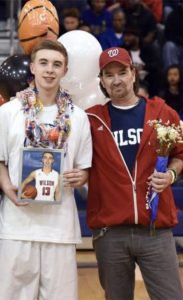 Art had always wanted to go college but never had the opportunity. He had worked as an ironworker in Seattle while raising his family in Burien. "I was a very hands-on parent then," Art recalls. Unfortunately, 8 years ago, his then-wife Eva had been prescribed oxycontin after an aneurism, which led to Art's relapse after 17 years sober. "That's where things really spiraled out of control," he says. After losing his family and his house, Art was living on the streets of Tacoma, addicted to drugs and alcohol. Lukas was living with his mother and siblings in Burien, still playing basketball. His dad had stopped coming to the games, and Lukas started losing hope that they would have a relationship again.
Two women in Tacoma had seen Art on his final bender and reached out to get him the help he needed at the Tacoma Rescue Mission. "It was a huge blessing for me," Art says. "I started the New Life Program there and had a spiritual awakening." After Art's first 30 days in the program, Eva brought the family in to visit him. He has never forgotten the powerful words Lukas said to him that day: "Every time the phone rang, I thought someone was calling to tell us you were dead." Art never wanted to instill that kind of fear in his family again, and he continued treatment for another year and a half.
During this time, Art began attending Lukas's basketball games again. Lukas wanted to pursue basketball more seriously, but his high school had little opportunity. Art's mentor Frank Jackson of the Tacoma Rescue Mission helped connect them with Swish, a competitive youth basketball program through AAU. "The coaches told me if I wanted to get into college basketball I would need to move to a high school in Tacoma," Lukas recalls. Eva was hugely supportive of this dream and moved to Tacoma so Lukas could pursue basketball at Wilson High School. This opportunity opened the door for Lukas to later receive a basketball scholarship to play for Evergreen. "My mom has been and still is my best friend," Lukas says. "If it wasn't for her none of this would have happened."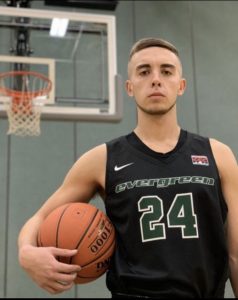 While Lukas was playing for Wilson High, Art had started an educational program through New Life. Art realized how important an education was for him, so he enrolled in classes at Tacoma Community College and later transferred to South Puget Sound Community College where he earned his AA. Concurrently, Lukas had been pursuing his studies and basketball dream at Evergreen. Art decided to follow in his son's footsteps and enrolled at Evergreen in 2019 to pursue his Bachelor's degree. Art and Lukas moved into an apartment together and have been roommates ever since. Today, Lukas compares their relationship to a brotherly bond. He is grateful to his mom for keeping the door open and allowing them to get reconnected during Art's recovery.
When the pandemic hit, things changed drastically for both of them. Lukas was in his last class for the ELL Education Pathway and had two seasons of basketball left. Due to COVID-19 guidelines, sports could not continue, so he never got to finish his basketball career at Evergreen. However, during the years he did play, Lukas was a conference scholar athlete and was awarded the Geoduck Award in his freshman and sophomore year for being the Most Inspirational Athlete, as well as the Most Improved Player Award in his junior year. Lukas has had an amazing experience overall, and has actually been grateful for a break from the grind. He has been working at the Nike Clearance Store in Centralia and is hoping to break into a career as a teacher and basketball coach after graduation.
Art only had two quarters under his belt when Evergreen was forced to stop all in-person classes. Art has been grateful for the support of his son and from Evergreen during a year of virtual learning. Overall, Art has really enjoyed the experience and learned a lot even at a distance. "My first virtual class was a social justice class, and it really opened my eyes to so many things I had never thought about before," Art says. Art is so thankful for the opportunities Evergreen has given him. He is planning to continue his education there by pursuing a second Bachelor's degree focused on writing his autobiography and before moving on to their Master of Public Administration program.
After years of hard work and dedication, Art and Lukas are both eager to graduate this month. The theme for the 2021 graduation is a quote from Maya Angelou that resonates deeply with both of them. "You may encounter many defeats, but you must not be defeated. It may be necessary to encounter defeat so you can know who you are, and what you can rise from." Art and Lukas have both risen from defeat and achieved amazing things, and they are looking toward a future that is brighter than ever.
To see what your new future could be, visit The Evergreen State College website.
Sponsored