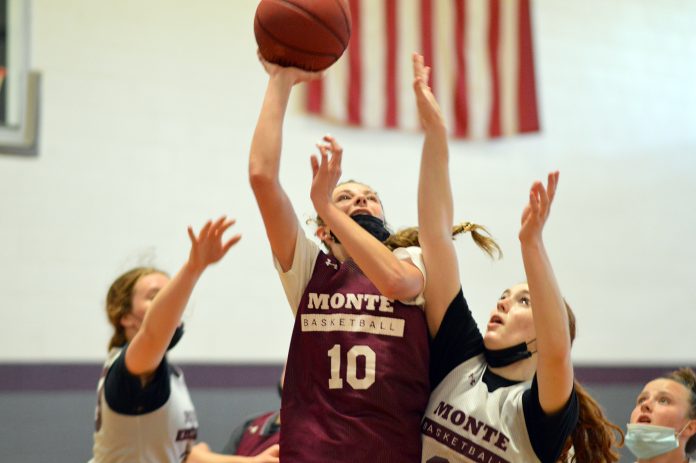 There's dominance and then there's what the girls sports programs at Montesano High School have achieved this year.


After winning both the league and district championships in girls soccer, fastpitch, and girls track and field, the Bulldogs added even more hardware to their already overstuffed trophy case by duplicating the feat in girls basketball.
"For a bunch of us who are three-sport athletes it means everything," said senior Cassadie Golding, the school's ASB president and starting guard for the basketball team, who also picked up dual championships in soccer and fastpitch. "I know a lot of people thought we were not even going to have a season, but I always knew it was going to happen. The whole year I just tried to stay super positive that we would play and have the season we had always dreamed of."
And that they did as Montesano, which also won the 1A Evergreen League title in volleyball this year, capped its basketball season by defeating King's Way Christian, 44-33, in the District IV Championship game to claim its first district crown since 2015.
Junior Paige Lisherness paced the Bulldogs with 12 points in the district title contest, which saw the Montesano's stingy defense hold King's Way Christian to just four points over the final 12 minutes, 45 seconds of the game. The Bulldogs also received 11 points and 10 rebounds in the championship game from freshman Mikayla Stanfield and eight points and 16 rebounds from senior Zoee Lisherness.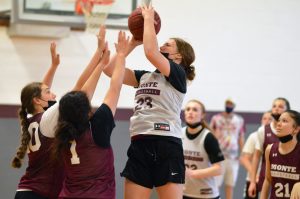 "I am just so proud of this group," said Head Coach Mark Mansfield, who is in his second season with the Bulldogs. "This year has just been crazy with waiting until almost late spring to start. It's so different than what we were used to and this team really came together as a group and played for each other."
Statistically, Paige Lisherness, who also scored a game-high 25 points in Montesano's 56-50 district semifinal victory over La Center, led the squad this season in scoring and rebounding, averaging 15.5 points and 8.2 rebounds per game, while also posting a team-best 47 steals.
Zoee Lisherness averaged 7.9 points and 8 rebounds a contest and was second on the team in steals (37) and assists (18).
Sophomores Maia Young (7 ppg) and Jaiden King (5 ppg) and Stanfield (4.4 ppg) rounded out the top five scorers for the Bulldogs this season, while Golding was the team leader in assists (28) and 3-point field goals made (11).
"Going into the year I didn't even think we would have a season," said Zoee Lisherness, who was one of four seniors on the team, joining Golding, Grace Geer and Taylor Stenbeck. "So, just being able to play together has been amazing."
Montesano opened the season with a 45-29 loss to Tenino, but quickly found its footing as the Bulldogs rebounded from the setback to triumph in their next seven games with their defensive prowess on full display during the winning streak. Montesano held six opponents over the seven-game stretch to 25 or fewer points while also defeating Tenino, 57-43, in the rematch.
"I think it really shows how we grew as a team," Golding said. "We were playing as individuals that first game against Tenino, but after that we started playing together."
Remarkably, Montesano, which finished the season with a 12-2 record, won its dual titles following a jam-packed 41-day season where the Bulldogs played 14 games and had 20 practices.
"One of our themes this year was being mentally tough," Mansfield said. "We've had weeks where we played three days in a row, three games in four days. There wasn't a lot of time to put different things in.  A lot of times it was just a question of whether we were going to be mentally tough to whatever the situation was, and for the most part we were."
Following a hard-fought 46-41 road loss to King's High School, the Bulldogs responded by winning their final five games, which was highlighted by a second victory over Tenino (45-36) to give Montesano its first outright league championship since 2017. The team was co-title holders with Elma last season.
"It seems like we are always tying for a league title," Zoee Lisherness said. "So, to have one in basketball, where it's our own, means a lot especially considering it's our senior year."