Who doesn't like burger and shakes? Especially award-winning burgers and shakes made from homemade ice cream paired with fresh, hand-cut French fries. Add in history and an atmosphere where you are treated like family and it's easy to see why Clark's Restaurant is where to eat in Cosmopolis, near Aberdeen in Grays Harbor. Beach-goers and locals alike keep coming back for the good food and friendly smiles that await them.


In 1923, the building that is Clark's Restaurant began its life as a gas station, tavern and grocery store combination. In 1963 John and Beth Clark created Clark's restaurant, and it's been a staple along Highway 101 ever since. From the start, Clark's Restaurant was known for its food. John and Beth made their own ice cream, offered homemade pies, and used family recipes that put their food above the rest.
In 1997, Kathy and Rich Pacana purchased Clark's Restaurant after they were married. "They thought it would be fun to work together and purchased Clarks," shares Angela La Duarte, marketing and community outreach for Clark's Restaurant. She is also a daughter of Kathy and Rich. "Kathy had worked at Clarks in the 70s and Rich always had dreams of owning his own burger place. When Rich was a teenager, he had fond memories of working for Eagan's Drive-In in Tumwater."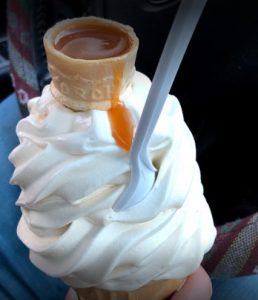 John taught Kathy how to make his grandmother's ice cream, so the tradition could continue. Kathy in turn taught Rich as well as their other daughter, Ranie Creamer. She is the manager of the restaurant, making it a true family business. "We only use the best ingredients to make the best homemade ice cream around," explains Angela. "We offer over 29 flavors, for milkshakes, sundaes and malts. We are famous for our crater cones." It's this ice cream that makes for some of the best milkshakes around, and one of the family's favorite parts about owning the restaurant. "Watching someone taste their milkshake, you can see the joy on their face," says Angela, who adds that the customers, many of whom they have built relationships with over the years, are another favorite part.
It's not just the ice cream. Everything at Clark's Restaurant is made from scratch. This means no canned soups. Their sandwiches are made fresh from scratch, as is their pizza and many other items. In addition to Clark's original recipes, they have brought in their own family's flavor. They use Kathy's family recipe for potato salad, vegetable beef soup and wild blackberry pie. They have different soups featured during the week, and each one is made in-house from scratch. Favorites include split pea, Chasen's Chili and clam chowder.
And those burgers? Well, they have been voted The Daily Word's Twin Harbors "Best Burger" 15 times! So, what's the secret? "The quality of the product going onto making our burger is better than most," explains Angela. "We make our own patties using ground chuck not hamburger, the goop is extraordinary, we serve a leaf of lettuce, we cover each burger with sliced tomato, onions, pickles and real bacon."
If you are not a burger fan, some of the other must-try customer favorites include the Thursday chili specials such as chili dogs and bowls of chili or grilled sandwiches including a Rueben on caraway rye bread and Clark's club sandwich triple deck.
Clark's Restaurant does it's best to cater to those with allergies as well. They have gluten free buns or you can order the Atkins burger, which does not include a bun, but is instead wrapped in lettuce. They also have garden burgers. "We try to customize our order to meet the needs of our customers," Angela shares.
The Tradition Lives On
In addition to some of their own family recipes, the Pacanas have made a few other changes over the years, while still keeping the heart of the restaurant alive. John and Beth ran the restaurant only seasonally, but since 1997 it's been open year-round, seven days a week. They expanded the menu to include pizza, appetizers, a breakfast menu, and holiday specials, including for Mother's Day and Father's Day. They also offer box lunches for corporate meetings and large to-go orders for parties.
Big on family, they invite yours to share your celebrations with them by reserving space for your anniversaries, birthdays, reunions, etc. Businesses can use the space for meetings too!
For the nicer months, they have an expanded the outside eating area to include gas fire pits and covered, lighted areas.
While Rich Pacana has passed away, the family is committed to continuing the dream they shared with him. For more information, Visit the Clark's Restaurant website.
Clark's Restaurant
731 US Highway 101, Cosmopolis
360.538.1487