The Grays Harbor Youth Athletics will hold its annual golf tournament, dinner and auction on Saturday, July 10 with proceeds going to support local youth sports. Entry fee for the golf tournament, which will begin at 11 a.m. at the Ocean Shores Golf Course, is $135. The dinner/auction will be held at the Ocean Shores Convention Center with the silent auction starting at 4:30 p.m. and the dinner and live auction taking place at 6 p.m. Tickets are $50 and available at the Ocean Shores Convention Center.


One of the activities the auction and golf tournament will support is a free football/athletic camp at Olympic Stadium in Hoquiam on Sunday, July 11. The camp, which begins at 10:30 a.m., is open to boys and girls who are going into grades 7th through 12th. Attendees will receive a free camp t-shirt, free lunch and a chance to be coached by former NFL players and coaches, collegiate coaches and local high school coaches. Pre-registration for the camp is not required
"It means a great deal knowing that we can give these kids things that we never had growing up," said Dana LeDuc, one of the event's organizers. "In addition to just coaching on the field, each coach also coaches life skills.
"This is done by addressing the athletes during the camp. Each coach tells personal stories of how they overcame obstacles to get to where they are now, gives advice on being successful students, athletes, and community members, and provides suggestions to develop skills that will be useful throughout their lives. Our organization is dedicated to the process of making the youth of Grays Harbor County successful, productive and happy members of our society."
The Grays Harbor Youth Athletics was formed in 2012. Funds raised have supported North Beach High School cheer programs, Hoquiam Youth Football, Evergreen Youth Football League, Hoquiam High School basketball, North Beach and Ocosta High School football programs, Aberdeen and Hoquiam youth baseball programs, North Beach powerlifting team and the Glazier Clinic for various middle and high school coaches, among other local athletic activities and programs.
"I am very excited to be able to have the fundraiser and camp this summer," LeDuc said. "The pandemic was difficult for us all and we are hopeful that this year will be the best year yet. We began this camp with 50 athletes and a dinner and auction for about 75 at the golf course. At the last camp we had around 200 campers and are hoping to have even more this year and we have 210 dinner and auction tickets sold already."
Speakers following the auction/dinner will include Aberdeen High School graduate and former NFL tight end Mark Bruener and former Seattle Seahawks head coach Dennis Erickson.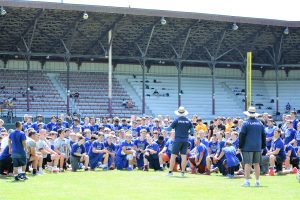 Both Bruener and Erickson have also donated items for the auctions. Bruener donated a magnum of wine from Passing Time Winery signed by owners and former NFL quarterbacks Damon Huard & Dan Marino. Bruener, a 1991 Aberdeen grad, will also be autographing an Aberdeen High School helmet in person for the winning bidder, while Erickson will be signing a framed poster of himself and the 1995 Seahawk team in person.
"People have been beyond wonderful and so gracious in donating items," LeDuc said. "We have items of autographed NFL items that the NFL teams donated, computers from Dell that are donated every year by an ex-player of mine from (the University of Texas), scholarship money donations from another ex-player, local items from stores in the area and all the way from Tacoma, fishing trips from Westport, the Seahawks have donated every year pre-season ticket packages, Seabrook donates a weekend package, and Revelry Wine from Washington donates an owners package every year."
The silent auction will include items such as Dell laptops and monitors, a Richard Sherman and Michael Bennett autographed Seahawk picture, horse carving by local wood carver Anthony Robbins, a Seabrook weekend package, Home Port dinner gift certificate and numerous University of Washington, Seattle Seahawks and Seattle Storm packages.
Live auction items include a Seattle Kraken package, Edgar Martinez autographed baseball, Steve Largent and Jim Zorn autographed jerseys, Tyler Lockett autographed football and a Dell Alienware gaming computer.
Grays Harbor Youth Athletics
Saturday, July 10
Golf Tournament – 11 a.m., Ocean Shores Golf Course ($135)
Dinner and Auction – 4:30 p.m., Ocean Shores Convention Center ($50)
Sunday, July 11
Football/Athletic Camp – 10:30 a.m., Olympic Stadium (Free)