He's 17-feet tall and doesn't like to talk about his weight. The newest resident of Oakville maybe carved out of wood, but his warm features make him feel alive. This Bigfoot, along with his friends including two black bear cubs that look a little worried, two squirrels, a raccoon and a mighty eagle on his shoulder, have set up residency outside NW Wood Source in Oakville. It was only fitting, then, that the people of Oakville had a hand in naming this friendly giant.
Tony and Shanna Hawes, owners of NW Wood Source, asked residents to email their name choices in during the month of June. Then, on July 3, at the Oakville Independence Day Parade, his name was announced. The winning name was Siatco, Chehalis meaning "Bigfoot." The winner was awarded a stunning salmon relief carved in maple by local artist Anthony Robinson. Anthony was responsible for bringing Siatco to life.
"It was a collaboration between Tony Hawes and the carver Anthony (Tony) Robinson," explains Shanna. Tony Robinson is a renowned wood carver. He sells his carvings at his home studio, Native Beach Accessories, located at 1551 Ocean Beach Road in Hoquiam. You can also find his work at Seabreeze Gallery in Ocean Shores. While Tony Hawes and Shanna have a wood business, they are not woodworkers themselves, and so they looked for local talent to create their Bigfoot. "I met him when I was living at Copalis Beach," she continues. "We are woodworkers but do not carve, so naturally Tony R. was a perfect choice."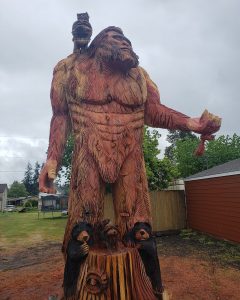 You can find examples of his lovely work throughout Grays Harbor County, including The Nautilus's new sign, and in the front yards for homeowners, like the Radcliff family.
Bringing Bigfoot To life
It's not easy to create something out of a raw hunk of wood. Even if that raw piece is something as beautiful as a giant Sequoia. "He was carved out of a Sequoia that was seven feet in diameter and it took nine days straight to carve," Shanna shares. When asked about how much he weighs? "He doesn't like to talk about it—he carries most of it on the backside." Don't we all Siatco?
This was not the first bigfoot brought to life by the famed woodcarver, and probably won't be his last. They are a popular piece of art in our area, that boosts frequent sightings and of course, the annual Sasquatch Summit.
NW Wood Source has been in business for over 12 years. Shanna and Tony Hawes got into the business as a way of saving wood they saw being wasted. "We were tired of seeing giant logs pulped, so we built a mill to salvage and repurpose them into something sustainable that will be around for future generations," explains Shanna. "I learned from my elders and have continued learning for the last 12 years." Shanna grew up in the Chehalis Tribe and their business is on Chehalis land in Oakville.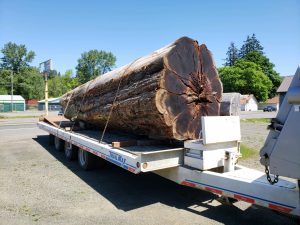 They make many different items out of wood that are functional for home or office. Whether you are looking for something small, like a cutting board, or a statement piece, such as a living edge mantle or dining room table, they have what you are looking for. They also sell slabs for contractors and DIY projects. And, if you are looking for something finished, they showcase local artists work as well. If you are looking for a beautiful piece of local wood, NW Wood Source is a good place to start.
And while Siatco is happy in his new place, Shanna lets us know he is for sale and you can take him home…for $100,000.