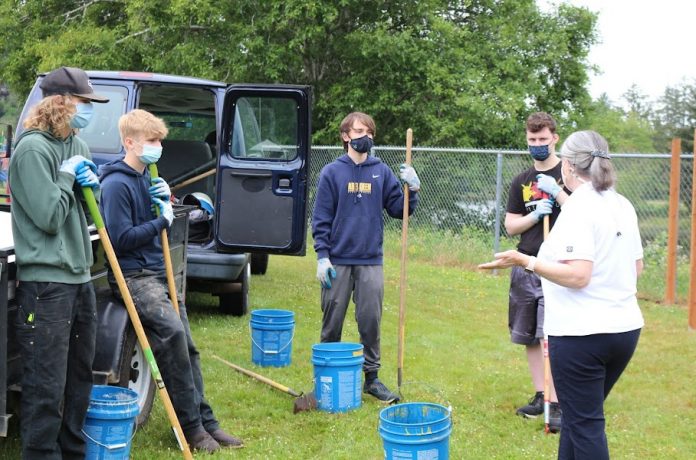 When the school year ended for Aberdeen students last June, the district had just one garden located at Aberdeen High School. By the time they returned to class in September, every elementary school and middle school included gardens that teachers at each grade level can use for instruction. "I've never seen anything like it," says Julie Tennis, coastal fieldSTEM coordinator with Pacific Education Institute (PEI). "That was really fast for a district. They put this idea together and ran with it."
The gardens are part of a district-wide emphasis on children's health, according to Aberdeen School District Superintendent Dr. Alicia Henderson. During the pandemic, the faculty and staff began discussing the need to get students outside and exposed to healthy eating choices, and school gardens addressed both needs. Individual teachers had made attempts at classroom gardens in years past but there had never been anything systemic. "We threw it open to see who was interested," Henderson explains. "The idea of gardening resonated with a lot of our staff."
Early meetings attracted teachers and staff as well as representatives from community groups like Washington State University Cooperative Extension's Small Farms Program, Grays Harbor County Master Gardeners and a branch of the United States Department of Agriculture's SNAP-Ed program. While the team explored many ideas, their focus was establishing goals that were achievable and could gain traction within the first year. "We agreed that it would be manageable and realistic for us to do two big things," says Henderson. "The first was to ensure that we had a garden plot with raised beds and irrigation at all of our schools."
To that end, the district hired high school students to install the beds over the summer, with guidance from the Master Gardeners. They also brought in Tennis and her colleague Karen Lippy from PEI to provide a three-part workshop on how teachers could integrate the garden into their curriculum at every grade level. PEI offers professional learning opportunities for K-12 teachers statewide to support outdoor-based, locally relevant STEM education and Tennis has been working with Aberdeen teachers for the past five years. "Some of their teachers had taken our workshops, so we had the credibility to work with them," Tennis says. "There was a level of trust."
Lippy wrote sample units and developed a template to help teachers organize their work and resources. "We had a core team of elementary teachers who wrote plans for what would work with their grade levels," she says. "The idea is for the gardens to continuously be used throughout the seasons. Some of them are teaching English in the garden and others are doing science. Each grade level had the choice of deciding what their focus would be." The only grades not represented within the team were at the middle school level, so Lippy created two units for that age group.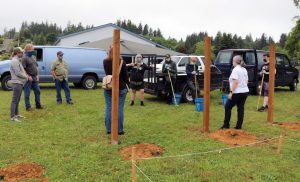 The district's second manageable and realistic goal was to implement a Farm to School Network program. The national initiative connects schools to local farms as a source of nourishing foods and snacks, replacing, as much as possible, cafeteria food that is often outsourced to companies in other states or countries. After Henderson applied, the district was accepted. "We went to a two-day institute to learn how to do scratch cooking and how to use seasonal produce," she explains. "You might not get tomatoes in January, but you can use root crops. We're in the early stages of transitioning our menus and our procurement through Farm to School."
Kiley Smith, small farms educator at WSU Cooperative Extension, played a key role in connecting the district with community resources such as the Farm to School program. She believes the project will have multiple benefits for students and the community. "On the education side, kids will understand where their food comes from," she notes. "They'll be able to learn about produce and the farms in their area. Students will have healthier, fresh food in their school and be exposed to all kinds of different recipes."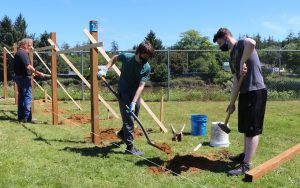 The program also creates an economic boost for local farmers who often struggle to break into wholesale markets. Through working with the South Sound Food Hub, an aggregation center based in Olympia that brings farm goods and products to one location for distribution, smaller operations can access those larger markets. That model also simplifies the process for schools. "Instead of having to connect with multiple farmers on different orders, we can make an order for all foods from one location," explains Henderson. "We're getting into that system but in the meantime, for this first year we were able to connect small farmers directly to our schools."
For Henderson, who is stepping down as superintendent after this year, the project has been an opportunity to create a legacy that everyone can get behind.  "Most of the time with initiatives, there's an element of needing to push," she says. "With this project, there has been a momentum that has not been forced. Everyone involved with this has come by choice and there has been quite a bit of interest. It's been quite lovely."
Learn more by visiting the Aberdeen School District website.