There is a place in Hoquiam where N-Street and Maple Street intersect before they meet Emerson Avenue, forming a triangle or delta shape. This grassy area  is about to be transformed into the MG  Bargewell Memorial Delta Park with a statue and three plaques honoring Major General Eldon A. Bargewell (1947-2019). A boy from this neighborhood, Bargewell joined the army in 1967 to become one of our country's most remarkable leaders, warriors and heroes.


The following story illustrates the character of Eldon Bargewell:  In 1971, at the age of 24, Staff Sergeant Bargewell received the Distinguished Service Cross , the nation's second highest medal for valor, for his conduct during a reconnaissance with the 1st Special Forces in Vietnam. He led a team of eight Special Forces soldiers, indigenous Montagnards, and Cambodian soldiers into enemy territory in Laos. They were attacked by a force of an estimated 75 to 100 enemies. Bargewell kept firing his machine gun, holding the enemy at bay, while his team was retreating to the waiting rescue helicopters. He did not leave his position until all his men were safe, even after he had been seriously wounded by an exploding bomb. Having received basic medical care in a local hospital, Bargewell was scheduled to be treated further in Okinawa, Japan. However, he snuck out of the hospital in the night and returned to his base, to fight for another five months in Vietnam.
Jason Fry, retired principal of Hoquiam Middle School, grew up on N-Street, two blocks from Bargewell,   and graduated from Hoquiam High School a year after him. "I didn't know Eldon very well at school," says Fry. "I first met him at a class reunion when he was a colonel in Delta, the 1st Special Forces Operational Detachment. I found out later that he was the head of Delta." The last time Frye met Bargewell, they were both in their 50s and talked about retirement. Bargewell had been promoted to Brigadier General. He didn't make much of it. "It's a pretend general. They want to see if you screw up or not," he joked.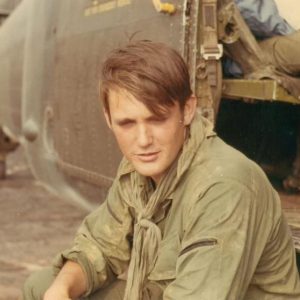 When Eldon Bargewell retired in May 2006, he was the most decorated active duty soldier in the army. He had risen from private to two-star general. As he had spent most of his military career in ultra-secret special operations, his hometown friends were unaware of his extraordinary achievements.
Fry had felt a growing conviction that there was more to the unassuming man than he let on. When Major General Eldon A. Bargewell died in 2006, Frye found his suspicions confirmed. Research confirmed that Eldon Bargewell of Hoquiam, Washington had been a great military leader, a great warrior and a true hero. "I felt I had to do something for him," Fry remembers. "I looked up prices for a statue."
Contacting the Hoquiam Veterans of Foreign Wars, VFW, tapped into what Fry calls the Hoquiam connection. People who had grown up with Bargewell stepped forward to help. The Major General Eldon A. Bargewell Foundation was established on February 17, 2021. Tim Quigg, David Mitchell, a classmate of Bargewell, and Jason Fry were the founding members. Former Hoquiam Major Jack Durney, Tom Quigg, high school friends Gary Piercey and John Parker, current Major Ben Winkelman and David Richardson soon joined.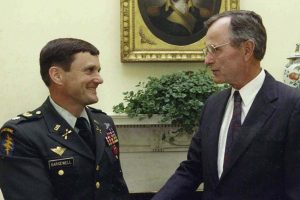 The Foundation formulated the goal to build Delta Park in Hoquiam to honor their hero. They needed to raise $200,000 for building the park. Another $100,000 was needed to set up an endowment with the Grays Harbor Community Foundation to maintain the park in the future.  Fry is proud to report that 222 donations have come in from 32 states and two from overseas, totaling over $200,000.
The Hoquiam connection brought together many talents. When Patrick Quigg came on board, he used his fundraising expertise to reach out to possible donors beyond the Harbor, mostly in the military. Denise Burke contributed her fundraising experience. Byron Tech donated a beautiful and comprehensive website. the Eldon Bargewell website includes a detailed history of Bargewell's career, a list of his awards, an outline of the future park, and media about Bargewell. Photos and comments may be submitted on the site's Stories page. Many have already commented with the highest praise.
Landscape architect Robert W. Droll donated the landscaping design for the park. Graphic designer David Mitchell donated the designs for three memorial pedestals, which will be constructed for cost by UPC Parks in Redding, California. Owner Dan Christensen is a veteran who served with Bargewell.
Renowned sculptor Rip Caswell, a native of Montesano, and his wife Alison have been commissioned to create a bronze statue of Eldon Bargewell.
"We are creating Delta Park honoring Major General Eldon A. Bargewell because he is a role model for our young people," declares Fry. "Not because he was a soldier but because he was a guy who did his job. We want to show how a guy from an itty bitty town in Washington can influence the world."