For many animal lovers worldwide, furry friends are a huge part of our families. What would life be without them? While dogs and cats depend on us to take care of them, they return that 10-fold, with unconditional love and companionship that is priceless. Unfortunately, sometimes animals end up with no home to call their own. North Beach PAWS in Ocean City is a vital part of the community as a no-kill shelter.

Pam Moon, manager of the Cat House, Nina Shequin, volunteer coordinator and Nanette Sparrow, manager of the Dog House, all take their job very seriously. Everyone that works there are volunteers and 100% of the donations go to the shelter.
The team at North Beach PAWS is a lifeline for the animals they rescue, which happens in several different ways. Sometimes it's an owner surrendering their pet, the family of a deceased pet owner who can't take in their pet, or an animal rescued from a location. Regardless, the team never turns any away. "We take them in from as far away as Westport/Raymond area, and work with other animal rescue organizations including CARA, Coastal Area Rescue and Adoption and HAVA, Harbor Association of Volunteers for Animals," says Pam.
The team goes to different locations often, rescuing dogs or cats from various situations. Sometimes setting up traps or physically catching them. The worst are hoarder homes. "We got a call from a landlord whose renter was breeding Siamese cats and wanted us to remove them," Pam recalls. "Once we got there, we opened the barn door and could see he was using different breeds. We found 19 cats and kittens with no food or water, a very dangerous situation."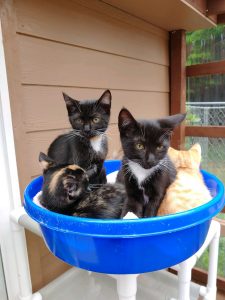 Nina describes another rescue from a dilapidated hoarder house. "There was tarp on the roof," she says. "We had to climb up to check and found two kittens hidden underneath the flap of the tarp."
Nina laughs and recalls not too long ago the team had a mystery on their hands. "One day a volunteer opened the door to the Cat House and a bunch of kittens were freely running around the Cat House! We have no idea exactly who let them in because the door was locked."
Nina is described as "The Cat Whisperer" by the volunteers for her ability to connect with the cats that come to the shelter. "Many times, the cats that come here have never known what it's like to be touched by a human hand or how to play," she shares. "Some cats don't want to be touched but for some reason they allow me to be the first one".
Nanette manages the Dog House. She reports that some of the dogs need rehabilitation to learn how to be around humans, how to walk on a leash, basically learn how to be a dog with a human.
"If they need rehabilitation, we send them to a foster who can do that, but we try not to keep moving them around because it's hard for them to adjust," Pam says. "Cats don't like to be taken from one place to the other and it usually takes at least a week or longer for them to adjust to new surroundings. We are even careful when transitioning them to general population after their initial 10-day quarantine when we take them in."
Many people think about giving pets as gifts. "I would say not to give a pet as a present to somebody without that person being a part of the decision," Pam says. "It's a 10-to-20-year commitment to adopt a dog or a cat."
"They need to realize the recipient are the ones who are going to have the responsibility to provide food, toys, beds, veterinary bills," Nanette adds.
To adopt, there is a rigorous process every prospective parent must go through, including filling out an application and a background check to ensure they are going to a good home. "I'll ask what you are looking for, so I try to match them up and steer them one way or another," shares Nina. "Sometimes they come into the kitten room for a specific kitten they've seen online but walk out with another. In some cases, the kitten chooses their owner! They'll just come right up to the person."
If you're interested in adopting a pet, go to the North Beach Paws website, fill out an application, visit the shelter or make an appointment today so you can give a deserving pet a path to a forever home.