The Montesano High School girls basketball team is on the verge of winning yet another 1A Evergreen League Championship. And while you can turn to several reasons for the success this year, none are perhaps greater than the Bulldogs' smothering defense.


"That's what we pride ourselves on," said standout junior post McKynnlie Dalan. "Every night defense is our focus. We know if we can go out and put the defensive pressure on teams from the beginning, it really sets the tone for the game. Defense is something you have full control in. On offense things can go wonky. You can get calls. You cannot get calls. It can be more unpredictable. But with defense we know we can be consistent every night. We know that if we can be strong on that end we can go far."
Listed as the No. 1 team in the 1A classification in the WIAA's RPI rankings, Montesano, which features just two seniors, post Paige Lisherness and guard Olivia Young, have posted one dominating defensive performance after another this season as they have ran roughshod through the opposition.
After losing its season opener to 2A powerhouse W.F. West, the Bulldogs have yet to lose since, winning 14 consecutive games, including non-league victories over 2A South Puget Sound League leader White River and Raymond, the top-ranked team in 2B. In addition, they went a perfect 3-0 against teams out of the 1A Trico, winning by an average of 31 points, while giving up just 28.8 points per game in its 14 wins with no opponent this year scoring more than 51 points.
"We try to play to our strengths," said head coach Mark Mansfield. "We have some good quickness. We got some long arms. We try to use that the best we can. They've really bought into what we're trying to do here. We've done a much better job and have been more consistent this year of moving when the ball is in the air and beating people to spots instead of chasing. The girls just keep working hard."
Montesano has been even more impressive on defense during league play. Through its first six 1A Evergreen League games they given up just under 18 points a contest while winning by an average of 41.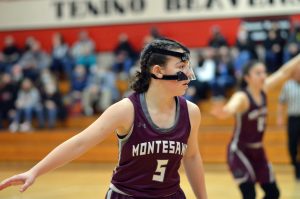 "They play so hard, even in practice," Mansfield said. "They get after each other. They have fun, but they compete and that's one of our big phrases that we use a lot, go out there and compete, and what we do in practice they've transferred over into games."
In a battle of league unbeatens, Montesano went on the road and thumped No. 9 Tenino, 58-34, to gain the inside track towards successfully defeating its league championship.
In the win over the Beavers, the 6-foot-1 Dalan, who missed all last season with a back injury, was nearly unstoppable, scoring a game-high 32 points and pulling down 18 rebounds to help the Bulldogs register their 14th straight win.
However, the most important statistic for her or any of her teammates does not show up on the STAT sheet: the number of times someone dives on the floor for a loose ball or ties up an opposing player on offense causing a jump ball—basically anything that can be best described as a hustle play.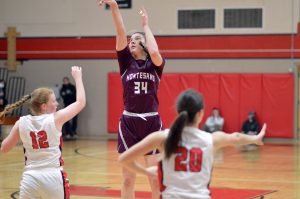 "I would almost say it's more important than a big play on offense," Dalan said about all the non-glamorous grunt work on the court. "A 3 is great but a tie-up or getting on the floor diving for a loose ball gives us that spark. It just shows so much more heart and I think that gets us really excited. We've talked before games about how many floor burns we're going to have during the game. How many bruises we're going to try and get."
Prior to the lengthy winning streak, the season got off to a less than stellar start for the Bulldogs. They dropped their opener, 48-29, to W.F. West, being outscored 14-2 in the first quarter. But while the team's lone loss stung, the value was in what they got out of it. "We were just a step slow, and we weren't as aggressive that night as we should had been," Mansfield said, "but it was a great learning experience for this team. Anytime you play great competition you're going to get better."
And that's exactly what the Bulldogs have done over the course of the regular season.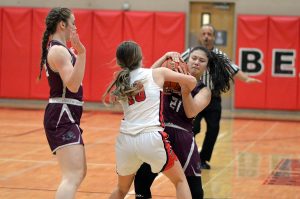 Montesano will begin its quest towards securing a state playoff berth when it opens 1A District 4 tournament play at home on February 11. The top three placers out of districts will advance to the regional round of the state tournament, which will be held February 25-26.
"This is a really fun group to be around," Mansfield said. "They enjoy being together and if they play as hard as they can every game, we can live with the results."