It's usually the same story when talking about high school track and field athletes who break a long-standing school record. They enter the program with their sight set on the benchmark, put in four years of hard work—maturing, getting stronger, faster, better—and then sometime during their senior season it all pays off and they etch their name into the record book.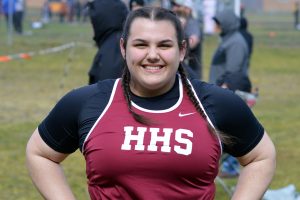 That's the pattern. And it makes perfect sense for it being that way. It takes time to achieve something like that.
Then there's Hoquiam High School senior Tyara Straka.
"We knew when Tyara was coming into high school," Hoquiam coach Tim Pelan said, "she was going to have a pretty good career."
Nope, Straka didn't have to wait until her senior year to break the school record in the shot put. She broke it in just her second meet…of her freshman year.
"We were all curious to see what she was going to do when she came in as a freshman. We knew she had the potential, and at the start of that season we said, 'Here's the school record, have at it,'" Pelan recalled. "She broke it by a foot or two in her second meet, and this was a record that had been around since the early 1990s. Her record is probably going to stand for another 30 years."
Freshmen just don't do that, and they especially don't do that in an event like the shot where 9th graders are competing against seasoned seniors who have not only four years of high school level training in the event, but also a significant leg up physically to their first-year counterparts.
But freshmen aren't supposed to win state in the shot either. Straka did that as well.
"You usually don't win state as a freshman. I don't care what event, what sport, boy or girl, you just don't see freshman win state in anything," Pelan said.
Since entering high school, Straka has been beaten just once in the shot put. That lone setback came during her freshman season when she finished second at the 59th annual Shelton Invite, an event that traditionally draws many of the state's best athletes.
She hasn't lost since, winning a majority of the time by wide margins.
"There was a lot of pressure coming into state her freshman year," Pelan said. "She did so well during the entire season, but she was still a freshman. You're still kind of immature and you never know how they are you going to handle state. Well, she handled it pretty well as it turned out."
That she did as Straka captured the Class 1A state championship in 2019 by besting a strong group of seniors with only one getting within three feet of Straka.
After not having a sophomore season due to COVID-19, Straka picked up right where she left off in 2021, capped by her 44-foot throw that won the District IV 1A title.
However, for a second consecutive year there was no state meet. "It was tough," said Straka about missing out on competing at the state meet the last two years. "I really wanted to be the first female to win four state titles in the event."
According to her coach, had her sophomore and junior season featured a state championship meet, Straka would have done just that. "I think it's safe to say she would have probably been a four-time state champ," Pelan said. "Unfortunately, it is what it is and she had that taken away, but she's made the most of it and she's dealt with it really well. She's very focused on the things she can control."
Straka currently holds the top mark in the shot put in the state regardless of classification. Her throw of 43 feet, 5 inches edges both Katelynn Gelston (43 feet 3.75 inches) of 4A Hanford and Haedyn Bambolo (42 feet, 8 inches) of 4A Bothell. In the 1A ranks, it's not even close with Straka, who is among the top 25 throwers in the nation, holding a gaudy 10-foot margin over most of the top throwers in the state with Lynden Christian sophomore Tabby DeJong registering the classification's second-best throw of 34 feet 10 inches.
It's no wonder several high-profile college programs came calling, including the University of Oklahoma, the school Straka committed.
"I visited Oklahoma in early February and committed right before I got back on the plane," Straka said. "I just fell in love with it there. All the throwers were so welcoming and made me feel right at home. There was no question this was where I wanted to be."
With her college already decided, Straka looks to cap her high school career with the way it started, by winning the shot put state championship.
"There's pressure," said Straka, who is also the school record holder in the discus and is the 1A state leader in the event this season with a throw of 123 feet 7 inches, which is 12 feet farther than any other athlete. "I wish I would have had the other two years. It would have helped me build towards my senior year. But I'm actually just really excited to finally go back to state."
Straka will attempt to defend her district title at the 1A District 4 championships at Seton Catholic High School on May 19. The 1A State Championship meet will be held May 26-28 at Eastern Washington University.