Set up on a hill surrounded by trees, the trilling of critters, birdsong and the rustle of leaves, Britta Jackson's backyard garden begins to bloom. Filled with garden beds for strawberries, blueberries and raspberries, and dotted with apple, frost peach and fig trees, Britta has the makings of a produce section just a few feet from her porch. Though the garden is just in its early stages, Britta has big goals for expanding its size as well as planting herbs. Her dream is to have a garden that produces most ingredients for her handmade handpies for her business, Oh Hi Handpies.


Born and raised in Aberdeen, Britta has been involved in her community for years—volunteering, participating in music and dance programs, opening the Grays General Store in Hoquiam, founding alder|creative marketing and design and, since 2018, selling homemade handpies baked with locally-sourced ingredients.
Britta fell in love with handpies during college, but didn't start thinking about building a business until after she had her first child. She found her previous work in marketing to be too time- and energy- consuming, so she began to feel overwhelmed and burnt out. She longed for a different way to make a living, one by which she could satiate her creative inspirations and also spend time with her family. "I wanted to be an example to my children that work can be something other than just sitting at a computer," Britta shares.
In 2018, after seeing the need in the community for locally-sourced food and understanding that Grays Harbor has the perfect environment for growing fruits, Britta began her business, Oh Hi Handpies. She and her husband Eric bought their home in 2019 right before the housing boom. They spent much of the pandemic renovating and doing do-it-yourself projects around the house. One big project she desperately wanted to get started was the garden. Growing up in Aberdeen, Britta never had a backyard—just something reminiscent of an alleyway. She wanted for herself and her family a big backyard for nights by the fire pit, a jungle gym and a huge amount of produce.
Britta and her husband have turned the overgrown backyard into a serene space that is inviting and bountiful, a beacon for self-sustainment and a farm-to-table philosophy. She tries to grow as many of her own ingredients as possible, as well as shop as locally as she can.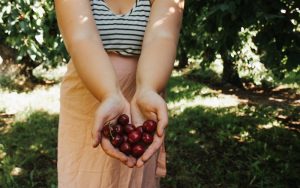 Britta has ordered from Sky Island Farm in Humptulips, Plenty Farms in Grayland and she and her family make time every summer to pick cherries and blueberries in Eastern Washington. She uses flour grown in Oregon and milled in Washington, as well as Tillamook butter, to be sure that her handpies taste of the region. Whenever she can't gather an ingredient from her own yard or a local farm or business, her in-laws share of their Hoquiam garden.
Although she may not find luck with locally sourcing sugar, Britta does one day hope to achieve that all locally-grown and locally-sourced handpie. She wants her food to reflect the region, and she believes that consumers have a right to know where every ingredient is sourced. Any way that she can support her community and have less of a detrimental environmental impact on the earth, she wants to find it.
She carries handpie flavors including strawberry, apple, peach, ginger and cranberry, and she is expanding her menu to include more adventurous flavors like blackberry matcha and blueberry London fog. She currently carries 17 flavors.
Britta does pop-up events all around Grays Harbor. She has sold pies at Aberdeen's Steam Donkey Brewing and Oceana Spa has a yearlong subscription. She would love to work with more local businesses in the future, as she wants to see members of the community connect with their families and bond over locally delicious sweets.
Handpie connoisseurs can order from her website. She offers a yearlong subscription as well as a summer subscription, active tentatively from June through September. There are new flavors every month, and she offers free delivery to residents of Aberdeen, Hoquiam and Cosmopolis. Otherwise, buyers can pick up from her home porch in Aberdeen and receive a free seventh pie.
For those who want to watch Britta and her family turn her house into a home, continue to build up her garden, and feed the community with delicious handpies, they can follow her on Instagram @ohhihandpies and @ohhiathome.