Gunnar Ueda-Pancheri's official title is Grays Harbor College head baseball coach, but he could also be considered the program's unofficial historian. Two years ago, when he took over as the Chokers' head recruiting coordinator and infield coach, he asked around wondering when the last time the team made a postseason appearance.
No one had the answer.
"I knew the history hadn't been great," said Ueda-Pancheri, who took over as head coach following the retirement of Mike Bruner last summer. "So, I actually looked it up."
What he discovered was the Chokers had not advanced to the playoffs since 1974. Immediately that 47-year hiatus turned into a rallying cry when Ueda-Pancheri hit the recruiting trail.
"All the guys we recruited that turned into the No. 1 goal," Ueda-Pancheri recalled. "It was the first thing we talked about. We wanted to find players who embraced that challenge. We were looking for guys who wanted to come in here and change things."
It's safe to say Ueda-Pancheri and his staff found those individuals.
For the first time in nearly half a century, Grays Harbor College punched its ticket to the postseason this year, advancing to the Northwest Athletic College playoffs after winning a program-best 14 games.
"There's really not a lot of words to describe it," Ueda-Pancheri said about his squad's accomplishments. "We had a group of young men completely buy in, which is really cool to see. A lot of our players are not from this area. They didn't know about the history of this program. They didn't know about a 47-year drought. They just all wanted to be part of something special."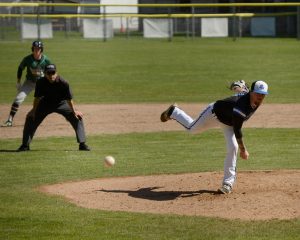 The Chokers entered the final weekend of the regular season needing to win three out of four games on the road against Centralia College to secure a playoff berth. Grays Harbor split the opening double-header, defeating the Blazers, 11-10, after rallying from a seven-run deficit with Aidan McMurdo and Cameron Erickson each driving in three runs, before losing 1-0 in the second game.
"We knew coming in we needed three wins. I was a little worried after we lost game two," Ueda-Pancheri said. "The team told me right after the game it didn't matter. They said they were going to come out the next day and sweep them. They made me believe right there. And they came back the second day and dominated."
That they did as Grays Harbor hammered Centralia 7-1 and 9-1 to punch its ticket to the NWAC playoffs.
The Chokers' run came to an end against NWAC South champion Mt. Hood Community College in a 2-0 loss in the East Super Regional in Moses Lake where Grays Harbor faced Saints ace and South Region Most Valuable Player Jeff Nelson.
"We ran into a buzz saw in Jeff Nelson and the hype was real," said Ueda-Pancheri about Gonzaga University signee Nelson, who finished the season with a record of 10-1 and a microscopic 1.10 ERA, "but we were right there with them."
The Chokers had their chances against Mt. Hood, placing runners in scoring position in both the 7th and 8th innings, but failed to push anyone across home plate.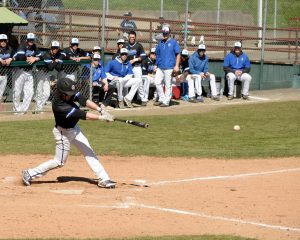 Leading the way this season for Grays Harbor was Chase Cleveringa. The Capital High School graduate was a second-team All-NWAC West Region and Gold Glove selection after hitting a team-best .327 with 49 hits and 17 RBI.
"Chase has been a coach's dream. He is extremely focused, laser focused, and a great leader," Ueda-Pancheri said. "Chase is the one player who embodied our program the most."
Cleveringa will play next at Bushnell University in Eugene, Oregon.
"The big thing to know about Chase is he could have gone to Bushnell last year," Ueda-Pancheri said, "but he didn't want to leave this program until he got us in the playoffs. There's a lot of people who lack passion and don't care about the people around them. Chase is not one of them."
Joining Cleveringa as a second-team all-NWAC West Region recipient was Ian Winterhalder, who made the squad as a utility player. The freshman infielder/pitcher hit .254 with 11 RBI, while going 2-5 with 40 strikeouts and a 4.40 ERA in 44 innings of work on the mound.
"This was a group of guys who were told they were not good enough and they just kept working hard and improving and stacking the chips," Ueda-Pancheri said. "We have a lot of players coming back and they have already talked about building on this year. We had 15 players in the weight room today. They got a taste of success and they want more. It's exciting to see."