Tom Baker grew up in Detroit, Michigan. His love for nature led him to Michigan's Upper Peninsula where he embarked on a life revolving around heavily timbered forests. Creating turned vases, bowls, and functional items began as a hobby and turned into a serious artistic pursuit.  After 30 years with the National Park Service, Tom Baker retired to Ocean Shores where he continues to create his rustic, yet elegant pieces under the business name Timeless Turnings. Baker's pieces show off the beauty and character of unique pieces of wood such as burls, driftwood and hardwoods. The wood is foraged locally or responsibly sourced by the artist.
While running a custom home building company in the Upper Peninsula, Baker started turning intriguing pieces of wood into vases, lamps, and bowls in his late 30s. "I used wood from the firewood pile and lots of hardwood left behind by loggers," he remembers. "I like to give a second life to our precious timber resources as an enhancement to our daily lives."
Baker and his wife opened a shop called The Pickle Barrel, selling their art in a historic barrel-shaped house. They also sold his woodturnings through private shops on consignment. Baker particularly enjoys working on commission. He loves creating pieces that have a deep personal significance to his customer such as his unique funeral urns.
After 10 years in the building business, health issues forced Baker to give up building homes. He turned to the less physically demanding work of custom cabinetry, and then to woodturning. In 1990, he began a new career with the National Park Service where he felt very much at home. "It was amazing to have a career that truly spoke to my heart," he says. In his spare time, Baker continued to turn wood. His work met with increasing recognition.
In the early 90s, Baker became a member of the American Association of Woodturners.
In 2020 and 2021, his work was accepted into the AAW's Instant Gallery for their annual symposia. Locally, he was awarded Best of Category for his driftwood bowl at the Beachcombers Fun Fair. He also won two first place awards for driftwood turnings and one second place award in the Driftwood Sculpture category.
After a long and satisfying career with the NationaI Park Service, Tom Baker retired from his position as Park Superintendent of Fort Laramie National Historic Site in Wyoming in 2018. He and his wife Kathy decided to move to Ocean Shores to be closer to their youngest daughter and her family in Eatonville, Washington.
Tom Baker, Ocean Shores Wood Turner
The artistic Bakers settled in their new life in Ocean Shores with Tom turning wood fulltime and Kathy creating various decorative arts.  Both like to use natural materials from their new Pacific Northwest environment. They enjoy making things from treasures they find on the beach.  Tom turns driftwood on his lathe while Kathy uses it to create sail boats. Her specialty is mythical figures fashioned from kelp which she calls Sea Sprites.
Sourcing wood is part of Baker's art and mission. "I primarily use West Coast-based woods. I collect driftwood and I forage, which can occasionally take the form of cutting a tree blocking the road," he quips, recalling a recent particular incident. "I also source from people in Olympia and Oregon. Sometimes I order exotic woods for species, grain, and color variation, ensuring it comes from environmentally responsible sources."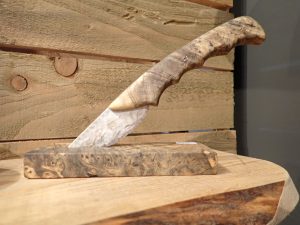 Networking is all important. He talks to people from tree services and has been able to establish connections with Wenatchee Valley orchard growers to obtain hardwoods which are prime for woodturning.  He also uses Douglas fir, but mostly burl for its intricate marbling and character. Foraging in Grays Harbor requires careful planning to avoid trespassing on private land.
Tom Baker's beautiful work is much sought after.  Besides vases, bowls, lidded boxes, and lamps, the artist offers kitchen tools, pens, bottle stoppers, Christmas ornaments, and custom funerary urns. "Timeless Turnings is doing well, better than I expected!" he shares. "I typically work at my lathe six to seven hours per day."
Tom Baker has become a member of the Associated Arts of Ocean Shores, participating in their shows together with Kathy. Tom's woodturnings are on display at the Sandphifer Gallery in Pacific Beach and at Tim Rossow Watercolors & Associates Gallery in Ocean Shores.
In the future, Tom Baker plans to keep turning and traveling by vehicle, foraging wood and enjoying our national parks with Kathy. He also talks about possibly showing his work in Olympia, as a next step.
For more information, call Timeless Turnings at 360-660-5468 or email timeless.tom68@gmail.com.