Our days are finally getting warmer and as we head into July, we can't help but look forward to all the fun events that are finally happening again! The 65th annual Capital Lakefair will take place July 13-17, 2022 at Heritage Park and you won't want to miss a single moment of family fun they have planned for each jam-packed day.
"The past two years have been challenging for many in our community and we chose 'Unity in our Community' as the theme to bring us all back together to celebrate our family fun tradition of Lakefair," shares Ken Ringering, Lakefair president.
Capital Lakefair 2022 Schedule Highlights
The Capital Lakefair has a full schedule of fun events going on! Your entire family will find something to do, whether that's listening to music, enjoying games and rides, or indulging in some of the best fair food around!
Each day, the carnival will be in operation for family members over two years old to enjoy. Be sure to take time to shop the craft vendors booths too, open 12 p.m. to 9 p.m. You will find all kinds of businesses, artists and nonprofits with all sorts of treasures. Start your Christmas shopping early and get your loved ones something unique! From alpaca fiber items to freeze dried candy and jewelry to hand-drawn caricatures, you can find pretty much anything at Lakefair. Looking for unclaimed property? You may even find that! Washington State Department of Revenue-UCP will be promoting the Unclaimed Property Program at their booth. Pick up some SWAG and search for property that hasn't been claimed. Find some? You can start the claiming process right there!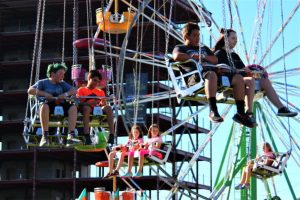 Playing games and shopping can work up quite an appetite, which is good because you'll want to sample every food vendor at Lakefair. What makes these vendors special is they are all supporting nonprofits in our community, including Zonta/Family Education and Support Services, Olympia Host Lions Club, Barb 0'Neill Family & Friends, STEM Partners WA, Thurston County Democrats, Thurston County Republicans, S4 Stevens Racing, South Sound Church and local Mosques. "Our food vendors rely on Lakefair to help them raise thousands of dollars that they then reinvest in our community," shares Ringering.
Each day will have its own lineup of great entertainment as well! "We have lined up more than 25 performers for this year's Lakefair," shares William Baker, Capital Lakefair entertainment chair. "Our Friday night headliner is Alive 85 with Steve Unger. You may recognize Steve Unger as the bassist for the internationally known band Metal Church. Steve was crowned the winner at The Kentucky Rain Band's Elvis Challenge in April."
Lakefair Musical Guests
Wednesday
The Bridge Music Project
Prodi J
MC Swamptiger
Milk Krayt
Mood Ninja
Thursday
Motorcar
The Labelz
Space Whales
Friday
Alive 85 – Elvis tribute if he were alive in 1985
Souls Worn Thin
Deadbeat Blackout
John Mohr
Saturday
Randy Linder's Creedence Revelation tribute
DNA
Winmor
Off Boulevard
Incredible Edibles band
Sunday
Leah Justine & Johnathan Harris
Rented Mule
48 Degrees North
Face the Sun
Friday, July 15 is Senior Day (50+) at Capital Lakefair from 9 a.m. to 2:30 p.m. Sponsored by Senior Action Network, there will be special musical performances, Zumba warm-up led by Krystal Apple of Assured Home Health, games, giveaways and more at Heritage Park, including two grand prizes drawings! While enjoying the fun and the sun, learn about information and resource that can help everyone as they age.
Saturday, July 16 at 5 p.m. is the Lakefair Grand Parade, you won't want to miss this! It's one of the largest parades in the region and includes floats, bands, cheerleaders, drill teams, equestrian groups and members of the military. New this year is the Military Color Guard provided by the 7th Infantry Division at Joint Base Lewis McChord (JBLM)and the 35th Infantry Division Band of 33 Musicians from the Kansas National Guard based in Olathe Kansas. The band is stationed at JBLM this summer. The parade begins along Capitol Way and continues down to 5th avenue, ending near the bridge at Heritage Park. "I was excited to choose Michael Fritsch from Eastside Big Tom as our Grand Marshal this year for our Parade as he truly is community minded and beloved Olympia institution," shares Ringering.
Sunday, July 17, the Grand Finale Fireworks will shoot off over Capital Lake at 10:15 p.m. Viewing can be done at Heritage Park, Deschutes Parkway, Capitol Campus, or anywhere with a view of the lake. It's the perfect end to five days of fun!
Other Lakefair Events
Be sure to also check out the Lakefair Races, featuring a half-marathon, 3k, 8k and kids race, the 43rd annual Capital Lakefair Volleyball Tournament,  Capitol Lake Pub Crawl,  and the 4th annual Capital City 3on3 Basketball Tournament. And the Olympia Downtown Alliance Music in the Park is on July 17 at 1 p.m. These events are not put on by the Capital Lakefair Capitalarians, but run in conjunction with Lakefair.
"Our hope is that we attract many visitors to Lakefair and they will also explore downtown Olympia and Thurston County businesses while they are here," he adds.
The Capital Lakefair would not be possible without its sponsors, including American Pump and Electric, Heritage Bank, Foot and Ankle Surgical Associates, Olympia Federal, Red Wind Casino, L&E Bottling, T-Mobile, Timberland Bank, AT&T, KGY, Kayo, ThurstonTalk, Church of Living Water, IBEW, Funtastic Shows,  Views on Fifth, and the cities of Olympia, Lacey and Tumwater.
"We appreciate the support from the cities of Olympia, Lacey and Tumwater, Washington State Department of Enterprise Services, along with our sponsors and volunteers to ensure that we can continue to put on Thurston County's oldest and largest Festival," shares Ringering.
Head to the Capital Lakefair website for more information, including tickets.
Capital Lakefair
July 13-17,2022
Heritage Park
Lakefair Hours: Wednesday-Saturday 12 p.m. – 11 p.m. and Sunday 12 p.m. – 12 a.m.
Vendors: 12 p.m. to 9 p.m.
Carnival: Wednesday-Saturday, 12 p.m. to 10 p.m. and Sunday, 12: p.m. to 12 a.m.
Food Vendors: Wednesday-Saturday, 12 p.m. – 11 p.m., Sunday, 12 p.m. – 12 a.m.
Sponsored