When we think of a library, we often imagine shelf after shelf of books. While reading is a core theme, many libraries have developed well beyond that and are now an integral part of community and connection. The Timberland Regional Library (TRL) is committed to providing a variety of programs and services that promote literacy and personal growth, from supporting employment seekers to igniting a love of learning in youth. Their mission is accomplished in part through the dedicated effort of members of the TRL Board of Trustees, who each bring a unique perspective and shared passion for community that has helped make the Timberland Regional Library a great place to be.
Nicolette Oliver
President, Thurston County
Nicolette has been in the community for over a decade, moving to Mason County in 2011 and then to Thurston County in 2015. As a public educator, she has served in a variety of roles across surrounding areas, including as an elementary teacher in Thurston County, a positive behavior education specialist in Lewis County, and as a principal in Mason County. As a mother, she participated in the Birth to 5 programming provided by TRL and found it to be huge blessing. She was able to get support through resources and engage socially with family events, not to mention the love of reading her children fostered over the years. She later decided to become involved with the TRL Board and joined amidst the challenges of the pandemic. The experience so far has been incredibly rewarding and gives her the opportunity to make actionable change through her passion for literacy.
"I became involved with the TRL Board because I wanted to provide equitable access to library services for all students, regardless of their neighborhood, family's income, home language and other circumstances," says Nicolette, whose term ends December 2026. "Our public libraries are important places for lifelong learning, and I am very proud to be a part of the Board as we have opened new library branches, increased digital resources, expanded partnerships with local school districts, purchased books in diverse languages, and invested in mobile library services to better reach students and families throughout our rural district."
Nicolette encourages community members to show support for their local library, whether that is through library card renewal, registration for the Summer Library Program, volunteering, or voting.
Jasmine Dickhoff
President-Elect, Grays Harbor County
Jasmine has long been involved in community service and has sought to serve her neighbors throughout her life. She is the former mayor of Hoquiam as well as a former member of the Grays Harbor Transit Board of Directors. She also served on the Hoquiam City Council from 2007 until she was elected mayor in 2015. Jasmine joined the TRL Board in February 2021 and is eager to serve her term representing and supporting the TRL Board through 2027.
Kenneth Sebby 
Board Member, Mason County
Kenneth has been passionate about helping people all his life. He is a retired doctor and professor of orthopedic surgery and had a distinguished career. Kenneth worked in locations all around the world and served in a military hospital, receiving many honors along the way. He was awarded the esteemed accolade of the Air Force Commendation Medal for his exceptional work and commitment to service.
In his retirement, Kenneth still wanted to find ways to contribute to the community and help people, so in March 2021 he fulfilled a former member's term, which will end December 2024. For Kenneth, the library is an important part of every community, and he is honored to be part of the TRL Board. "The purpose of the TRL Board of Trustees is to promote reading and learning to all, but especially young, inquiring minds of all persuasions," he says. "A library should be a hub in the community, and it should be safe and fiscally sound…plus fun!"
Mary Beth Harrington
Board Member, Thurston County
Mary Beth moved from Texas to Thurston County in February of 2020. She has previously been associated with the library community in Texas and was looking for a way to become involved in that community here in Washington. Incoming President Nicolette Oliver was a friend and shared with Mary Beth that a place would be available on the TRL Board, so Mary Beth has been able to serve on the board since January of this year, fulfilling a term that ends December 2023.
"I think what I like best is seeing firsthand the care and consideration that the staff give to every element of their job," Mary Beth says. "The people here are so lucky that the Timberland Regional Library is on the cutting edge of many new and innovative programs and services. I encourage everyone to take the time to learn more about their library and the critical role it plays in our community- it is far more than just books!"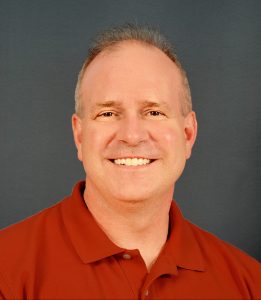 Brian Zylstra
Board Member, Lewis County
Brian has lived in Lewis County for 46 years and has very fond memories of childhood days spent in his hometown library in Chehalis. As an adult, Brian has continued to appreciate all that the library has to offer and was eager to jump into the Chehalis Library Board when given the opportunity in 2001. In 2015, a vacancy came available on the TRL Board, so Brian applied and was later appointed by the Lewis County Board of Commissioners to join TRL in 2016. His term ends December 2022.
For Brian, it has been a joy to be involved in such an integral part of the community. "I enjoy helping play a role as a trustee in improving services for patrons," he says. "I think Timberland is a great library system that provides a wide range of services to people, both in person and online. I'm also very proud that the Chehalis branch is the first library in our state to have a drive-through window!"
Toni Gwin
Board Member, Pacific County
Toni grew up in the woods near Lake Quinault with her family and learned English as a second language, which was nurtured through the library. She recalls checking out her very first chapter book from the TRL bookmobile and was hooked on reading ever since. As an adult, she relocated to Pacific County, where she works as an extension educator for Washington State University. Throughout her career, she has worked closely with librarians in the county and truly understands the value they bring. When a position opened up on the TRL board, she knew it was the perfect opportunity to help support their efforts.
"As a trustee, I hope to leverage my background and skills to strengthen our libraries and be a library advocate in our communities," Toni says. Her term ends December 2028.
Hal Blanton 
Member-at-Large, Lewis County
Hal originally moved to Lewis County in the late 1950s and then returned again in 1981. He spent many years self-employed in retail and is now blissfully retired, though he does enjoy staying busy and contributing to the local community.  Blanton is serving his second term on the TRL Board, which ends December 2025.
When asked to join the TRL Board by Edna Fund, he saw it as an opportunity to serve the community and support the library's efforts. "I like being able to serve in an important organization that brings a vital service to our counties, and serve the patrons and taxpayers of the counties in a fiduciary relationship," says Hal, a previous board member. "I believe the staff of TRL works hard to bring great library services to our five counties."
We greatly appreciated the hard work of the Timberland Regional Library staff and Board of Trustees as they continue to provide exceptional services to our community. Be sure to stop by your local library to show your support. For more information, visit the Timberland Regional Library website.
Sponsored