Winter in Olympia is right around the corner and a changing season also ushers in a full schedule of cold-weather traditions. Twinkle lights illuminate tree-lined downtown sidewalks. Storefronts become decked out for the season and local theater groups host special holiday performances. And Olympia's ice-skating rink, Oly on Ice, is back for another year of winter fun for everyone. It all starts November 18.
Fun Things To Do in Olympia During the Holidays
Entering its fourth season, Oly on Ice is a seasonal ice-skating rink located in the heart of Olympia at Isthmus Park.
"What's exciting is that we are starting to see a generation of kids growing up with this winter tradition, which is now its 4th year," says Paul Simmons, the Parks, Arts & Recreation Director for the City of Olympia. "Their excitement returns when they start seeing the walls come up, and each year those same kids get more and more comfortable out on the ice. You see it in their smiles and laughter, all as our community comes together at Oly on Ice."
Alongside the joy of ice skating, rink visitors also have opportunities throughout the season to sip hot cocoa, watch special performances and support the work of local nonprofits. Hosted by the Parks, Arts & Recreation Department for the City of Olympia, there are also a range of local sponsors who have partnered with the city to make Oly on Ice a community winter wonderland. This includes this year's premier sponsor, Small to Tall Pediatric Dentistry, as well as Foot & Ankle Surgical Associates, Twinstar CU, WSECU, ThurstonTalk, Tracing the Fjord, KXXO Mixx 96.1, KNKX and many others. These sponsorship help to support the financial operations of the rink and also make it possible for the City to contribute hundreds of free passes to low-income community members.
Special Events at Olympia's Ice-Skating Rink
The Oly on Ice season opens on November 18. And throughout the season, the rink will be home to a lineup of special events and live performances, hosted by local musicians, bands and other performance groups.
Olympia-based Studio West Dance Academy will spend a day at the ice rink on November 20 in anticipation of their annual production of The Nutcracker, taking place at the Washington Center for Performing Arts from November 25-28. Rink visitors can mingle with Nutcracker performers and further experience the holiday cheer by catching some of the characters on the ice.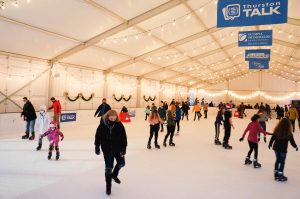 A treat for Oly on Ice visitors, this season will also feature a special on-ice performance from Debbie Leung, owner of Chinese Healing & Movement Arts in Olympia. A passionate hobbyist ice skater, Leung has prepared a short routine as a showcase for Oly on Ice attendees on November 30. Bittersweet Chocolates, a local chocolate confectionery, has partnered with Oly on Ice to provide free hot chocolate for attendees on the day of the performance.
On the calendar through the rest of the season, Oly on Ice visitors can look forward to additional live performances from groups like the Rose Garden Singers, Sweet'ner, the Golden Era Disciples and youth musicians from the nonprofit Bridge Music Project.
"Oly on Ice is yet another fun and unique opportunity to connect with the community," says Luke Burns, recreation supervisor for the City of Olympia. "Each winter we look forward to finding new ways to bring fun events and activities into the tent. I am grateful to the performance groups and organizations who have stepped forward to help make this season of Oly on Ice special."
Olympia Seasonal Activities Hosted by Local Organizations
During the Oly on Ice season, a range of community organizations and nonprofits will also host special theme nights that may include activities, crafts and sweet treats, while also providing information about the organization's mission. This includes an evening with the Olympia Downtown Alliance on November 22, which will be offering a range of activities, giveaways and vouchers, as they inform visitors about the upcoming Downtown for the Holidays event.
Speedy, the mascot for The Evergreen State College, will make an appearance at the rink on December 1 to celebrate Greener Appreciation Night.
On December 6 and January 10, visitors can learn more about community safety and public service through Cocoa with a Cop, hosted by the Olympia Police Department.
The Boys & Girls Club will host BOLTS Keystone Night on December 12, providing crafting projects and education about their teen club. The organization will also be conducting a canned food drive that will benefit the Boys & Girls Club food pantry.
Offering a range of kid-friendly activities, take-home crafts and information about future library-centered events the Olympia Timberland Library will be visiting Oly on Ice December 8 and December 29.
On Sunday mornings throughout the skate season (with the exception of December 25) Oly on Ice will also offer Sensory Friendly Skate times from 10:00-11:00 AM. During this time, the lights in the rink will be lowered and there will be no music playing in the rink to make things more comfortable for skaters with sensory sensitivities.
Oly on Ice Season Information
The Oly on Ice team is looking forward to a new year of skaters so purchase your tickets or Season Pass to Oly on Ice online now. Visitors can schedule the date and time slot of choice. Tickets will also be available at the door, but you may experience a longer wait time if you attend during peak times. New this year is the rink's progress pricing. Lowest prices are on Monday and Tuesday. Prices go up Wednesday through Sunday. This format allows the rink to be more accessible.
To learn more about Oly on Ice admission, full hours of operation and special events, visit the Oly on Ice website.
Oly on Ice
Isthmus Park – 529 4th Ave W, Olympia
360.440.7573
November 18-January 16
Open daily through the season (Closed on Thanksgiving Day)
Sponsored