Most of us won't require the type of loud, chaotic surgical intervention we see on TV, and that's a very good thing. But needing general surgery isn't uncommon, especially as we age. Harbor Regional Health (HRH) is proud to add Dr. Andrew Kowalski to their general surgery team to help combat everything life throws our way.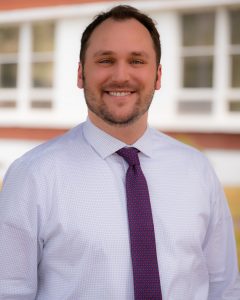 Thankfully 21st century surgeons can easily combat a wide variety of issues. At HRH, general surgery includes colonoscopies, lump- or mastectomies, biopsies for melanoma or other skin conditions, appendectomies, hernia repair, vasectomies and placement of tubes or ports for further treatment. Kowalski is ready to jump in and lend a helping and highly skilled hand.
Joining Harbor Regional Health Felt Like Coming Home to Surgeon Andrew Kowalski
Kowalski is a Salinas, California native who first experienced Washington while attending Gonzaga University. There he met his wife Rachel and decided to go into medicine. It was in the medical program at Yakima's Pacific Northwest University where he fell in love with general surgery. "Both my wife and I loved our time in Washington, and always had planned on moving back here after completing my residency," he says.
So, Kowalski took the initiative and here we are. "I initially heard about the job opening at Harbor Regional Health simply by inquiring with the hospital itself directly. Working with a group of three other established surgeons in a location like Aberdeen seemed like the perfect fit for what I was looking for. I started with HRH at the beginning of September and already I feel like both my wife and I have been immediately welcomed into the community."
But he's no stranger to our area. Hie wife grew up in Longview, and he always loved the small-town atmosphere when they visited. "I knew I wanted to work at a community hospital because it best compliments my training, and I have always enjoyed helping the patients in this type of environment," he says. "In my spare time I enjoy spending time with my wife and two dogs, fishing, gardening and looking forward to exploring all the opportunities that Grays Harbor has to offer."
General Surgeons Love Tackling New Challenges
For Kowalski, finding his career calling was enviably easy. "I have known since starting medical school that I wanted to go into general surgery," he explains. "In my first year, my medical school put on a suture clinic which taught the basics of how to throw a basic stitch, and I immediately loved the hands-on aspect of this field of medicine. When it came time during my medical training for me to start gaining more real-life experience, my rotation in general surgery was one of the very first rotations I had, and I was hooked."
He worked a lot with the VA hospital in Spokane and loved the procedures, operating room atmosphere and being able to immediately fix a problem that has bothered his patient for a long time. Harbor Regional Health's rural setting echoes that of Kowalski's residency. "I like the variety and scope that practicing in a more rural setting like Aberdeen has to offer and look forward to serving the patients of this community," he says.
While he enjoys each day's new challenges, Kowalski finds himself especially intrigued by new robotic and minimally invasive surgeries. "During my time in residency I have done a lot of robotic surgery, and I believe that this training could bring several benefits to the patients of HRH in the future," he shares.
Dr. Andrew Kowalski is Excited for the Future at Harbor Regional Health
As he settles in, Kowalski is already looking towards the future. "My goal is to become a well-established general surgeon at HRH who is involved in the community both inside and outside of the hospital," he says. "I want to help spread community health awareness and get patients involved in their own care, specifically in preventative care like screening colonoscopies. Overall, I have enjoyed my experiences at HRH thus far, and am excited about the opportunities to come in the future."
You can find a full list of general surgery evaluation services, treatment and procedures via Harbor Regional Health's website. Their specific offices are located on the fifth floor of Warren Medical Services Building (East Campus) at 1006 North H Street in Aberdeen. Have questions or want to schedule an appointment? Simply call 360.537.6414 today.
Successful general surgery includes skillful diagnosis followed by preoperative, operative and postoperative management of many different aspects of the body. Undergoing any procedure with a team you trust makes the outcome positive and even more successful. Don't live in pain or the worry of an undiagnosed issue, let Dr. Kowalski and the team answer questions and walk alongside you every step of the way.
Sponsored