The weather outside might be frightful, but's its worth braving in your family car to see the bright lights and displays community members and businesses have spent hours on for us to enjoy. Bundle up, grab a coffee and check out the 2022 Christmas lights in Grays Harbor.
Aberdeen
Downtown Aberdeen
If you like looking at fancy store windows and city lights blinking bright red and green – head to downtown Aberdeen. Thanks to the Aberdeen Beautification Committee, storefronts are decked out each year for the Holiday Storefront Decorating Contest. Voting takes place December 2 between 5 p.m. and 8 p.m., but stores leave their lovely displays up throughout the season.
Central Park
Light Up Central Park is put on each year by Central Park Elementary PTO. Check back for more information on 2022's event.
Elma
David F. Byles House
201 E Young Street, Elma

The David F. Byles House is a historical, 19th Century Queen Anne Victorian home that gets all decked out for Christmas. It's definitely worth the drive by. Follow the David F. Byles House on Facebook for updates and other events.
Montesano
Highway 12 tree
As you head into Montesano via Highway 12, look for the pretty Christmas tree that someone decorates every year! It's a fun tradition that is nice to see each December.
First Avenue
If you haven't been to 1st Avenue in Montesano, you are missing you! Number 723 has so much in their yard you can barely see the ground! From light up gnomes to life-size light up reindeers, you won't want to miss it! Check out this video of their Christmas light display in Grays Harbor from a previous year.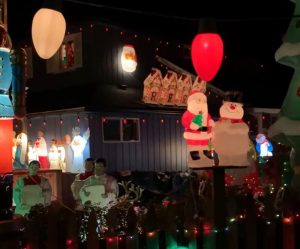 Hoquiam
Boursaw Avenue Lights
31 Boursaw Avenue, Hoquiam
You won't want to miss the spectacular display on Boursaw Avenue in Hoquiam. Thousands of lights line both ends of the driveway, along giant arches. You are welcome to park in the driveway to get a closer look for a minute or two.
Seabrook
The entire town of Seabrook is a great place to go for Christmas light in Grays harbor. Each year they put on Jolly Days. This year, the festivities and fun continue until December 17. See the big tree all lit up in Merriweather Square, shop the highly decorated small businesses and even take a carriage ride to look at the lights!
Are we missing your neighborhood? Send us an email with your address or neighborhood and a photo to submit@GraysHarborTalk.com.