You know what makes Christmas carols and twinkling holiday lights even better? Lasers. For the third year, Summit Pacific Medical Foundation, Timberland Bank and the Port of Grays Harbor's annual Harbor Lights Holiday Laser Light Show welcomes families to their festive extravaganza December 14 and 15. Co-sponsor, Slick Lasers created a whole new program to kick off the fun from the Satsop Business Park.
The Harbor Lights show is free but an active fundraiser for the Summit Pacific Medical Foundation's Patient Assistance Fund, which helps community members with medication assistance and transportation to and from their appointments. It is encouraged to bring your spare change to help those in need.
Family Fun That Helps Others Thanks to Summit Pacific Medical Foundation
The holiday season is full of events and activities and Harbor Lights is one to add to your calendar. Harbor Lights allows loved ones to bundle up, sip cocoa, and enjoy time together that's fun, festive and screen-free. "Events that people of all ages can enjoy that are little to no-cost are particularly necessary this time of year," says SPMC Event Coordinator Natalie Jensen.
"The Foundation originally created this event as a morale booster during the COVID-19 lock downs," Jensen continues. "When it gets cold, dark and wet this time of year, people naturally tend to hunker down indoors more. Sometimes that means they aren't able to socialize as much and or can suffer more from depression and/or loneliness. This is a fun way to stay warm, sing some familiar holiday songs and enjoy a free show with as many people as you can safely fit in your vehicle. Part of Summit Pacific Medical Foundation's mission is to build community through healthy activities. As long as people keep enjoying and supporting this event, we will continue to bring it back in some form."
Harbor Lights is Free, but RSVP is Required So Get Your Tickets Now
"Our first year we didn't have tickets and didn't know what we were getting into so it more than sold out, so to speak," Jensen recalls. Backups extended to the highway and the length of nearby Keys Road.
By the second year SPMF hired professional traffic control, which allowed them to fit additional cars into the parking lot on a quicker turnaround, says Jensen. Third time's a charm as 2022 organizers added more tickets to the six shows over two days. Please bring a copy of your ticket to the event.
Showtimes are at 5 p.m., 7 p.m. and 9 p.m. on Wednesday and Thursday, December 14 and 15. They run approximately 30 minutes each. Music is played over the radio so cars must be able to access classic FM radio. "There will not be loudspeakers as no one should be outside of their vehicles unless absolutely necessary," says Jensen. "With this many cars, in a fairly dark venue, we want to keep safety as our top priority." Note that RVs, oversized vehicles and trailers are not permitted.
Music and Lights for a Good Cause: Community Members in Need
While the event is free, there is a suggested donation of $20 per car. Foundation volunteers will be on-site collecting donations and while there is no obligation to give, all proceeds raised by this event will go directly to helping patients in the community.
The Foundation has five funds: the Patient Assistance Fund, Employee Assistance Fund, Student Scholarship Fund, New Equipment and Construction Fund and the Greatest Need General Fund. This event benefits the Patient Assistance Fund, which works in a variety of supportive ways.
"The Patient Assistance Fund helps to provide our patients with the medications and travel expenses they need but aren't always able to afford," Jensen explains. "The assistance is provided in two separate forms: by subsidized or free prescription assistance and also transportation assistance. This fund also covers our Comfort for Kids Program that provides stuffed animals, stickers and small toys for our youngest patients. Hospitals can be scary for kids, so these items are to help kids calm down and leave with a positive experience."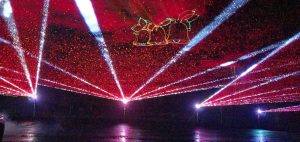 Other Ways to Help this Holiday Season, Thanks to Summit Pacific
With six showtimes for the Harbor Lights Holiday Laser Light Show, there are plenty of opportunities to ring in the season. But if you can't attend – or want to do more – consider helping with the Summit Fights Hunger Campaign, a fundraiser that provides holiday meals for patients nominated by their care teams.
Each meal feeds between four and five adults and Summit Pacific hopes to raise money to purchase 200 meals this Christmas. They are currently taking donations and signing up volunteers to help with meal pick-ups, simply contact Jensen at 360.346.2345 or email Natalie.Jensen@sp-mc.org. Donations can be made at the Café @ Summit Pacific Wellness Center or online.
To find out about other fundraisers, follow the Foundation on Facebook or sign up for event announcement emails. Then bundle up, grab warm drinks, snacks and your ticket and head to the Harbor Lights Holiday Laser Light Show with a car-load of loved ones.
Sponsored