Grays Harbor County was getting ready for Christmas when the Aberdeen Herald "received" a wireless message from the North Pole on December 17, 1915: "To the Boys and Girls and everybody in the Grays Harbor Country. Dear Folks: My reindeer, Dunder [aka "Donder" or "Donner"], Blitzen, Dasher and Dancer are in fine fettle, and I shall bring a larger load of Christmas Presents than ever before. I do not want to overlook anybody, so get ready to have the time of your life, and let no one forget to hang up their stocking. Let everybody be ready for me; I shall arrive as usual about midnight, December 24th. Yours for a Happy Christmas, Santa Claus."


By the turn of the 20th century, people were celebrating in familiar ways.
Grays Harbor Closed Businesses and Schools for the Holidays
The holidays were a time of rest from school and work as people gathered with friends and families to celebrate. Lumber mills, logging camps and canneries typically closed for the days and weeks around Christmas and New Year's. Loggers poured into town from the woods, filling local "thirst parlors" in Aberdeen and Hoquiam. In 1911 the Aberdeen Lumber and Shingle Company gave all married employees a turkey for the family table and single men received tickets to get their holiday dinner at local hotels.
Historical Christmas Celebrations in Grays Harbor
As today, Christmas brought the community together to celebrate. Clubs held parties for adults and children. For example, Germans held a cotillion dance in Aberdeen's Kellogg Building on Christmas Eve 1890.
These gatherings often included a tree. People would hold what they called a "Christmas tree," a party where people gave away gifts that were displayed on a tree. In December 1913 the Aberdeen PTA held a children's party on the lawn of the public library. The Grays Harbor Railway and Light Company provided the lights for the tree, which was put up by the local fire department. A musical program was given on the library's portico.
These parties were held throughout Grays Harbor County, in communities both big and small. "A fine Christmas but much mud," reported Garrard Creek in 1895. A Mr. Simmons held a Christmas tree party there at his home, with a literary and music program before Santa Claus (W. T. Neely) came to hand out gifts. Adults then stayed for a dance.
A History of Giving to Charity at Christmastime
The holidays were also a time of giving. Churches and clubs collected clothes, toys and food to give to those in need, especially children. In 1914, Sunday school students at Hoquiam's First Baptist Church, collected presents for the poor as "Gifts for the King" to be distributed by the Associated Charities.
"I am a little boy, 10 years old," wrote a child named George to Santa Claus in 1912.  "Please send me a rain coat and a pair of pants to wear to school. I won't ask you for any toys as I wear clothes." The letter was given to Reverend Charles McDermott. As secretary of the Associated Charities, he coordinated groups to help those in need like George. The Elks in both Hoquiam and Aberdeen held annual children's Christmas tree parties, giving away clothes, food and toys.
Early 20th Century Gray Harbor Christmas Gift Giving
Gifts during this era tended to be practical. Clothing and accessories, like gloves, handkerchiefs and bags, were popular gifts, often personalized with hand-embroidery. "It is not the money cost of the Christmas gift," advised the Aberdeen Herald on December 20, 1909, "but the spirit of love which inspires the giver that makes the gift valuable."
Local papers were full of ideas for making gifts. Sewing projects were popular, such as bags, pillows and pincushions. Baskets could be painted white, their handles wrapped up with white satin ribbons and decorated with a sprig of holly for Christmas. One toy recommended for kids in 1907 was a knitted wool dog, preferably a poodle, Brussels griffon or Skye terrier.
Gifts also changed with new technology. Grays Harbor Railway and Light Company sold electrical appliances to promote electrification as safe, dependable, modern and exciting. They sold vacuums, lamps, radiators and ranges, as well as gadgets with made-up names like "El Tosto," an open-sided toaster in 1913.
Like today, the holidays were a big time for local stores. Some stores went all out. Santa Claus climbed down a ladder from the roof of Kaufmann Brothers store in Aberdeen in mid-December 1915 to a crowd of waiting children. He handed out bags of candy. The same store opened their shopping season in 1906 with a concert by Ralson's orchestra.
Christmas Dinner in Early 20th Century Grays Harbor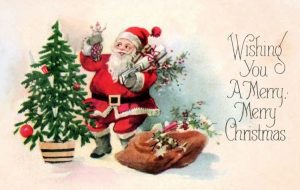 Christmas dinner was something to look forward to. Maybe a bit too forward to! In 1905, Edward Cheesebrough, time-keeper for the Sylvia Shingle Company in Montesano, visited Aberdeen for the holiday "and got away with so much turkey that he was unable to return to work till Wednesday." People had dinner with family or at local hotels and restaurants.
For those looking for ideas of what to cook, they could turn to Anna Thompson's "The Kitchen Cupboard" newspaper column, which published a series of holiday recipes in 1914. She recommended making fruit tarts and turnovers for children and using leftover Christmas fowl to make scalloped turkey with oysters. She also had a number of candy and cake recipes. Thompson suggested dipping holly in white icing to decorate cakes.
The holidays remain a happy time in Grays Harbor County today, with a long and charming history. Wishing you Happy Holidays and Merry Christmas!