No one knows when or where the guitar was invented. In one form or another, they've always been a vital part of the human experience. But even in the hustle and bustle of our 21st century world, this deceptively simple instrument is all around us and just as important as ever. Studies show that more than 15 million Americans took up guitar over the pandemic and 72 million Americans play overall. But few people can make the instrument perform like Spanish guitar maestro Benise. He'll bring his expertise and showmanship to Olympia's Washington Center for the Performing Arts on Sunday, August 6 and tickets are on sale now.
'Benise: Fiesta!' Brings World Class Spanish Guitar to Olympia's Washington Center
Traditional Spanish guitar music showcases the artists' flying fingers and detailed, intricate musicianship. For Benise (pronounced Buh-nes-say), a typical show blends skilled performance with dance and a full ensemble of performers and styles. He has been featured on "Dancing with the Stars" and earned acclaim for his Emmy Award-winning compositions. These draw from the musical customs and sounds of Spain, Africa, Brazil, the Mediterranean, Cuba, India and Egypt.
Benise is self-taught and first picked up the instrument at 11 years old. Despite being unable to read music, he started composing and arranging music that is inspired by his life, travels and musical journey. He moved from the Midwest to Los Angeles and after busking on the streets, eventually moving up to sold out shows across southern California. To date, he has produced, arranged and released 15 albums on his own record label as well as seven DVDs.
Today, his performances share the stage with drums, Gypsy-style violin, Flamenco dancers, Cirque du Soleil performers, Brazilian Samba dancers and percussionists, African tribal drummers, Havana horns, and choreographed theatrical lighting.
A Virtual Journey to Spain with Emmy-Winning Guitar Maestro Benise
On Sunday, August 6, Benise brings his "Fiesta!" show to the Washington Center. Featuring a taste of Spain, "Fiesta!" revels in the fiery sounds of a traditional courtyard graced by Flamenco dancers and musicians. With an international cast, you'll be transported on a virtual vacation – without the necessity of packing for a 5,000-mile journey.
"This is a great show for the whole family," says Benise, "I really think we have something for everyone. I hope people will be inspired by our story, by the music, by the production and have the passion to follow their own dreams. I have always been a gypsy and love to travel, my heritage is Bohemian (from Prague), so I think it's in my blood. I can't wait to go to new cities, meet new people, and play every night – it's what I live for."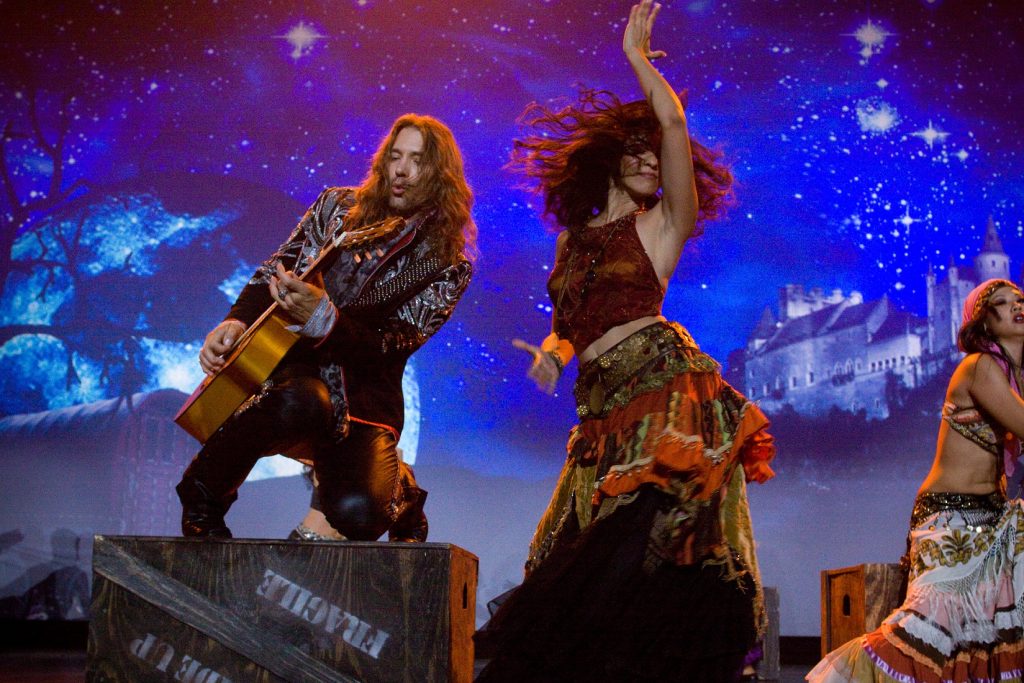 Get Your Tickets for "Benise: Fiesta!" Now
Tickets to the show start at $39 and available online, by calling 360.753.8586 or visiting the Washington Center Box Office. Their hours are 12 p.m. to 5:30 p.m. Tuesday through Saturday or two hours before any show. Email boxoffice@washingtoncenter.org with questions.
While at the Washington Center purchasing your tickets, be sure to check out other upcoming events. After "Benise: Fiesta!," September offers a showing of the 1924 silent film version of "Peter Pan." October welcomes "Sammy Miller and the Congregation," a vaudeville-esque jazz experience, and "Six Appeal," another wild ride blending acapella vocal ensemble, comedy troupe and rock band.
Subscriptions are currently on sale for the 2023-2024 season and single tickets go on sale August 8 so make sure to choose the best seats for your favorite shows while they're still available. Then dust off your guitar or other favorite instrument and make music yourself. Remember, life is truly a Fiesta!
Sponsored