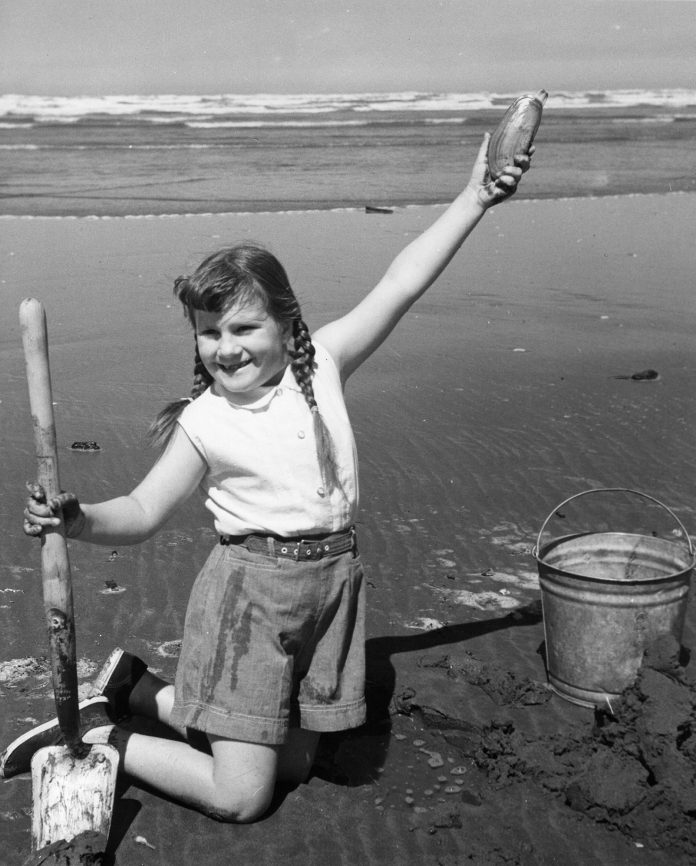 Clamming has been a part of Grays Harbor history since its first inhabitants discovered the delectable mollusks. Native Americans harvested clams and other shellfish from the shores of the Pacific Ocean for thousands of years. American settlers enjoyed clams as well. By the early 20th century businessmen set up canneries, particularly for razor clams. A favorite part of Washington's regional cuisine, clams became big business.
Grays Harbor's Cannery Row
Local business leaders touted Gray's Harbor's clams as especially delicious. "Santa Claus was especially generous to us this year," remarked the Aberdeen Herald editors on December 31, 1915, "but he certainly played a great and winning game when he left at our home a case of Salmon and Minced Clams from the Sea Beach Packing Works. We have sampled them and can truthfully say that there is nothing finer in this land. We always thought we knew what really good clam chowder and clam soup were, but we did not—but we sure know now."
Seafood canning was an important part of Grays Harbor's economy at the turn of the century. Canneries were located throughout the county. Cannery work was difficult, dirty work. Many cannery workers were women and immigrants. In April 1911, the Aberdeen Herald noted that a crew of 35 Chinese men had arrived from Portland and San Francisco to work at the Hoquiam Packing Co. for a few weeks.
Before the clams reached a cannery, they were dug from the beach by clam diggers. Many of the diggers were also immigrants. In 1915 there were 150 men digging for clams at South Beach. Occasional fights broke out when a few diggers did not follow the "beach law" that restricted diggers to harvesting only the clams between their wagons and the surf. A Sea Beach Packing advertisement from 1916 promised diggers $2.25 per hundred pounds of clams.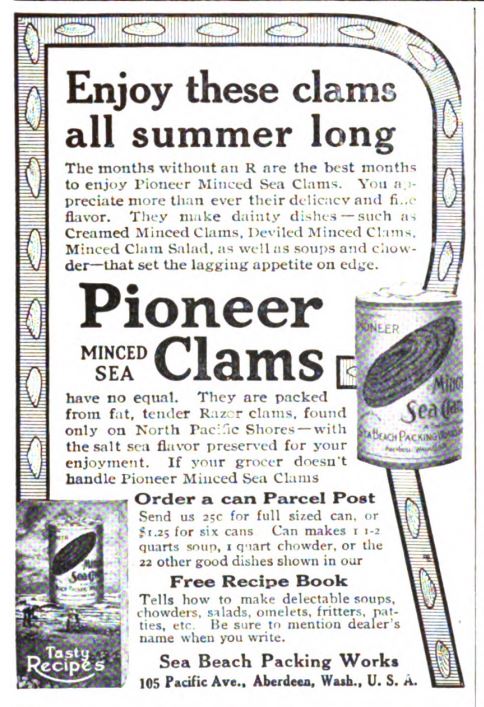 Sea Beach Packing Company was one of many seafood canning companies operating in Grays Harbor County, but one of the largest and longest lasting. It was founded in 1894 in Oregon before relocating to Aberdeen. They won a gold medal for their products at the Alaska-Yukon-Pacific Exposition in Seattle in 1910, and even placed advertisements in the Boston Cooking School magazine!
In 1910, Sea Beach published a short cookbook, "Recipes for Dainty Dishes." Preserved in the Washington State Historical Society's collections, it included recipes for clam soup, clam chowder, creamed minced clams, deviled minced clams, clam fritters, scalloped clams, clam salad, clam tea ("for a weak stomach"), and minced clam a la Newburg.
"Don't be a clam," the advertisement on the back of the book advised, "but eat them." This slogan was even printed on the company's packing crates. "'Pioneer' Brand Minced Sea Clams," continued the advertisement, "are prepared from the Famous Razor Clams dug from the clean, white sand of the Pacific Ocean Beach. Canned fresh with all their salt-sea flavor fully retained by our exclusive process of packing. Only the clean, white meat is used after each individual clam is thoroughly cleansed. Grocers are authorized to refund your money, if after eating the first can, you say they are not the most delicious clams you ever tasted."
Clam Recipes from Grays Harbor
The Aberdeen Herald newspaper also published recipes for clams. On July 8, 1912, the Kitchen Cupboard column explained "How to Make Clam Chowder," including recipes for "an elaborate chowder" with eggs, a "hodge podge" chowder with veal, and baked chowder. Or, the same column suggested on August 15, 1912, tomato and clam bisque was a "summer soup" for "when the days are sultry and appetites are capricious." Among other "summer recipes" in "Cookery Points" column on April 20, 1903, was creamy clam bisque "liked by every lover of these bivalves" spiced with cloves, mace and allspice.
Being a classic seaside food, clam chowder was also a favorite at logging camps and on restaurant menus, including the Aberdeen's Loggers' Restaurant. When the Vienna Bakery served Christmas dinner in 1891, clam chowder was served alongside boiled salmon with egg sauce, roast turkey with cranberry marmalade, mashed potatoes, sugar corn and plum pudding with cherry sauce.
Grays Harbor Clam Events
With clams so popular, they were often on the menu at events. Clambakes, a New England tradition where people buried and steamed clams on the beach, were popular. Westport was a popular spot for clambakes and the community even invited the public to a free clambake at the Fourth of July celebration in 1896, also offering free clam chowder. Other groups held events there. The Aberdeen Eagles, for example, organized annual clambakes and dances at Westport during the early twentieth century.
Women's church groups sometimes sold clam chowder for fundraisers. In 1904, the ladies of the Methodist Church served clam chowder and coffee all day at Dean's Tea Shop on Wishkah Street between F and G Streets. Clam chowder was also on the menu when the Hoquiam Fire Department entertained the Aberdeen Fire Department at the A.O.U.W. hall, alongside sandwiches, Saratoga chips, cake, pretzels, beer and coffee.
Although clam canning days are over, recreational clamming remains a favorite activity in Grays Harbor and a popular item on local menus. Happy clamming!