For most of the day, we ignore what's beneath our feet. But once we're home, socks come off and we unwind from a long day of boots, heels or pinching office shoes. If your home's flooring needs a refresh, there are plenty of options, but most come with a hefty price tag. For the budget-conscious, pet-loving, or young families, modern day laminate is a great option. No longer your grandma's wildly patterned linoleum, laminate can now look like wood and stone or come in gorgeous patterns and colors. The experts at SPF Construction are always happy to answer questions and start the installation process.
Talking 21st Century Laminate Flooring with SPF Construction
Home improvement TV shows would have you believe there are only four types of flooring: stone, wood, carpet and, well, other. Online and streaming designers seem to turn up their nose at anything that isn't marble, tile or hand-scraped hardwood. But today's laminate can be waterproof, scratch resistant – goodbye grooves from pet paws and soccer cleats – and even provide sound isolation and noise reduction.
Forbes Home explains that laminate flooring is a synthetic composite. A plywood or fiberboard core is topped by an image layer and then sealed with a plastic wear layer. In nearly all cases, underlayment is added for insulation or extra protection.
SPF Construction owner Pavel Siumbeli is a big fan of laminate and has installed it on floors and stairs across Western Washington. "Today's laminate is significantly higher quality than that of the past," he shares. "They have vastly improved locking systems, providing a longer life without the floor looking like a cheap patch job a few months after the installation."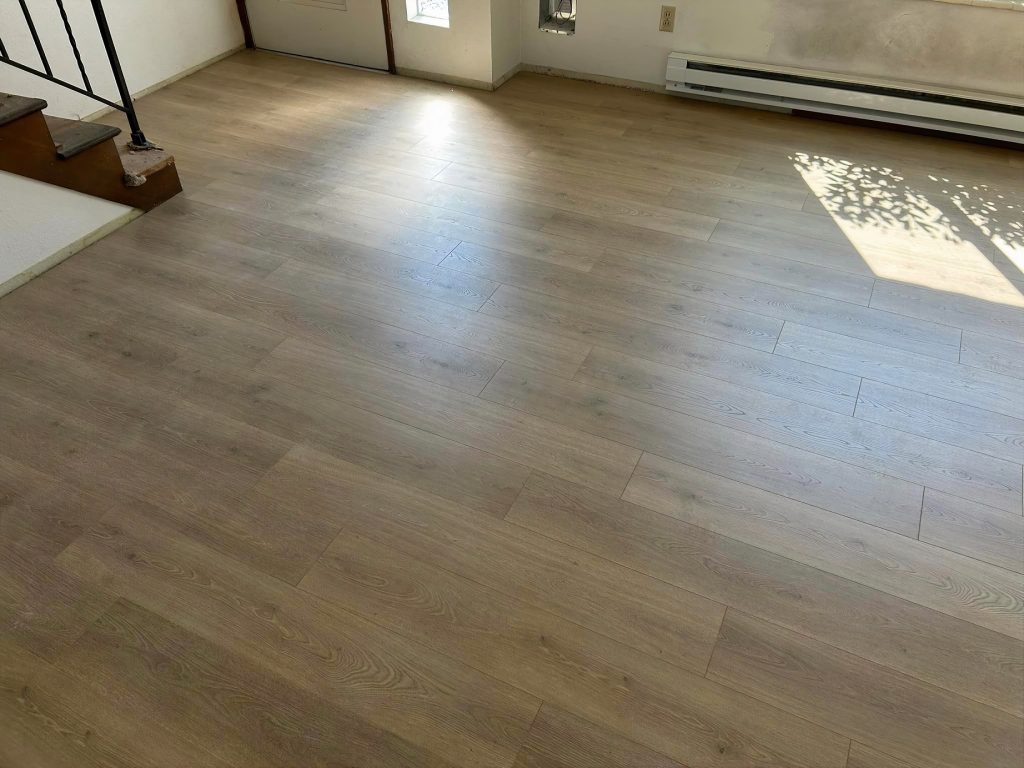 Puppy Paws and Overflowing Bathtubs Call for Laminate Floors
Especially when raising a family, our hectic lives require options with durability, low-cost and are easy maintenance. Siumbeli says that while many laminate floors come with waterproof varieties, you just need to double check that it is a feature of your chosen brand, style or color. "There are some that are surface waterproof, meaning if you spill something from the top it won't swell up and look mushroomed," he explains. "And there are other types of laminate that actually have a waterproof core, so the entire plank is totally waterproof. Varied choices allow people with different budgets to get equally good floors."
Siumbeli also praises its surface hardness. "Laminate is generally harder on the surface making it great to resist paw marks or kids' activities," he says. "In this line of product, you can also choose textured laminate instead of polished or shiny laminate. Texture provides more traction so it's not as slippery when wet, and in general provides stability."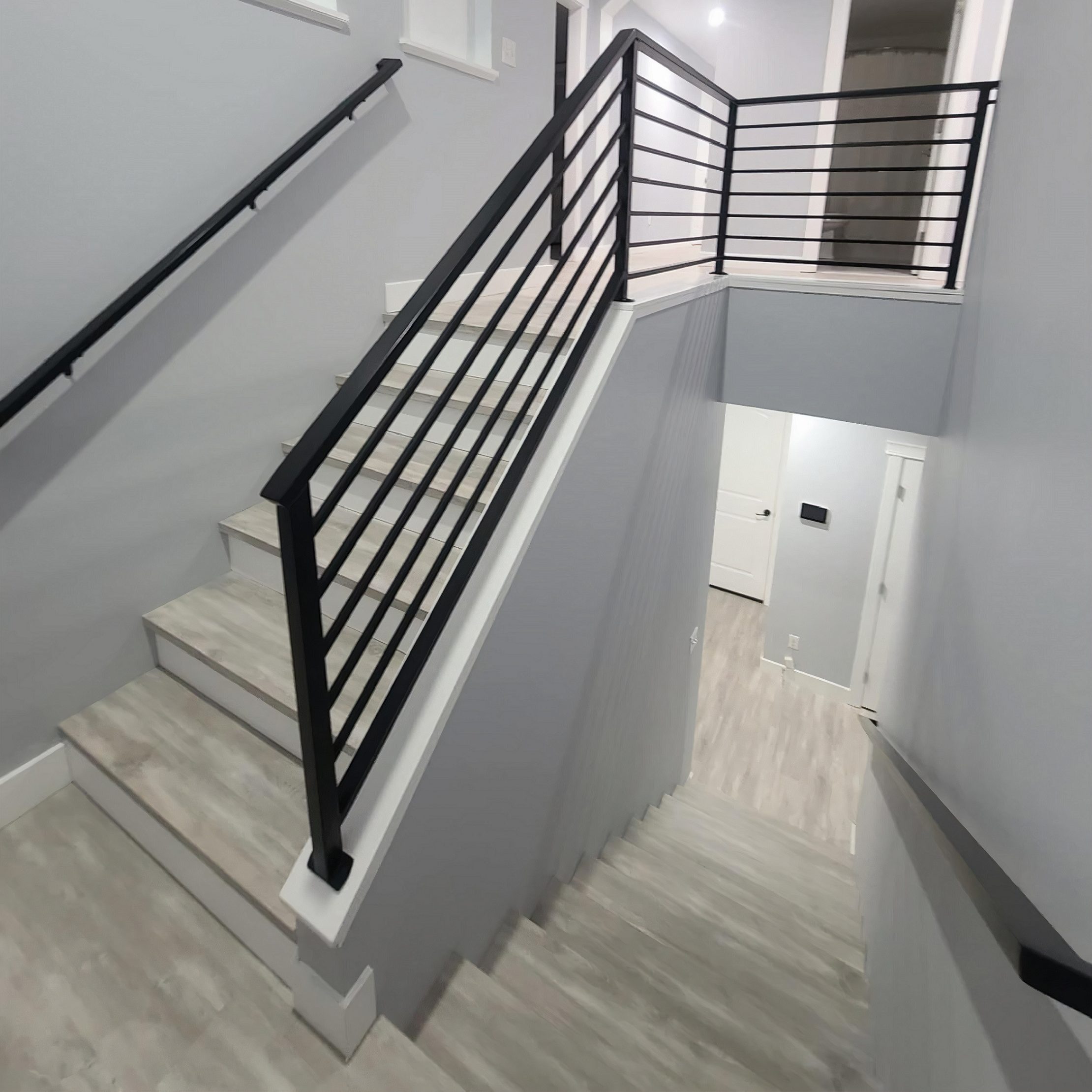 Because most laminate flooring requires a pad to be installed underneath, sound insulation is a big plus you may not have expected. "When purchasing pad," Siumbeli says, "people have the option to buy silencer pad, that greatly reduces the noise transmission, especially if it is a multi-floor house. As with anything else, the pad can be as cheap or expensive as desired. Laminate is usually a thick material too and when combined with pad, it adds another layer of sound dampening to your home."
Get Professional Laminate Installation with SPF Construction
YouTube may lead you to believe that laminate installation is an easy Saturday chore. But don't be fooled by sponsored influencers and opt for the experienced pros at SPF Construction to make sure your floors are replaced safely, securely and will last.
Siumbeli says that while laminate installation is quicker than nailing down new hardwoods, for example, it still takes time and requires a skilled touch. "Most times I can instantly tell when the floor was done professionally or DIY," he says. And that's never a good thing, especially when you decide to sell your home down the road.
He recommends using Mohawk's Revwood Select, Plus or Premier lines of flooring. "Mohawk is a little harder to install than other laminates, but once it's done, I am confident that it will last," says Siumbeli. "These lines of products provide good quality flooring for most budgets, and come in many colors, designs and styles. Mohawk Premier for example comes with a great texture like that of rough-cut wood, providing the feel and look of the real thing."
When you're ready to get started – or have questions about texture, type and timeframe – give Siumbeli and his team a call at 253.205.7690 or email spfconstruction@yahoo.com. They serve families and businesses throughout Western Washington and are always happy to discuss projects big and small. Follow them on Facebook for customer reviews and photos from recent jobsites.
Your home is a haven where you can relax and recharge. What better way to do so than with a flooring that'll stand up to bare feet (and paws) or the occasional splash from your bubble bath? Let SPF Construction build a peaceful retreat from the ground up.
Sponsored