Pancakes were widely enjoyed during the turn-of-the-20th century Grays Harbor County. Going by various names, including flannel cakes, flapjacks, griddle cakes, and hot cakes, they were eaten by many people.
Pancakes: Food of the People
Easy to make on a frying pan over a campfire, pancakes came west on the Oregon Trail. A big heaping stack of hotcakes was the classic start to a logger's day. Immigrants, such as Scandinavians and Russians brought their own versions. Usually made from wheat, pancakes could also be created from buckwheat, corn, oats or rye, whatever people had on hand.
It should not be surprising, then, that pancakes were considered an essential part of a normal diet. "To make the nicest buckwheat cakes in the world," was part of "What All Girls Should Know," the Aberdeen Hearld stated on September 8, 1904.
Restaurants often served pancakes. The Acme Restaurant in Aberdeen, for example, specialized in providing "hot cakes" and waffles for breakfast. The Mecca Cafe in Aberdeen added some flair to their pancakes for their Christmas dinner in 1910, serving "Jenny Lind Pancake au Confiture" or with jam as an entrée.
Pancakes were also cheap to make at home. C.E. Bownell's shop at 213 West Heron Street in Aberdeen sold five packages of pancake flour for a dollar in his dollar-Friday sale in October 1915. Olympic Pancake flour was a major seller. Manufactured by Tacoma's Puget Sound Flouring Mills Co., it sold for 22 cents at Livingston's, "The Place of the People," in Aberdeen in September 1913. It normally cost a 25 cents per 4-pound package.
To promote their products, Puget Sound Flouring Mills Co., sent D. Roberta Wing to George Wolff's store at 220 Heron Street in Aberdeen in June 1905. "The expert," advertisements promised, would demonstrate cooking with Olympic Wheat Hearts breakfast mush and Olympic Pancake Flour for a few days, giving out free samples and recipes. The company also sold Olympic Cake and Pastry Flour and Olympic Patent Flour for bread.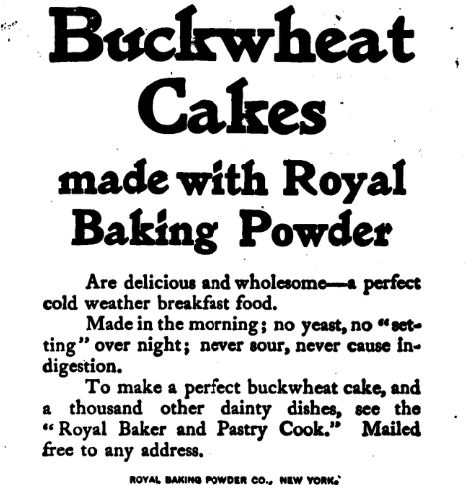 Community Pancakes
Pancakes were usually served at home, but could be a part of special community events. The Evergreen Rebekah Lodge held their third annual "pancake social" in February 1914 at the Odd Fellows Hall, providing pancakes for members and their families.
Other groups ate them at their events. In February 1910, Mrs. A.D. Wood entertained the women of the Aberdeen Episcopal Church with a "pancake lunch" at her house to celebrate Shrove Tuesday. This old holiday originated in the Middle Ages to use up butter and eggs before the fast of Lent began.
Others enjoyed pancakes at more private gatherings. In November 1906, a dozen members of the Birthday Club ladies surprised Mrs. F.L. Hartung at her home in Aberdeen with a dish of pancake batter at her back door. They came to celebrate her birthday with a pancake breakfast – and stuck around most of the day, with a turkey luncheon later.
Pancake Recipes
Because pancakes were common, few recipes were printed in newspapers. Still companies promoted their products in local papers. Quaker Oats declared in a May 13, 1909 ad that using their oats would make sour milk or buttermilk pancakes a "delightful surprise" and would "make your mouth water for more."
One of the most heavily advertised products, however, was baking powder, a relatively new product. Royal Baking Powder Company promised in an August 24, 1899 ad "sweet and tender hot griddle cakes" if you used their products while Dr. Price's Cream Baking Powder claimed in a November 5, 1891 ad that their product was essential "for griddle cakes to be eaten hot, enables their production in the shortest space of time, always tender and delicious."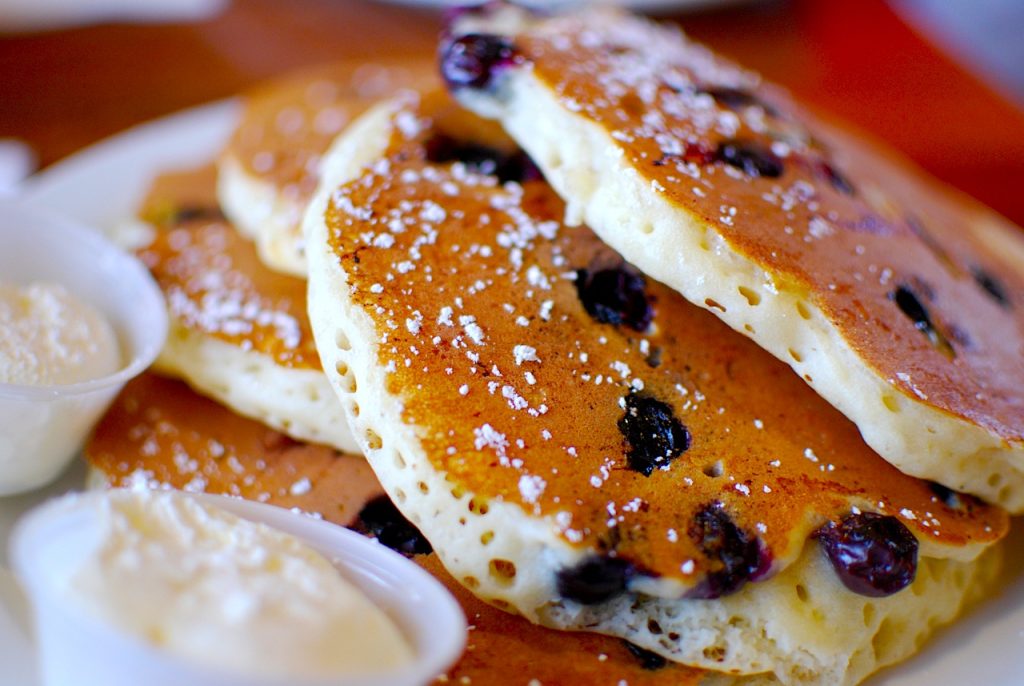 Recipes for pancakes included variations like hoe cakes from the South using lard in 1911. Others were more unusual. An April 6, 1893 pancake recipe added ground rice while a July 6, 1903 one made chicken pancakes. Pancakes could indeed include meat. "Remnants of meat of all kinds," wrote a columnist in October 21, 1915, "may be utilized by being chopped together and stirred into an omelet or pancake batter, with a seasoning of nutmeg or chopped chives."
The Kitchen Cupboard column had a recipe for sour milk griddlecakes and potato pancakes on January 28, 1916. It also recommended pancakes for a Monday "Wash Day Menu" on May 12, 1916 with a breakfast of cereal with figs, bacon, rye griddle cakes and coffee."
Pancakes have come a long way with more varieties than ever. They now include banana, blueberry, berry, chocolate chip, dairy free, egg free and gluten free. Toppings are endless too. Maple syrup, chocolate sauce, whipped cream, berries, butter, peanut butter, and sprinkles are some delicious possibilities. Dig into a big stack of pancakes today!