This calendar is the place to find fun events happening throughout Grays Harbor County including Aberdeen, Hoquiam, Westport, Ocean Shores, Elma, Montesano and beyond.

Jun
12
Sat
Ride the Harbor: Tour de Wellness – Cycle Event

@ Beerbbower Park
Jun 12 @ 7:00 am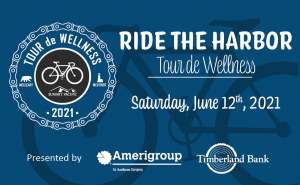 Join us for a scenic, fun, charity ride through beautiful Grays Harbor County. You'll ride through forests, farmlands, over rivers and hills and finish by the spectacular Pacific Ocean.
Our mission for this event is to provide Grays Harbor County an opportunity to get active in a safe and supportive way. This one-day cycling event is the perfect ride with a team or as a personal challenge and is open to ages 16 and up, with three separate lengths for beginners to pros. This is NOT a timed event, so we encourage you to challenge yourself to a distance that makes sense for you and demonstrates your commitment to helping build the healthiest community in the Nation, right here in Grays Harbor.
While fundraising is not required to participate in our ride, we welcome you to support our cause in all the ways you are comfortable. Money raised from fundraising efforts and registration fees go towards supporting Summit Pacific Medical Foundation, a 501(c)3 non-profit.
Register ONLINE: https://bit.ly/RideTheHarbor
If you would like to learn more, volunteer to help or join our cause, please contact us at 360-346-2250 or email Foundation@sp-mc.org.

Sep
25
Sat
Reach the Beach Washington

@ Recreational Athletic Complex
Sep 25 @ 7:00 am
The Fifth Annual American Lung Association Cycle For Air: Reach the Beach Washington brings together hundreds of cyclists across the Northwest to fundraise for lung health. This ride offers several distance options for all levels of riders, from 100 miles to 25 miles, but all ending on the beautiful beach in Westport, WA. This year riders also have the option to ride virtually through Cycle Your Way, while still fundraising for an organization they can trust. Nationwide, Cycle For Air events have raised nearly $30 million to support lung health research, programs and services since the event's inception.