This calendar is the place to find fun events happening throughout Grays Harbor County including Aberdeen, Hoquiam, Westport, Ocean Shores, Elma, Montesano and beyond.

Nov
17
Tue
Workshop: Changing Shorelines

@ Grays Harbor College
Nov 17 @ 6:00 pm – 8:00 pm
The public is invited to "Changing Shorelines" – a science forum – on Tuesday November 17th to learn about coastal hazards in Grays Harbor and Pacific counties. Top scientists will present recent studies about coastal erosion, flooding, and sea-level rise, and will bring in specific discussion of what this means for coastal Washington. This free and educational event will allow participants to interact with scientists and the science, and leave with a better understanding about coastlines. Light dinner will be provided. Event is free. Location is the Schermer Building, room 4134 at Grays Harbor Community College, 6-8 pm.
For more information, please contact Casey Dennehy at 360-556-6509 or casey@surfrider.org. Walk-ins welcome. Registration is encouraged, but not required!

Oct
14
Fri
Fishing for Energy: Marine Debris Recycling Information Event

@ Westport Maritime Museum
Oct 14 @ 11:00 am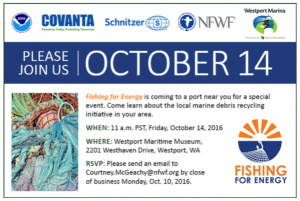 Fishing for Energy, a partnership between NOAA Marine Debris Program, the National Fish and Wildlife Foundation, Covanta and  Schnitzer Steel Industries, helps to prevent and reduce the impacts of derelict fishing gear in the marine environment. They have partnered with the Westport Marina to provide local fishermen the opportunity to get rid of their old or broken fishing gear.
There will be a public event at 11am on Friday, October 14th, at the Westport Maritime Museum to learn more about the program
From September 26 – October 17th, fisherman can bring their unwanted gear to the Westport Marina office, Monday – Friday from 9am to 5pm for disposal.
Please RSVP by email to courtney.mcgeachy@nfwf.org by Monday October 10.

May
7
Sun
COASST Marine Debris Training Session

@ Ocean Shore Convention Center
May 7 @ 10:00 am – 4:00 pm
COASST Marine Debris participants survey local beaches and collect data on the characteristics and location of debris – data that will ultimately be used to map the source and transport pathways of debris, as well as the potential harm to people, wildlife, and local coastal ecosystems. Volunteers need NO prior experience, just a commitment to survey a specific beach (about ¾ mile) each month.
If you are interested in participating, join COASST staff for the training session. There is no charge to attend the training, but plan to provide a $20 refundable deposit if you would like to take home a COASST volunteer kit. Training activities take place indoors. Beach surveys are best conducted in groups of 2 or more – please come with a survey partner in mind or plan to join a team during training.