This calendar is the place to find fun events happening throughout Grays Harbor County including Aberdeen, Hoquiam, Westport, Ocean Shores, Elma, Montesano and beyond.
Nov
17
Tue
Workshop: Changing Shorelines

@ Grays Harbor College
Nov 17 @ 6:00 pm – 8:00 pm
The public is invited to "Changing Shorelines" – a science forum – on Tuesday November 17th to learn about coastal hazards in Grays Harbor and Pacific counties. Top scientists will present recent studies about coastal erosion, flooding, and sea-level rise, and will bring in specific discussion of what this means for coastal Washington. This free and educational event will allow participants to interact with scientists and the science, and leave with a better understanding about coastlines. Light dinner will be provided. Event is free. Location is the Schermer Building, room 4134 at Grays Harbor Community College, 6-8 pm.
For more information, please contact Casey Dennehy at 360-556-6509 or casey@surfrider.org. Walk-ins welcome. Registration is encouraged, but not required!
Jun
18
Mon
Cascades Job Corps College & Career Academy

@ Aberdeen Timberland Library
Jun 18 @ 10:00 am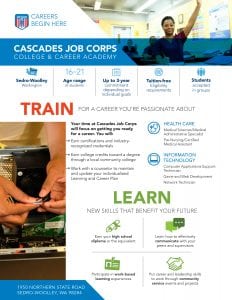 Cascades Job Corps College & Career Academy
Info Session Every 1st Monday Monthly at 10:00AM
Cascades Job Corps College & Career Academy is a tuition-free career training and education program that will connect students with the skills and educational opportunities they need to establish real careers in the high-demand healthcare and information technology industries. Students in the Cascades program receive FREE college education on local campuses, wrap around services, and extensive tutoring, mentoring, and skills development. Students also have the opportunity to earn Microsoft Imagine Academy certifications and industry-recognized credentials in healthcare or information technology via hands-on, practical experience.
Attend the information/application workshops for Cascades Job Corps College & Career Academy onsite at the Aberdeen Timberland Library and learn about this exciting NEW Job Corps Pilot Program. We offer two specific Career Pathways:
Healthcare
Associates of Sciences Degree in Pre Nursing or Biology
-Medical Administrative Specialist
-Certified Medical Assistant
Information Technology
Associates of Technical Arts Degree
-Computer Applications Support Technician
-Network Technician
-Game & Web Development
Basic Qualifications:
• 16-21 years of age
• Meet income standards (varies by applicant)
• No pending court dates
• No fines over $500
• Motivated and committed
This program is completely FREE to eligible students!
If you are ready to take the next step contact, or visit www.CascadesJobCorpsCCA.com
Eric Thompson
Office: 206-212-6189
Text: 253-265-7054
Thompson.eric@jobcorps.org
Apr
22
Fri
Hoquiam WorkSource Pop-up Resource and Job Fair

@ Hoquiam Timberland Library
Apr 22 @ 11:00 am – 2:00 pm

WorkSource is holding a FREE Pop-Up Resource and Job Fair at the Hoquiam Timberland Library on Friday, April 22nd from 11:00 AM – 2:00 PM. Come and chat in-person with WorkSource staff to learn about the resources we offer and how we can assist with your job search. We expect recruiters from more than a dozen Grays Harbor County employers to attend. Bring questions and copies of your resume if you are ready to apply!
If you are an employer located in Grays Harbor County and are interested in recruiting at this event, please email Micah Pong at mpong@thurstonchamber.com . Employer space is limited.
The venue's current Covid-19 safety guidelines will be observed by all guests at this indoor event.
WorkSource is an equal opportunity employer/program. Auxiliary aids and services are available upon request to individuals with disabilities. Washington Relay Service: 711
If you are an individual with a disability and need an accommodation in order to attend this event, please email Mpong@thurstonchamber.com or call (360) 347-6054, to request an accommodation.