This calendar is the place to find fun events happening throughout Grays Harbor County including Aberdeen, Hoquiam, Westport, Ocean Shores, Elma, Montesano and beyond.

Nov
17
Tue
Workshop: Changing Shorelines

@ Grays Harbor College
Nov 17 @ 6:00 pm – 8:00 pm
The public is invited to "Changing Shorelines" – a science forum – on Tuesday November 17th to learn about coastal hazards in Grays Harbor and Pacific counties. Top scientists will present recent studies about coastal erosion, flooding, and sea-level rise, and will bring in specific discussion of what this means for coastal Washington. This free and educational event will allow participants to interact with scientists and the science, and leave with a better understanding about coastlines. Light dinner will be provided. Event is free. Location is the Schermer Building, room 4134 at Grays Harbor Community College, 6-8 pm.
For more information, please contact Casey Dennehy at 360-556-6509 or casey@surfrider.org. Walk-ins welcome. Registration is encouraged, but not required!

Sep
21
Sat
10th Annual Lake Sylvia State Park FALL FESTIVAL

@ Lake Sylvia State Park
Sep 21 @ 7:00 am – 4:00 pm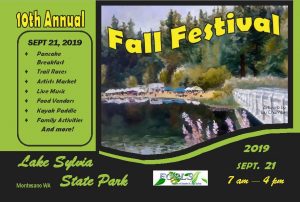 10th Annual Lake Sylvia State Park
FALL FESTIVAL
Saturday, September 21, 2019 at 7 AM – 4 PM
Lake Sylvia State Park – 1813 Lake Sylvia Rd North Montesano, WA
https://www.facebook.com/LakeSylviaStateParkFallFestival/
Pancake Breakfast
7 am—11 pm $5
Trail Races 8:30 am
Half Marathon / 10K / 5 K
Artists Market 9 am—4 pm
Food Booths and Live Music
Historic Talk by "Doc Shores" 1 pm
Kayak Paddle 2 pm
Kids Vintage Games and Nature Crafts
Educational booths by Stream Team

Sep
10
Sun
Lake Sylvia State Park Fall Festival

@ Lake Sylvia State Park
Sep 10 @ 8:30 am – 4:00 pm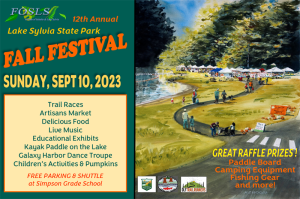 The FOSLS LAKE SYLVIA STATE PARK FALL FESTIVAL continues the tradition for our 12th year!
Come join us on SUNDAY, September 10th, 2023 from 8:30 – 4:00 for a day filled with fun and family activities.
If you enjoy running we have trail Races that begin at 8:30 am. From 10 – 4, you can find one of a kind art and hand crafted treasures at the Artisans Market and eat delicious food while enjoying great live music by talented local acts all on the peaceful shores of beautiful Lake Sylvia. There will also be a kayak paddling adventure, a Watershed Festival by the GH Stream Team, Galaxy Harbor Dancers and educational exhibits in the Legacy Pavilion. You can decorate a pumpkin or take a group photo in our photo booth and we will have kids activities as well.
Park for free at Simpson School (519 Simpson Ave W, Montesano WA), and take a free shuttle to the Festival. Parking inside the park is limited and requires a Discover Pass. Free Disabled Parking is available inside the park. Watch our facebook page at https://www.facebook.com/LakeSylviaStateParkFallFestival for up to date information, applications, and schedules.