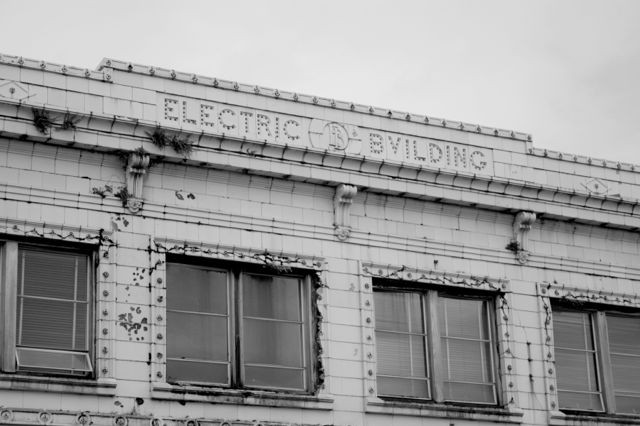 By Chelsea Royer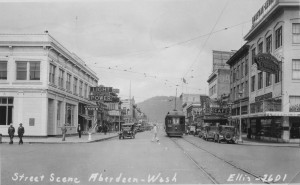 On February 1, 1913, Aberdeen residents stared in wonder as over 1,000 lights illumined the street and the Electric Building came to life. With electricity being such a new commodity, especially in rural areas, what a sight the Light and Power building must have been! Dozens of bulbs lined every window and corner in a stunning display of power and newfangled design. It represented the birth of a new era, a symbol of wealth and progression. As time continued, a variety of residents flowed in and out of the building such as doctors and store owners. The building remained a prominent staple in the community for many years.
Yet its glory was not to last forever. As the Great Depression hit, the upper story of the Electric Building was abandoned, providing opportunity for dampness and water damage to deteriorate the walls and ceiling. The artistry and outer design began to crumble and exterior light bulbs stopped being replaced. Driving past the building, you can just make out carved letters that were once illumined. You could pass by dozens of times and your eye would probably never catch the details that once made this building spectacular. Some may assume the property is not many years from demolition.
But then there are people like Aaron Nickell, Chair of Aberdeen's Historic Preservation Commission (HPC). Nickell is passionate about the depth of history residing in the city of Aberdeen – the Electric Building is just one of many properties he'd like to see restored. Over the last five years, since its beginnings, the HPC has developed a local Historic Register. As part of a three tiered government program, buildings added to the register become eligible for tax credits, incentivizing owners to rehabilitate their properties.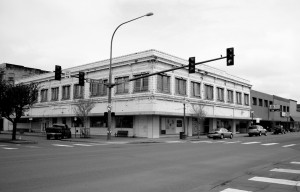 With a master plan in the final stages of editing, Nickell is excited to not only add more buildings to the local register, but also the National Historic Register. The hope is to create at least one National Historic District within the City of Aberdeen. According to Nickell, "The master plan is the blueprint for historic preservation in Aberdeen for the next five to ten years." The plan will help the commission go over strategies and tactics, assess their current historic resources and lay out a plan on how best to capitalize on those resources.
"Despite what people say, our downtown is a wealth of historic infrastructure," says Nickell.  "And saving the infrastructure not only is history for the sake of history, but there are also really definitive economic benefits for saving our historic properties. Historic tourism is a burgeoning industry that we've yet to take advantage of. We have the resources to make the case to say that Aberdeen should be a destination for historic tourism."
Nickell explains that though properties such as the Morck Hotel and Electric Building are on the local register, they are unique enough to be placed on the National Historic Register as well. "As a public utility building, the Electric Building is one of the last of its kind in the U.S. and I would certainly like to see that go on the National Registry," he comments.
There is excitement in the thought that saving our historic buildings can simultaneously rescue pieces of Aberdeen's history and legacy as well as its economy. With buildings like the D&R Theatre on the local register and leading by example, we have a glimpse of what our downtown Aberdeen could be like. Instead of empty and decaying buildings, we could have gorgeously restored historic properties lining our street – full of thriving businesses.
Nickell insists that a first step in preservation efforts for Aberdeen as a whole, as well as for the Electric Building itself, is to get the Electric Building on a National Registry. "It is a beautiful building – an astounding building and indicative of a different time when electricity was new. The electric building symbolizes to me that point in time when public administration and administration of utilities was birthed and it is important for us to preserve the architecture, and also the cultural connotations."
The Electric Building is just one of many examples of properties in need of a second shot at former glory. Aberdeen's Historic Preservation Commission is working hard to do their part to piece back together the richness of Aberdeen's past. Raising awareness is one of many steps to keeping properties like the Electric Building in tact.
If you would like to catch a glimpse of the upper story in the Electric Building and get a closer look at the outer details, take a look at this video: 2013 Most Endangered Properties – Electric Building. Historic properties each have a story – a story worth saving for future generations to see and hear.